Shipping is the lynchpin of a global economy between exporters and importers. Today, about 90% of the world's goods are transported by water connecting with various land transfer systems, such as rail, truck, and air." Globalization has fueled huge growth in the shipping industry. Low-cost shipping is the means that enables countries to import consumer goods inexpensively and export their products in a cost-effective way.
The Indian ports and shipping industry plays a vital role in sustaining growth in the country's trade and commerce. India is the sixteenth largest maritime country in the world, with a coastline of about 7,517 km. The Indian Government plays an important role in supporting the ports sector. According to the Ministry of Shipping, around 95 per cent of India's trading by volume and 70 per cent by value is done through maritime transport. India has 12 major and 200 notified minor and intermediate ports. Under the National Perspective Plan for Sagarmala, six new mega ports will be developed in the country.
During FY18, cargo traffic at major ports in the country was reported at 679.36 million tonnes (MT). In FY19 (up to November 2018) traffic increased by 4.83 per cent year-on-year to reach 461.22 million tonnes. Cargo traffic at non-major ports was estimated at 491.95 million tonnes FY18 and grew at 9.2 per cent CAGR between FY07-18. The major ports had a capacity of 1,452 million tonnes by FY18 end. The Maritime Agenda 2010-20 has a 2020 target of 3,130 MT of port capacity.
Ports today must constantly improve quality, increase productivity and lower costs for shipping companies in order to compete on the international stage. Other cities like Singapore, Shanghai, Hong Kong and Taiwan have taken similar smart port initiatives, resulting in faster turnaround times for the ships and more efficient port maintenance.
Smart port initiatives help ports, terminals and their partners operate more efficiently and cut costs. The amount of data generated by smart sensors is a real business opportunity for companies trying to develop new data-based services and revenue streams. Using high-end technology as in 5G networks and IoT helps optimize loading and unloading times in ports, leading to fewer emissions. Cutting emissions will improve health benefits globally.
Shipping and Port technology trends
The shipping sector in all its dimensions- ship construction, navigation, communication, port operations, cargo operations, HAZMAT transport, crew management etc- is being impacted by development in technologies.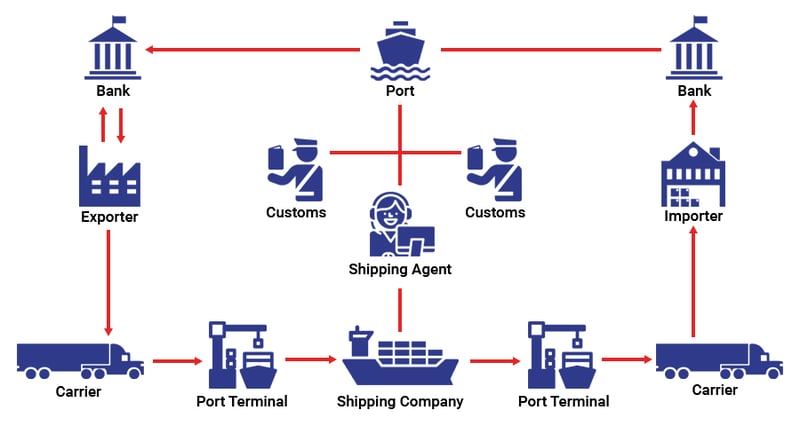 Ships are dependent on the ports, national authorities, and exporters. Countries wanted to encourage imports and exports for a healthy economy, but also wanted to control what went on in their ports and coastal waters. Ports were a vital link between ships and importers and exporters and so on. Freight forwarders and shipping agents were the facilitators ensuring everything ran smoothly and fixing things when they didn't.
As the global shipping industry has become more complex, a variety of players now exchange information in real time, including cargo and logistics companies, storage providers, rail and barge operators, trucking companies and sensor providers for pipelines, cranes, berths and roads.  The shipping industry is currently undergoing a massive shift toward "smart" technologies, revamping the in-port experience for shipping companies and their clients alike.
New Platforms use block chain technologies, AI, IoT and analytics. Foldable containers are saving space as well as contributing to container security using asset tagging. Smart containers now communicate information about their location via relay antennas. This technology transforms containers into smart connected objects, enabling multimodal transportation partners to prepare for the container's arrival in port.
Sensor miniaturization and MEMS technologies are allowing cognitive sensors to be designed. Such sensors permit better situational awareness and maritime security management.  Nanotechnologies are enabling environmental sensing, self-cleaning and self-healing structures.
Many demonstrations of autonomous ships have already been made and unmanned ships are currently under development. Aquatic Drones, a Dutch maritime technology company, has developed small, autonomous vehicles that film underwater, providing information on ship and port conditions below the water line. These drones increase inspection speed, saving time and money. Aquatic Drones is already working with the Port of Rotterdam and has just launched a test with the Port of Amsterdam.
Having accurate information on weather and water levels can help shipping companies determine the best time to bring their ships into port. Bringing in the ships when the water is calm can also prove to be cost efficient as it allows for lower fuel consumption. By partnering with IBM's The Weather Company, the Port of Rotterdam–Europe's largest port by cargo tonnage–can access and share accurate weather data. With the help of tools like IoT sensors, augmented intelligence and smart weather data, the port provides accurate water and weather updates to allow shipping companies to predict the best conditions and time to enter the port.
Smart Port
The OECD (Organization for Economic Co-operation and Development) predicts that global container handling in ports could rise to four times the current levels by 2030 and five to six times by 2050. A smart port is an automated port using data analytics to make the right business decisions and run operations effectively. The concept is to use smart technology to increase a port's efficiency, improve performance and economic competitiveness. Implementing automated processes will not only benefit the port but the wider supply chain.
Smart port technologies link the entire port ecosystem. It becomes essential for a new smart port to be connected to the global supply chain. As the ports continue to digitalize their processes, they create an information hub for their regional transport ecosystem.
Smart ports help make intelligent choices. Monitoring and data collection will help make better overall decisions. A virtual version of the port dubbed "the digital twin" can use real-time information to improve decision-making and problem-solving and support predictive planning.
With the introduction of appointment systems, just-in-time arrivals are enabled. JIT Arrival is a concept in which a ship maintains the optimal operating speed to arrive at its port only when the availability is ensured. It is estimated that ships spend up to 9% of their time waiting at anchorage. This waiting could potentially be converted to reduced speed and result in less GHG emissions.
Big Data in the Shipping Industry
The shipping industry will have access to large data sets to improve their logistics and become port smart. According to Marine Digital, big data is used for managing a ship's sensors and for predictive analysis, which is necessary to avoid delays and increase the industry's overall operational efficiency. In the shipping industry, properly tracking cargo is very important in maintaining the security and privacy needed.
Traditional technology has been serving organizations' analytics needs for decades, allowing them to analyze large data sets from conventional sources such as warehousing and distribution systems. Big data takes it to the next level. It will enable companies to harness substantial data volumes, including non-traditional data types such as text, audio, and video, in conjunction with information from business systems in a much more economical fashion, in both batch and real-time modes.
Artificial Intelligence to Improve Maritime Transport
AI usually refers to Machine Learning, where computers learn over time. Meaning the computers apply algorithms that will improve with experience. For example, AI in the shipping industry can be utilized to strengthen shipping routes. AI can determine the best course at the best speed. AI has the potential to track maintenance on ships and predict when parts may break down. Smart technologies are transmitting real-time data about operating conditions. This enables ports to proactively identify needed maintenance or repairs and thereby avoid unplanned downtime.
Artificial intelligence and automation can mean a safer working environment. Accidents will become less common with automation. AI can analyze data to create a more risk-free environment and having this information in real-time can result in a safer working environment.
The Maritime Executive cites, "This covers entrance authorization, video surveillance and analytics, behavior analysis, anti-theft and anti-fraud, and biometric authentication solutions, and sensor-based systems that help vehicles and cargo-handling equipment to be properly aligned for safety, physical and cybersecurity."
"AI already is in use in automated loading cranes at ports in southern California, New Jersey, and Virginia in the United States; Shanghai in China and Rotterdam in the Netherlands. The AI makes decisions about which containers to stack or unload first based on a database and other analyses."
Internet of Things Connectivity
Definition – "Sensors and actuators embedded in physical objects are linked through wired and wireless networks." loT is looking to help the shipping industry lower operating costs, enable real-time tracking and monitor cargo, and more. With loT connectivity, the data insights will allow valuable data-driven decisions to make ports "smart."
Blockchain Technology to Make Shipping Faster
Blockchain technology could prove to be a powerful tool for the shipping industry. It should work together with other technologies that include IoT, automation, and big data. If the logistics industry adopts blockchain technology, it could make the shipping faster and more efficient and improve data visibility and demand management. Digital ledger technology, or blockchain, could manage and track the paper trail of millions of containers in the world. Automatic identification and detection of containers in the smart port will help ports increase handling capacity.
Ports will do a better job of handling cargo information and payments, including the processing of trade licenses, import and export permits, and customs clearances. The leading European ports are experimenting with blockchain technology to reduce costs associated with paper-based cargo documentation and customs payments.
5G Allowing for Connections of all Kinds to be Made
5G will play a role in providing exceptional voice and data communications. Supply chain management will benefit from data being transferred faster in real-time. It would connect all those in the supply chain. "5G networks will be more energy-efficient, allowing for connections of all kinds to be made with lower overall power consumption and battery usage. It will also offer consistent, uninterrupted connectivity meaning that 5G signals will be much more reliable than older types of cell signals. 5G has faster bandwidth with peak data transfer rates exceeding 1Gbps. This helps explain why 5G will enable industrial IoT to become omnipresent and disruptive."
According to Charlie Peppiatt, EVP at TT Electronics says, the true Internet of Things (IoT) will become a reality for the following reasons due to 5G deployment:
Dedicated low-power bands – 5G builds upon current wireless low-power standards like NB-IoT (Narrowband IoT) and LTE-M (LTE Cat-1) technologies.
Improved, consistent and reliable connectivity
Lower battery usage
5G will allow wireless networks to have a large enough capacity and data transfer rate to keep up with the future's autonomous systems such as the expanded sensor networks.
Smart Port implementations
Proper information on the availability and operational efficiency of cargo handling machines like cranes and trucks is essential. Spain's Port of Valencia has undertaken a pilot project called "black boxes," where they installed boxes on 200 cranes straddle carriers, trucks, and forklifts in the terminal. The black boxes collect information in real time on location, status of operations, and energy consumption to avoid delays at any stage
PSA Singapore eyes advanced port technologies
Port operator PSA Singapore  has  showcased  its future port vision, with new technologies for the container terminals in Singapore, including amphibious drones, automated quay cranes, exoskeletons for port staff, and robotic arms for related container activities.
Currently, lashing specialists fix and remove twist locks during the container loading and discharging processes alongside the quay cranes. Advancements in technology will streamline this process, where automatic platforms or robotic arms could be used instead. PSA is looking to upskill workers performing such tasks, so that such work can be aided by mechanisation, allowing them to assume other higher value-add responsibilities.
In addition, PSA is considering new types of unmanned drones that fly autonomously through software controlled flight plans. Drones can be used to fulfill ship-shore or shore-ship deliveries. Working with on-ground IoT sensor networks, drone surveillance can also help with terminal security, providing an easier, faster and cheaper method of data collection. Inspections are also a major application for drones, as engineers can perform inspections at a safer distance, eliminating the need to work at height or enter operational areas. PSA is also looking towards the development of amphibious drones to operate over and land on water to inspect wharf side fenders.
Furthermore, PSA plans to leverage data analytics in the future port in areas such as equipment specialist performance, crane maintenance and simulation models which allow PSA to simulate container port operations. To enhance equipment specialists' performance, data analytics would work in tandem with machine learning to analyse work performance. It could be used to pinpoint specific areas of improvements for individual specialists with greater accuracy, via the recording of information through sensors mounted on port equipment.
What is more, using Augmented Reality (AR), smart glasses will provide port equipment specialists with live visual aids and off-site assistance. The AR technology facilitates the visualization of an equipment's components and the tracing of its defects. These will ease the troubleshooting process and reduce the downtime of faulty equipment. The ability to see visual indications and communicate with subject matter experts in a mixed reality space will also allow proper guidance and create an effective learning experience at every repair.
Port of Rotterdam Unveils IoT Breakthrough
The Port of Rotterdam has announced that it has developed a new Internet of Things (IoT) platform as part of an initiative to further pursue safety and efficiency. According to a statement, the system uses an extensive network of sensors to provide accurate and up-to-date water (hydro) and weather (meteo) data, helping the port authority to plan and manage shipping operations more effectively.
An IoT platform to be built by collaborating partners IBM, Cisco, Esri and Axians was first announced in January 2018 – a story PTI covered – and has now been delivered under the direction of the Port of Rotterdam.
The building blocks which a new solution powered by IoT provides are expected to offer the Port of Rotterdam a strong foundation to innovate further and explore new technologies, including edge computing, real-time analytics, artificial intelligence, hyper-precise data and blockchain.
Rotterdam's IoT platform will also provide the port a basis to pursue autonomous shipping, with sensors currently placed on quay walls, dolphins, waterways and roads constantly generating measurement data that can be quickly communicated to other autonomous systems. The completion of the hydro/meteo application, essential for decision support when handling incoming ships, represents the first time that a generic IoT platform has been used for a mission-critical purpose, meeting the highest standards of safety and reliability.
Rotterdam predicts that the delivered hydro/meteo system will contribute to decreased waiting times, optimized berthing and faster loading times, therefore boosting the efficiency and profitability of port operations. Each day, the platform is already processing up to 1.2 million data points that are accessible to systems and users. Ronald Paul, Chief Operating Officer at the Port of Rotterdam, commented: "It's a fantastic step in the development of Rotterdam as 'smartest port'.
"Just as important, however, is that the cloud platform and the generated real-time information, which includes infrastructure, water and weather condition data, enable us to further improve mission-critical processes in the service to our clients
References and resources also include:
https://www.porttechnology.org/news/port_of_rotterdam_unveils_iot_breakthrough
https://safety4sea.com/psa-singapore-eyes-advanced-port-technologies/
https://www.adv-polymer.com/blog/smart-port
Cite This Article