The vision for the future soldier is to be combat effective and also highly mobile, adaptive, networked, sustainable with total battle space situation awareness and information assurance. Therefore, he is equipped with night- vision goggles, radios, smartphones, GPS, infrared sights, a laptop as well as batteries to power them.
Some of the missions the soldiers perform can take weeks, away from in difficult terrain like deserts and mountains which requires maintaining an incredibly high level of physical fitness. Around the world, armies are recognizing the importance of maximizing the effectiveness of Soldiers physically, perceptually, and cognitively. As militaries are expected to operate in diverse environments – from Arctic to urban landscapes – developing materials, technologies and capabilities that enable soldiers to survive and thrive has become ever more important.
The  military forces across the globe are upgrading their existing soldier systems to enhance the survivability of soldiers. Ongoing soldier modernization programs, increasing cross-border conflicts, and rising number of terrorism-related activities across the globe are also contributing to the growth of the military segment of the soldier systems market.
Equipping soldiers for modern missions means giving them the technological edge to succeed. You need to integrate personal networks, sensors, C4 communications, and the power to manage the systems. And you need to connect all the systems in a reliable and easy to use manner.
Man portable military electronic systems include electronic equipment that can be operated, while being carried by dismounted soldier. The  electronic systems that are incorporated in the body armors of soldiers and mounted on their helmets; However this does not include weapons like rocket/grenade/missile-launching systems that are man-portable. Military applications  rely on small size, weight, and power consumption (SWaP) such as micro air vehicles,   soldier-worn electronics, and battlefield networking .
However, the man-portable electronics that form the accessories of the launching systems are included. Man portable military electronic systems include mobile communication products and MAVs that are used for the transmission and reception of video, voice, and data signals. These systems are also used to provide intelligence, surveillance, and reconnaissance (ISR) essential for military operations.
Communications is vital for War fighters to exchange voice and data, command and control and situational awareness data and video. The vision of Communications area is to provide reliable communication from anywhere to everywhere from war fighters to supreme commander with demanded rate and least latency by exploiting complete electromagnetic spectrum through nodes deployed under water, water surface, land, air and space. Military Communication systems demand flexibility, adaptability & cognitive controllability of bandwidth, frequency and information rate to ensure robust communications in congested and contested environments. Today's military forces are relying more and more on mobile technology—from laptops and tablet computers to portable electronic devices (PEDs), personal digital assistants (PDAs), and smartphones
The facilitation of man portable electronics has become an effective means for defense authorities to enhance the safety and capabilities of their units. The defense authorities invest heavily in C3ISR systems to improve national security and extract data from potential enemies. Also, the defense industry is shifting to a new generation of sophisticated electronic systems, which enables fast, secure, cost-effective, and flexible communications.
Modern Soldiers have to fight battles both conventional force-on-force type as well as counter-insurgency campaigns in a difficult terrain.  Electronic warfare operations in today's battlespace require intuitive, lightweight and rapidly deployable manpack systems to monitor the diverse and constantly changing tactical environment. Man-packable, full suite Electronic Warfare (EW) systems must be designed to be carried by three people to be used on-the march, in a static environment, or mounted on platforms of opportunity.
The main driver of electronics has been semiconductor industry driven by the Moore's Law which stated that the number of transistors on a chip will double approximately every two years has been in boosting the complexity, computational performance and energy efficiency while reducing cost. Microelectronics and solid state components have also been the backbone of the military systems and are main contributors in advancement of radar, communication and electronic warfare systems.
Another area is Micro, Soldier, and Portable Power: The vision for this area is long-lasting power for Soldier and autonomous microsystems. The major military organizations in the world are devising various ways for meeting enhanced soldier power requirements due to much equipment he carries, while also while reducing the logistical load thereby enhancing soldier's agility on the battlefield. Some of the solutions are developing smaller, lighter, cost-effective power sources, switching to renewable energy options, flexible solar panels, wearable energy solutions, nuclear batteries, low power electronics, battery and power management.
Market
The man-portable military electronics market was expected to register a CAGR of 4.89% during the forecast period (2019-2024), to reach a market value of USD 6.13 billion, by 2024. However, forecasers have revised the targets amid the COVID-19 crisis, now the global market for Man Portable Military Electronics estimated at US$4.9 Billion in the year 2020, is projected to reach a revised size of US$6.1 Billion by 2027, growing at a CAGR of 3.1% over the analysis period 2020-2027.
Growing terrorist activities and increasing military spending by nations across the world are enabling the respective armies to procure more man-portable military electronic systems for enhancing their land-based warfare capabilities. These trends are expected to help the market during the forecast period. The emphasis on the modernization of soldiers is growing in various countries. The focus on this is expected to drive in more investments for the man-portable military electronics market in the years to come.
The Man Portable Military Electronics market in the U. S. is estimated at US$1.4 Billion in the year 2020. The country currently accounts for a 29.4% share in the global market. China, the world second largest economy, is forecast to reach an estimated market size of US$1.1 Billion in the year 2027 trailing a CAGR of 3% through 2027. Among the other noteworthy geographic markets are Japan and Canada, each forecast to grow at 2.9% and 2.6% respectively over the 2020-2027 period. Within Europe, Germany is forecast to grow at approximately 3.2% CAGR while Rest of European market (as defined in the study) will reach US$1.1 Billion by the year 2027.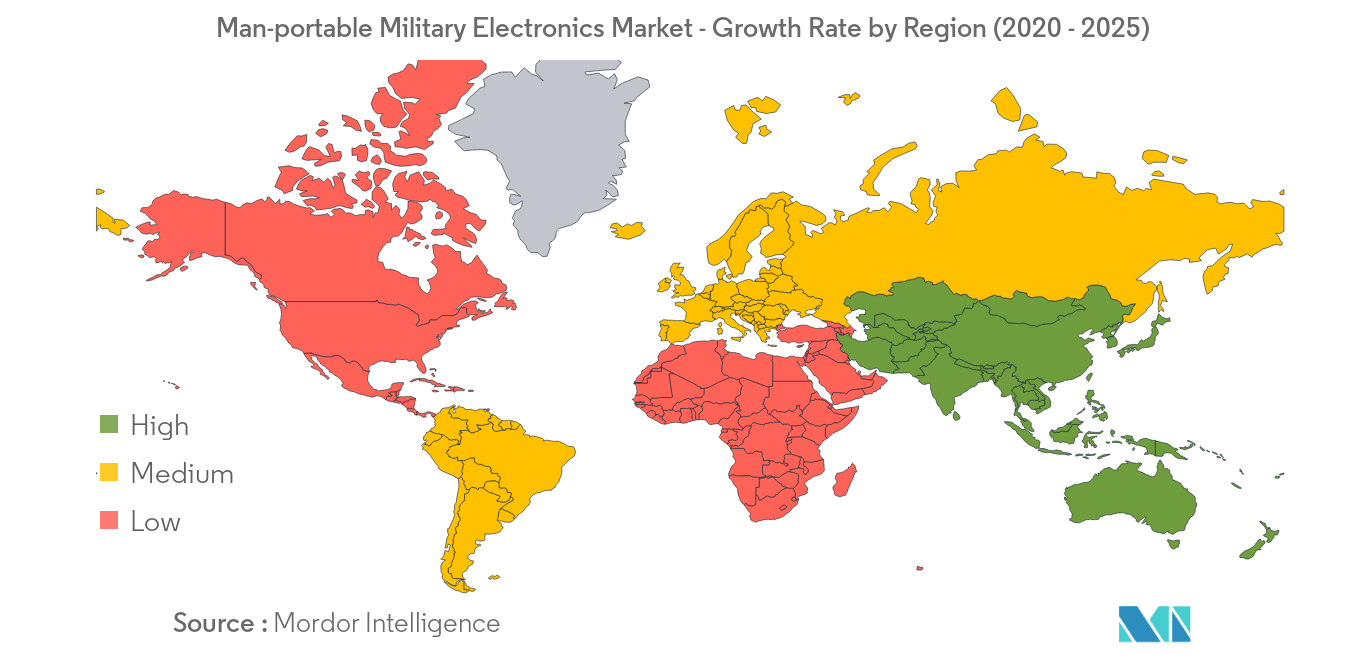 In the global Force Protection segment, USA, Canada, Japan, China and Europe will drive the 4.3% CAGR estimated for this segment. These regional markets accounting for a combined market size of US$606.1 Million in the year 2020 will reach a projected size of US$812.1 Million by the close of the analysis period. China will remain among the fastest growing in this cluster of regional markets. Led by countries such as Australia, India, and South Korea, the market in Asia-Pacific is forecast to reach US$677.7 Million by the year 2027. We bring years of research experience to this 7th edition of our report. The 130-page report presents concise insights into how the pandemic has impacted production and the buy side for 2020 and 2021. A short-term phased recovery by key geography is also addressed.
Based on type, the soldier systems market has been segmented into personal protection, Respiratory Protective Equipment (RPE), communication, power and transmission, surveillance and target acquisition, navigation and health monitoring, vision, exoskeleton, and training & simulation. Market Segmentation by Type include Communication Products, Command and Control Products, Imaging Products
ISTAR Products, and Others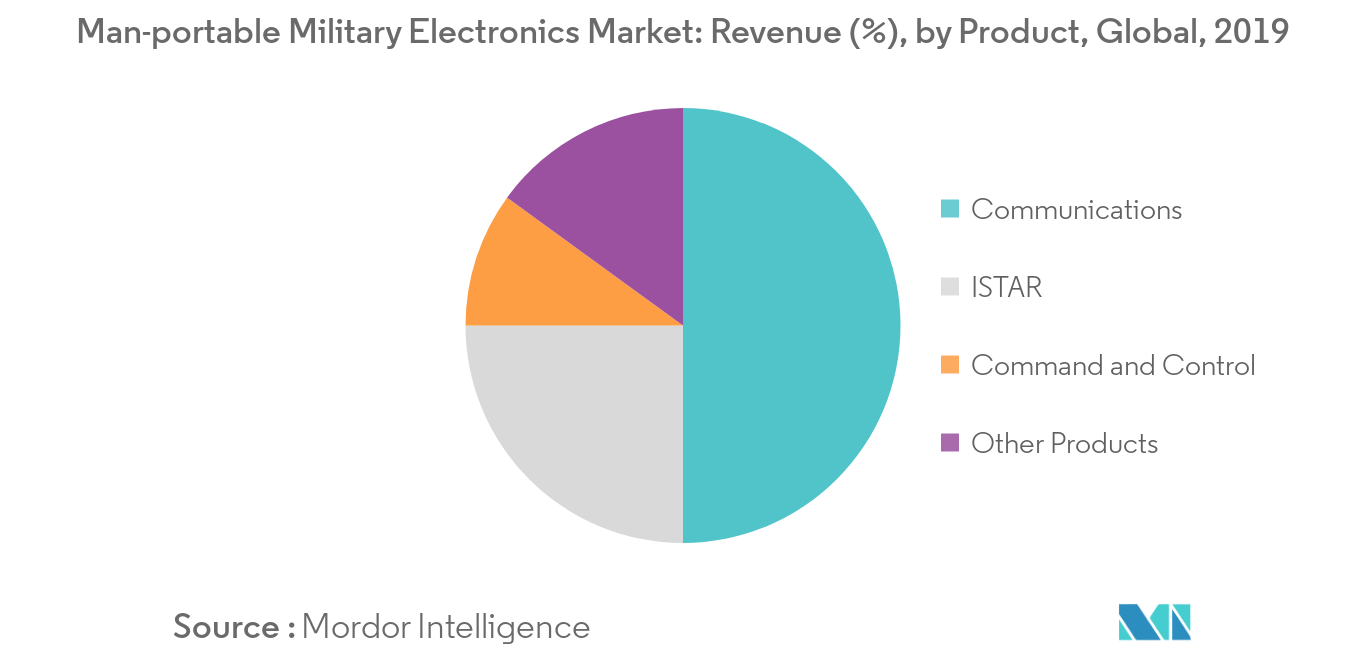 Communication segments  is projected to grow at a 3% CAGR to reach US$3.7 Billion by the end of the analysis period. After an early analysis of the business implications of the pandemic and its induced economic crisis, growth in the ISTAR segment is readjusted to a revised 2.6% CAGR for the next 7-year period. This segment currently accounts for a 23.7% share of the global Man Portable Military Electronics market. Research in powered exoskeleton technologies is expected to provide growth opportunities for the market in the years to come.
The market has experienced a major transformation in the innovation of wearable technology and has witnessed the development of different product types for military applications. The global super soldier wearable technology market is expected to witness substantial growth over the forecast period 2020-2025. The market is expected to see the growth of the radio pack primarily due to the increasing procurement for enhancing communication of the armed forces. High demand for military wearables in emerging countries (such as Asia-Pacific, Middle East, and Africa) is expected to create opportunities for soldier wearable technology players across different end-users, such as infantry, special force, and air force.
The training & simulation segment of the market is projected to grow at the highest CAGR during the forecast period. This growth of the training & simulation segment of the market can be attributed to the penetration of Augmented Reality (AR) and Virtual Reality (VR) in various training & simulation devices. The ability of augmented reality to combine the real world with virtual objects has increased the demand for augmented reality in various defense applications.
Key Industries include Aselsan, CODAN Limited, COJOT Oy, Elbit Systems, Exelis, SAAB, FLIR Systems, General Dynamics Corporation, Harris Corporation, L3 Technologies, Inc., Rockwell Collins, Safran,  Thales Group and UTC Aerospace Systems – Collins Aerospace. Others are AeroVironment, L-3 Communications Holdings, ITT Exelis Inc, Finmeccanica S.p.A,  Sierra Nevada Corporation,  and Safran Group.
Cite This Article