Biotechnology is  technology  that uses biological systems, living organisms, or derivatives thereof, to make or modify products or processes for commercial application or benefit to humanity. This technology utilizes varied biomolecular and cellular procedures in order to develop products and technologies that ultimately assist in advancing human lives as well as the health of our planet. Biotechnology is an innovative, interdisciplinary field that impacts many different sectors, including agriculture, veterinary, medicine, pharmaceutical and fine chemicals production.
It is emerging as one of the leading technologies for the transition towards carbon-free society and for solving critical societal challenges comprising health protection, food and energy supply, and environmental protection.  Some applications of biotechnology include developing food products, biochemicals, beverages, and pharmaceuticals, as well as services like using genetically altered organisms for water purification, waste management, and sustainable resource procurement. Operators in the Global Biotechnology industry primarily use living organisms or molecular and cellular techniques to develop products that are used in agriculture, food, industrial and medicine production.
Scientific developments in biotechnology can offer solutions to address global challenges such as combating the spread of infectious diseases, reducing hunger, and remediating environmental degradation. Biotechnology has the potential to create novel diagnostics, vaccines, drugs, and other medical countermeasures needed to detect, prevent, and treat infectious diseases. For example, the coronavirus pandemic has highlighted the promising role that biotechnology can play in this way. Researchers around the globe are actively working to combat the pandemic. They have been using different technologies to develop cheap diagnostics, repurpose existing antivirals, discover new drugs, and create safe and effective vaccines.
Increasing prevalence of chronic diseases like heart disease, stroke, asthma, hypertension and chronic respiratory diseases worldwide has increased the need for drug discovery, which in turn has propelled the growth trajectory of biotechnology market. Unhealthy lifestyle habits like alcohol and tobacco consumption are one of the major reasons for the surge in the prevalence of chronic diseases. The biotechnology drug discovery process is majorly required for diseases such as heart stroke, cancer, asthma, hypertension, etc.
Technology trends
The commercial viability of a biotechnology industry was significantly expanded on June 16, 1980, when the United States Supreme Court ruled that a genetically modified microorganism could be patented. Technology breakthroughs since the 1980s, such as Polymerase Chain Reaction, Sanger Sequencing, Whole Genome Sequencing, and more recently, CRISPR have brought forth a new age of Biotechnology and products.
These key themes include regenerative medicine and genetics in diagnostics. Presence of a plethora of companies focusing on the development of regenerative therapies is anticipated to drive sector growth through to 2025. Technological advancements pertaining to the penetration of artificial intelligence in this industry is expected to fuel progress with potential avenues. The companies are engaged in unleashing machine learning in order to understand individual cancer cases, while recommending clinical trials.
The intersection of artificial intelligence in the biotechnology industry is ought to provide attractive opportunities in the future. Nowadays, biotechnology has been increasingly used in the cultivation of crops such as rice, beans, sugarcane, wheat, etc. The researchers are focusing on R&D activities to enhance agriculture productivity by reducing the impact of negative factors such as shortage of water, pest attack, low yield, etc. Further, the growing development of therapeutic solutions for an understanding of genetic variations and the preparation of personalized medicine is expected to drive the market further. However, the stringent regulations related to approval of the product are hindering the market growth.
Technology segment covers tissue engineering and regeneration, DNA sequencing, fermentation, chromatography, PCR technology, nanobiotechnology, cell-based assay and others. The fermentation segment captured over 11% revenue share in 2018. It is a process that produces chemical changes in organic substrates through the action of enzymes and utilizes microorganisms as raw materials in bioreactors or fermenters. The fermented products assist in food preservation and prolonging the shelf life of products in the food & beverage industry. In addition, increasing focus of prominent business players on R&D activities for the production of fermented products will favor segmental progress.
Gene Therapy
Gene therapy refers to adding totally new genes in the human cells. Over the period of past few years, the field of gene therapy and gene editing has observed various technological advancements as well as research and development activities.
Biotechnology can be used to create genetically engineered organisms that can be deliberately introduced into the environment for purposes such as mosquito control. As an example, advances in genome engineering technologies—such as clustered regularly interspaced short palindromic repeats (CRISPR) and CRISPR-associated protein 9 (Cas9)—have enabled the development of gene drives, a technology that allows desired genetic alterations to spread faster through a population over many generations.
Over the period of past few years, there is notable growth in the number of patients living with varied health conditions. This scenario is pushing the scientists from all across the globe to increase their research activities in order to discover innovative and effectual treatment options for different health conditions. Moving forward, the healthcare industry today is utilizing the genetic editing technique in order to correct specific inherited health conditions. All these advancement in the healthcare sector are the outcome of rigorous research activities performed in biotech industry, specifically, its gene editing section. This technique can be used to cure vector-borne human diseases such as malaria and dengue fever by either making mosquitoes resistant to the parasites that cause these diseases or by completely wiping out disease-carrying mosquito populations.
Agricultural Biotechnology
Agricultural biotechnology can be used to create genetically modified crops for combating hunger and malnutrition. Traditional biotechnology techniques such as selective breeding, hybridization, and fermentation have been modifying living plants for improved yield or enhanced nutritional value from time immemorial. However, with improvements in knowledge about the role of individual plant genes, modern biotechnology techniques can be used to add, delete, or edit specific genes to produce a desired variety, thereby reducing the possibility of off-target effects. For example, golden rice, an engineered variety of rice, contains two extra genes to make it produce beta-carotene, a precursor to Vitamin A, that can help address nutrient deficiencies that lead to blindness, anemia, and weakened immune systems among children.
Scientific advances can also help develop genetically modified crops that withstand natural calamities, pests, and diseases. Such varieties can increase crop yields, lessen the need to use pesticides and insecticides, lift farmers out of poverty, and ensure food security. Beyond that, biotechnology can help produce healthier and faster-growing animals and improve the quality and quantity of milk, eggs, and meat for human consumption.
Environmental Biotechnology
Environmental biotechnology has the potential to help mitigate pollution by using microbes and their byproducts, instead of chemical methods, to treat solid, liquid, and gaseous wastes. Plastic pollution, one of the most pressing environmental concerns, can also be addressed through biotechnology. For example, some bacterial enzymes can digest the raw material used to produce single-use bottles for beverages. Moreover, bioplastics can be produced with renewable raw materials such as plants, vegetables, and other recycled forms of waste that can be environmentally friendly alternatives to oil-based plastics. For environmental biotechnology, the processes of getting products to market has not been established yet. The applications of environmental biotechnology often fall outside of existing regulatory frameworks.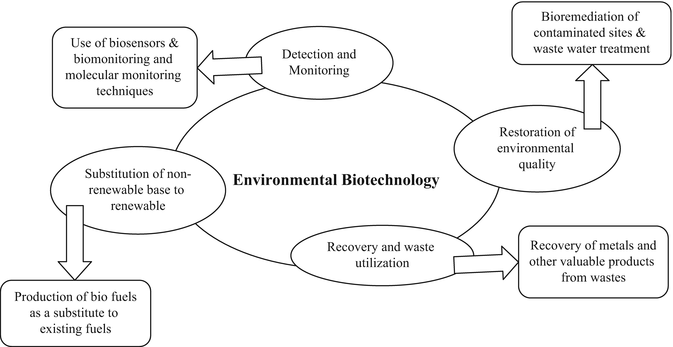 Precision Medicine
The concept of precision medicine is gaining impetus across worldwide healthcare sector as it allows offering superlative treatment options for varied critical health conditions pertaining to the hematology, oncology, cardiology, infectious sickness, endocrinology, and nervous system science. The technology of precision medicine allows for achieving envisioned conclusions and treatment for different health conditions with the help of explicit biomarker systems and genomics.
Precision medicine technology allows for offering treatment on the basis of a wide range of crucial aspects such as environment, lifestyle, and individual variability in genes of each person. This approach allows researchers as well as healthcare providers while selecting precise treatment option according to the need of individual patient.
Synthetic Biology
Synthetic biology refers to the design and production of advanced biological parts, systems, and devices. It also includes re-designing of varied presently available natural biological systems for functional purposes. This bio-based toolkit uses abstraction, standardization, and automated construction in order to produce new products. As opposed to the conventional molecular and cellular biology, the technique of synthetic biology concentrates on the design and structure of core components.
Biotechnology Market and Drivers
Amid the COVID-19 crisis, the global market for Agricultural Biotechnology estimated at US$35.3 Billion in the year 2020, is projected to reach a revised size of US$66.2 Billion by 2027, growing at a CAGR of 9.4% over the analysis period 2020-2027. The U.S. Accounts for Over 29.7% of Global Market Size in 2020, While China is Forecast to Grow at a 8.7% CAGR for the Period of 2020-2027
The emergence of certain key themes in the market is expected to drive growth in this industry to a lucrative extent. The increasing R&D expenditure is amongst the significant factor propelling the entire biotechnology sector in the medium term.  Greater global investment in biotechnology, particularly in emerging economies, will largely drive this growth, and the industry is expected to undergo further expansion to cater to an aging population in more developed economies.
The technological innovations result in better productivity and are a key driver for many of the current biopharmaceutical trends (for example, metabolomics, proteomics), which is expected to drive the global biotechnology reagents market. The important drivers increasing growth in the global biotechnology reagents market are the large investment in biotechnology by the corporates and research organizations and the evolving landscape of the biotechnology industry. Supportive government (and its allied agencies) policies related to synthetic biology is a major growth-impacting driver in this sector. Developed economies such as UK and the U.S. are critically monitoring and funding synthetic biology R&D initiatives.
Geopolitics and geographical spread
Even by the standards of emerging technologies, biotechnology has the potential to utterly transform geopolitics, economics, and society in the 21st century. On current trends the United States is likely to remain the world leader in most biotechnology areas. The average sector growth rate in biotechnology in the USA between 2015 and 2020 is 0.8%. In the five years until 2020, there has been an increase in demand for genetically modified seeds. It is predicted that the studies in agricultural biotechnology will continue unabated until 2025. In addition to agricultural biotechnology, it continues in biotechnological studies in the field of health.
Europe is expected to offer commendable growth opportunities to the biotechnology market. In 2018, the Europe biotechnology market was accounted for over USD 115 billion. The trend of leveraging advanced technologies to alter the genome of animals and plants is expected to foster regional market share. Whereas surging awareness regarding innovative applications of biotechnology along with favorable regulatory scenarios in Europe would accelerate the biotechnology industry outlook. The average sector growth rate in biotechnology in the UK between 2015 and 2020 is 6.9%. Medicine and medical technology are developing rapidly in the UK. Biotechnology industry revenue is expected to increase by 6.7% from 2020 to 2021 to 13.8 billion euros.
India ranks among the top 12 countries in the biotech industry in the world, with an approximate 3% share in the global biotech industry. India is also a leader in the worldwide supply of tuberculosis and measles vaccines. The biotech industry in India consists of more than 2,700 biotech startups and is expected to grow to 10,000 by 2024. There are more than 2,500 Biotechnology companies in India. The Indian biotech industry, which was worth 64 billion dollars in 2019, is expected to reach its target of 150 billion dollars by 2024–25. The biotechnology sector in India is divided into three main sections as pharmaceutical biotechnology, agriculture, and industrial biotechnology. While the biopharmaceutical sector has the largest share of the biotechnology industry, with 64% of the total revenues, it is followed by industrial biotechnology with 18% and bio-agriculture with 14%
Yet while the United States has long been the world leader in most segments of the global biotechnology sector, China is fast becoming a significant player. The implications of China's changing role in biotechnology is creating issues for the United States spanning national security, data security, and economic competitiveness. U.S. policymakers must boost public investment, liberalize immigration and foreign student visa policies, and enact regulatory reforms to ensure America remains competitive.
Market Segments
It is possible to classify the biotech industry into sectors that include biopharma, industrial biotechnology, agricultural biotechnology, food biotechnology, environmental biotechnology and bioinformatics.
Thus, biotechnology has proved to be useful in improving healthcare access and filling up the medical needs in certain regions. Apart from this, the biotechnology has been increasingly used in many other industries owing to the comprehensive nature of the application. The increased usage of biotechnology in agriculture due to the growing demand for organic food products is also contributing to the market growth. The rapidly increasing innovations in biotechnology have expanded the application in different disciplines such as biochemistry, genetics, molecular biology, etc.,
Agricultural biotechnology
Agricultural biotechnology is extensively used in genetic engineering, molecular markers, molecular diagnostics and vaccines that promote demand for advanced bioagriculture products. For instance, the molecular diagnostic method helps in detecting genes more precisely and specifically to diagnose crop or livestock diseases. Furthermore, rising usage of traditional techniques including crossbreeding, grafting and cross-pollination in plant reproduction further enhances the behavioral patterns of plants. Hence, the aforementioned aspects will prove beneficial for the segmental growth.
The Agricultural Biotechnology market in the U.S. is estimated at US$10.5 Billion in the year 2020. The country currently accounts for a 29.65% share in the global market. China, the world second largest economy, is forecast to reach an estimated market size of US$11.4 Billion in the year 2027 trailing a CAGR of 8.7% through 2027. Among the other noteworthy geographic markets are Japan and Canada, each forecast to grow at 8.7% and 7.5% respectively over the 2020-2027 period. Within Europe, Germany is forecast to grow at approximately 7.5% CAGR while Rest of European market (as defined in the study) will reach US$11.4 Billion by the year 2027.
Food and beverage
Biotechnology is increasingly being used in the food and beverage industry. Fermentation helps with the preservation of food products and prolongs their shelf life. The process produces chemical changes in organic substrates through the action of enzymes and uses microorganisms as raw materials in fermenters and bioreactors. This results in increased shelf life of the consumable items. Moreover, key industry participants are focusing on research and development activities for the production of fermented products. As per reports, in 2018, the fermentation segment captured more than 11% revenue share of the biotechnology market. Meanwhile, the food and beverage industry is anticipated to generate lucrative opportunities for the biotechnology market.
Healthcare
The global biotechnology reagents market is anticipated to grow at a CAGR of 6.70% between 2020 and 2028, and is estimated to generate revenue of $70241 million by 2028. The increasing advantages associated with biotechnology pertaining to the advent of new technology will drive market growth over the analysis timeframe. An increasing number of chronic diseases including cancer, heart disease, stroke, asthma, chronic respiratory diseases and hypertension among others will positively influence the biotechnology market growth.
Owing to technological advancements and widespread application of this field in various aspects of healthcare, the health segment is expected to exhibit strong progress in the forecast period. Continuous introduction of new biotechnological products to cater to healthcare entities that are involved in diagnosis, prognosis and biopharmaceutical development is estimated to propel the biotechnology market. Decreasing costs and rise in number of services in this segment are expected to drive segment with lucrative avenues. North American pharmaceutical and biotech companies have experienced great success in the recent years resulting in larger share.
Unhealthy diet and lifestyle habits including alcohol consumption and tobacco are among the major reasons for the increase in the prevalence of chronic diseases. Therefore, the Department of Biotechnology through technical expert committee (TEC) and expert groups are focusing on R&D activities to develop innovative methods in cancer and neuro-disease biology. Hence, rising incidences of such chronic diseases, owing to several factors including stress and sedentary lifestyles, foster the overall business growth.
Demographic changes, increase in life expectancy, changes in disease patterns, social globalization, a significant increase in the access to health services and the emergence of the social state have played a crucial role in the growth of the world pharmaceutical industry. The total trade volume of the pharmaceutical industry in the world has been above 1.35 trillion USD. The enormous demands and consumption in developed countries is met by production in these developed countries. According to Trademap 2018 data, world pharmaceutical exports amount to 656 billion USD.
Vaccines Segment Corners a 11.4% Share in 2020
In the global Vaccines segment, USA, Canada, Japan, China and Europe will drive the 8.6% CAGR estimated for this segment. These regional markets accounting for a combined market size of US$3.2 Billion in the year 2020 will reach a projected size of US$5.7 Billion by the close of the analysis period. China will remain among the fastest growing in this cluster of regional markets. Led by countries such as Australia, India, and South Korea, the market in Asia-Pacific is forecast to reach US$7.6 Billion by the year 2027.We bring years of research experience to this 18th edition of our report. The 211-page report presents concise insights into how the pandemic has impacted production and the buy side for 2020 and 2021. A short-term phased recovery by key geography is also addressed.
Issues
The high cost of biopharmaceutical research and drug development and contamination issues are the major factors hindering the market growth of the Biotechnology Reagents. The complexities and cost of biopharmaceutical research have also increased, which is hampering the research and development process. The microbial adulteration of constant cell cultures by a wide variety of microorganisms is problematic in cell culture laboratories worldwide.
Many countries, particularly members of the European Union, ban the growing of genetically modified organisms (GMOs) or crops. In countries where GMOs are allowed, regulations are often shifting due to public pressure from anti-GMO organizations and differing definitions of the term genetically modified. Once a GMO product enters the market, companies must navigate the complicated information landscape surrounding GMOs and provide evidence to consumers that their product is safe.
Despite their promise, developments in the field do raise certain safety and security concerns
Industry
The enterprises in biotech industry are growing focus on development of diverse strategies that can help them in gaining leading position in the industry. Thus, several players are growing interest in joint ventures, mergers, and acquisitions. These strategies are assisting players in expanding their regional presence as well. Moving forward, the leaders in the biotech industry are increasing investments in the research and development activities. The main motive of these researches is the development of advanced technologies and devices and launch of innovative products, which can fulfill the present market needs.
Key players
Over the five years to 2024, the industry is expected to continue to prosper, with the Asia-Pacific region, particularly China, South Korea, Taiwan and Singapore, investing significant amounts of capital to gain a strong foothold in the industry. Larger players emerging as profitable entities will continue pursuing low-risk strategies of success, such as buying out smaller operators to collect successful research for commercial-ready technologies, and partnering with academic institutions to support steady intellectual property expansion.
The companies holding the largest market share in the Global Biotechnology industry include Merck & Co. Inc., Johnson & Johnson, F. Hoffmann-La Roche AG, Novartis AG, Gilead Sciences Inc. and Pfizer Inc. Some of the notable business players functioning in the biotechnology market include Merck, Agilent Technologies, F. Hoffmann-La Roche, Abbott Laboratories, Amgen, PerkinElmer, Bio-Rad Laboratories, BioGen Medical Instruments, Danaher, Illumina, Thermo Fisher Scientific and Qiagen. These industry players are implementing different organic and inorganic growth strategies to stay ahead in the market competition. For instance, in October 2018, Bio-Rad received the FDA clearance for IH-Reader 24, a specific and semi-automated blood typing instrument. The addition of this new instrument to Bio-Rad's existing portfolio enhanced the product portfolio of the firm.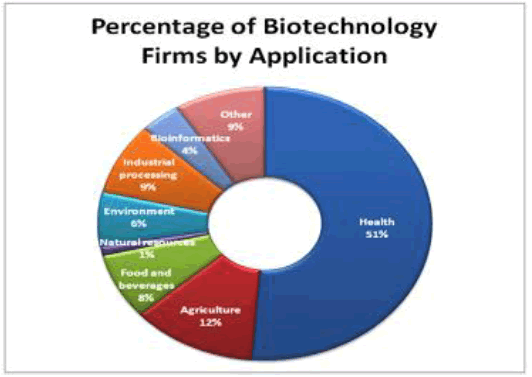 References and Resources also include:
https://carnegieendowment.org/2020/11/20/blessing-and-curse-of-biotechnology-primer-on-biosafety-and-biosecurity-pub-83252
https://www.tandfonline.com/doi/full/10.1080/13102818.2021.1878933
https://www.medgadget.com/2021/07/top-biotech-industry-trends-innovations-in-2021.html
Cite This Article