In 2015, the People's Republic of China's (PRC, China) Ministry of National Defense published its military strategy which highlighted the increasing importance of maritime dominance stating that "the traditional mentality that land outweighs sea must be abandoned, and great importance has to be attached to managing the seas and oceans and protecting maritime rights and interests."
In line with this strategy, China has ramped up the development of aircraft carriers, launching its first home-grown carrier, the Type 100A, on April 26, 2017 and with a third carrier on the way. China's first aircraft carrier is in operation, the second  has entered the service in Dec 2019 and third indigenous carrier  is  currently under advanced stage of construction and fourth is in the planning phase. China's two aircraft carriers, the Liaoning and the Shandong, recently completed military drills in the South China Sea, according to a statement by the Chinese Ministry of Defense in Sep 2020. It was the first time the Chinese navy has sent two carriers to sea at once, though the ships did not train together. The Shandong was commissioned in December 2019; the Liaoning was commissioned in 2012.   The Shandong, which uses conventional rather than nuclear propulsion, is the second carrier in the Chinese fleet.
China's first aircraft carrier, the Liaoning, a retrofitted Soviet-era vessel, was purchased from the Ukrainian government in 1998. Liaoning – with a full load displacement of almost 60,000 tons, carrying J-15 fighters and helicopters, was deployed to the western Pacific in April 2018 for her first realistic war game. The Liaoning's air wing may consist of 24 J-15 fighters, six anti-submarine warfare helicopters, four airborne early warning helicopters, and two rescue helicopters, for a total of 36 aircraft. China has also strengthened its  battle capabilities and  is training its own carrier-borne fighter pilots. It is one of the few countries to do so.
China needs at least three aircraft carriers to defend its 14,500 kilometer coastline as well as dealing with threats in the South and East China seas, said Cao Weidong, a Chinese military expert. With tensions escalating in the South China Sea, China has embarked upon steady naval building and modernization program. It now has 29 submarines armed with antiship cruise missiles. It added 10 new vessels to the PLA Navy in 2016 including guided missile destroyers, frigates and minesweepers such as the Qingzhou. "The number of new warships that are put into service annually in China has overtaken the U.S. and has become the first in the world," China Military Online said.
As China continues to feel threatened by the growing US presence in the region who is also arming its neighbors with advanced US technology, China could possibly launch its third aircraft carrier by end of 2020 or early 2021, according to reports. Earlier, there were reports that China is aggressively working on its third and fourth aircraft carriers at the Jiangnan shipyard in Shanghai which many media outlets in China including state-run Global Times predicted could be launched by 2025. "The Type 002 aircraft carrier—the country's third carrier and the second to be domestically developed—has started the final assembly process," the SCMP had reported, citing its sources. It reported that work on the third aircraft carrier had slowed down due to the COVID-19 pandemic which could delay the process.
Xu Guangyu, a senior advisor to the China Arms Control and Disarmament Association, told the Global Times, "In the long run, China needs to develop its own aircraft carrier battle teams, with at least six aircraft carriers, maritime forces led by guided missile destroyers, as well as attack submarines." Xu said China will build about 10 more bases for the six aircraft carriers. He explained that they could be built around countries friendly to China, such as Pakistan. He added that the bases could also be built in every continent, but this would depend on whether the countries would want to cooperate with China.
The aircraft carriers are further expected to increase in future. "In order to protect China's territories and overseas interests, China needs two carrier strike groups in the West Pacific Ocean and two in the Indian Ocean. So we need at least five to six aircraft carriers," a Chinese defence analyst recently told the People's Daily.
China's next generation of carriers will probably have greater endurance and be capable of launching more varied types of fixed-wing aircraft, including [electronic warfare], early-warning and [anti-submarine warfare] aircraft," the U.S. Defense Department explained in the 2018 edition of its annual report on Chinese military power. "By 2020, carrier-based aircraft will be able to support fleet operations in a limited air-defense role," Jesse Karotkin, the Office of Naval Intelligence's top China analyst, said in 2014."These improvements would increase the striking power of a potential carrier battle group in safeguarding China's interests in areas beyond its immediate periphery," the Pentagon explained in its 2018 China report.
China's warships have carried out a high-seas training in the Indian Ocean. Chinese navy's increasing presence in the Indian Ocean comes following the release of a White Paper published by the PLA in 2015 outlining a new military strategy enhancing its navy's duties for the first time to "open seas protection" far from its shores. The large number of aircraft carriers, successful use of catapult systems and atomic propulsion and long experience in operating carriers would confer Beijing true blue open ocean capability and expand its global reach.
Aircraft Carriers remain premium Force Projection instruments
Aircraft carrier is simply a ship outfitted with a flight deck , a runway area for launching and landing airplanes equivalent of airbase. However this  greatly enhances its the air power  with capacity to destroy hundreds of surface targets per day, making the difference between victory and defeat.  Carriers can move in excess of 35 knots (40 mph, 64 kph), which gives them the ability to get anywhere in the ocean in a few weeks.  With 80% of the world's population lives less than 100 miles from the sea, putting it within reach of carrier air wings  allow it to execute a diverse array of military operations.
Despite the proliferation of threats, Carriers remain premier instruments for presence, deterrence, and coercion, while air wing renders the carrier a potent warfighting system able to project power and exert control of the seas around which it operates. Under international Freedom of Navigation laws, aircraft carriers and other warships are recognized as sovereign territories in almost all of the ocean. Aircraft carriers  have become the preeminent expression of  military power by providing a secure base for protecting and projecting  power.
China's Indigenous Aircraft Carriers
According to Peter Layton, visiting fellow at the Griffith Asia Institute, the Liaoning was intended to act as more of a training vessel, whereas the Shandong is likely to be deployed in combat missions, positioning China alongside a select number of countries with global naval capabilities, including Russia, France, the US, and the United Kingdom.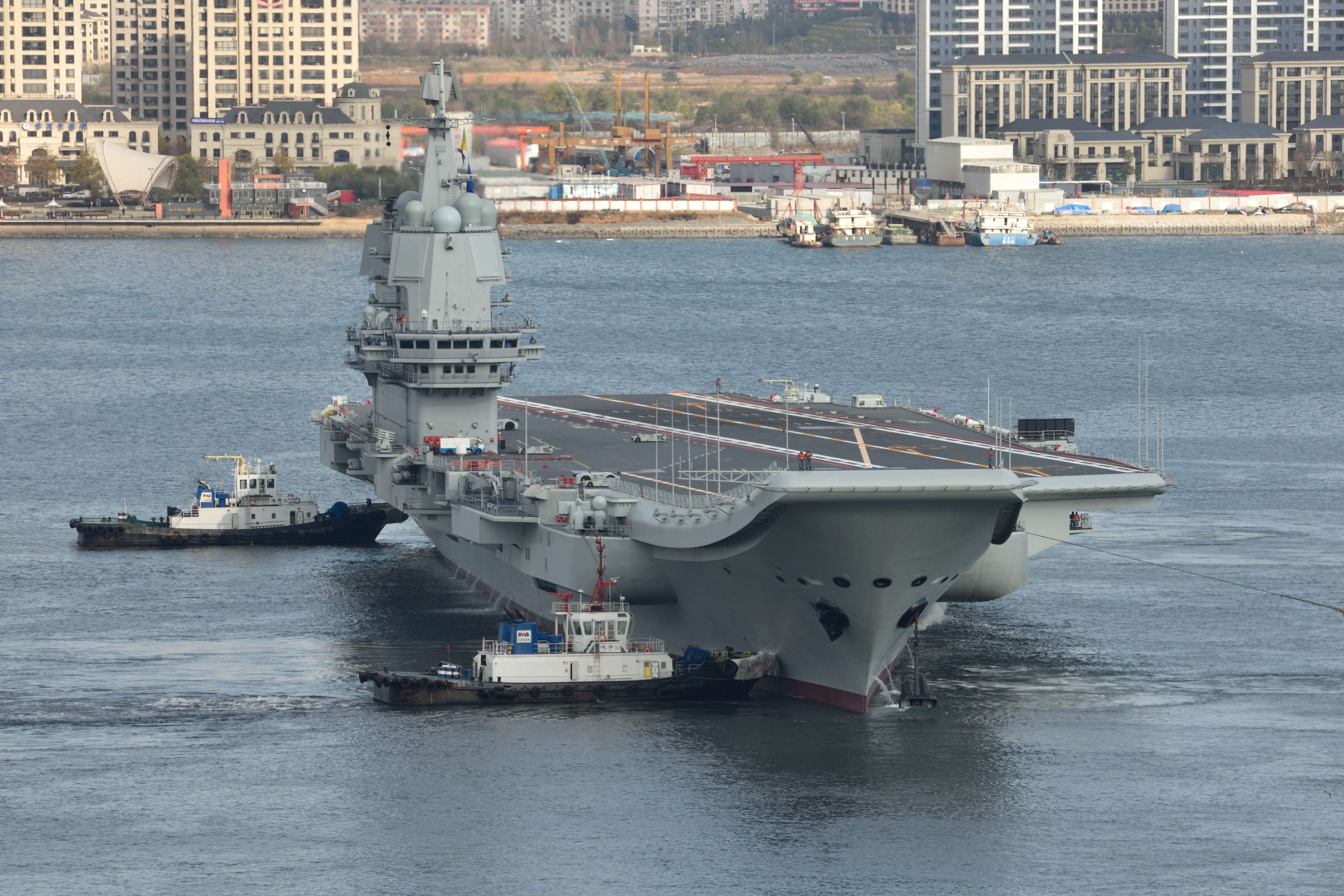 "Unlike the Liaoning(Type 001), China's first aircraft carrier, a refitted ship built by Ukraine (under the former Soviet Union), the 001A is China-built, and its design, combat capability and technologies will be much more advanced," Song Zhongping, a military expert, told the Global Times. "One key difference is the design will be more 'humanized,' which means all personnel on the carrier will enjoy a more comfortable and modern environment," Song said
Both the Liaoning and the Shandong use ski-jump style ramps at the end of the flight deck to launch planes, a comparatively older technology that has been largely replaced by the United States Navy in favor of "catapult" technology.
The electronic catapult system allow the aircraft to be launched with greater fuel and weapon loads hence can fly further than "ski-jump" style carriers, which rely on their own power when lifting off from ski-jumps.  It also allows heavier support aircraft, such as airborne early warning (AEW) radar planes to fly off the deck. China has reportedly achieved a breakthrough on a conventional propulsion system for its next carrier, which would allow it to operate advanced catapults for launching aircraft without necessitating the use of nuclear propulsion.
The Liaoning lacks aircraft catapults and instead launches fixed-wing airplanes off the ship's bow using an inclined "ski ramp." That arrangement places hard limits on how heavy Liaoning's aircraft can be — and how much weaponry and fuel they can carry. The U.S. Navy's own carriers use steam catapults to launch aircraft weighing as much as 50 tons. By contrast, Lianong's ramp layout probably limits aircraft to a maximum weight of 30 tons, a former Chinese navy source revealed. A J-15 weighs nearly 20 tons empty. Fuel accounts for most of the available 10-ton payload on most missions, limiting the fighter's weapons load out to just a few small missiles.
China's future carrier should be able to carry as many aircraft as possible for China to gain control of the air when fighting strong adversaries at sea, according to Cao Weidong, a Chinese military expert. Cao said the PLA Navy needs a supercarrier similar to the Forrestal-class aircraft carriers of the United States Navy. He said, however, that China's first supercarrier should not be powered by a nuclear reactor since the nation does not have the technology to operate it.
Two Liaoning-pattern aircraft carriers
In December 2013 China's Central Military Commission told Duowei News it planned to commission two Liaoning-pattern aircraft carriers by 2020, designated as Type 001A. Contracts were awarded to China Shipbuilding Industry Corporation to build the two carriers at a projected cost of US$9 billion and construction started in late 2014.
China's first domestically built aircraft carrier is a larger version of Liaoning. The design is reportedly based on drafts of a Soviet-era, nuclear-powered, 80,000-ton vessel capable of carrying 60 aircraft. Chinese website qianzhan.com, citing top sources in the People's Liberation Army, said China's first domestically produced aircraft carrier should be launched by 2020. "By that time, China will be able to confront the most advanced US carrier-based fighter jets in high sea," the Chinese-language article reads.
According to IHS Jane's, satellite photos of Huangdicun Airbase appear to show the construction of two catapult systems. One of these is thought to be steam-powered while the other is an electromagnetic version. According to analysis by IHS Janes based on Satellite photos, the construction of Chinese second aircraft carrier is in advanced stage in a Dailan shipyard. The second aircraft carrier features a more sophisticated design than its predecessor, the Liaoning. A third carrier currently in the planning stage could be nuclear-powered.
Earlier, China lacked  requisite expertise in designing and building the propulsion systems for large ships as well as metallurgy for the vessel's hull. After three years of research and development, the country finally succeeded in making a special kind of steel that is needed for the manufacturing of the aircraft carrier. It is so strong that an aircraft landing on it will not scratch it. In addition to the qualified materials, China has trained 2,400 professional welders who work 24 hour shifts in the narrow cabins to produce the ship.
Third 80,000 tonnes  Carrier with breakthrough conventional propulsion system to power electronic catapult
A third carrier currently in the planning stage could be bigger than her two predecessors—as big as an American Nimitz-class supercarrier, the ship's features apparently mirror those on the latest American carriers—three elevators for efficiently moving planes between decks and four electric catapults for quickly launching them.
According to SCMP, the construction for the second Type 002 will be faster than the first one because engineers have learned and succeeded in tackling a lot of obstacles building the first aircraft carrier. It's a challenging job because Type 002 is the country's first domestically designed aircraft carrier. Unlike the Shandong, China's second aircraft carrier, the third one used a more advanced construction method, in which large hull sections were built in different places and sent to the final assembly site for assembly, Ordnance Industry Science Technology reported, noting that this method can shorten the construction time.
The third and fourth carriers are beleived to be different in design from the Liaoning and Shandong aircraft carriers and will be significantly larger. Based on the analysis of satellite imagery, the US think tank Center for Strategic and International Studies has estimated that the third aircraft carrier would have a displacement of up to 85,000 tonnes almost double than that of INS Vikramaditya.
The third carrier shall be equipped with a Electromagnetically Assisted Aircraft Launch System (EMALS) catapult. Compared to steam catapautls, EMALS catapults are less maintenance intensive, mechanically simpler and have greater power and flexibility to launch  larger and heavier aircraft like the U.S. Navy's E-2 Hawkeye airborne early warning aircraft or the C-2 Greyhound carrier on-board delivery aircraft.
The PLAN currently operates a version of the Changhe Z-18 transport helicopter fitted with a multimode active electronically scanned array radar on board the Liaoning as its airborne early warning platform. However, compared to a fixed-wing turboprop aircraft like the Hawkeye, a helicopter has significantly reduced endurance and operating altitude, which results in a significantly reduced time on station and radar range, respectively.
US flattops  are nuclear-powered which confers a greater sailing range and supports more sensors, weaponry and other systems. However  China  has reportedly achieved a breakthrough on a conventional propulsion system for its next carrier, which would allow it to operate advanced catapults for launching aircraft without necessitating the use of nuclear propulsion.
Hong Kong's South China Morning Post newspaper, quoting sources close to China's People's Liberation Army, reported that a team led by China's top naval engineer, Rear Adm. Ma Weiming, has developed a medium-voltage, direct-current transmission network to replace an earlier system based on alternating current.
Forming part of an integrated propulsion system, the new system would allow a conventionally powered aircraft carrier to operate an Electromagnetic Aircraft Launch System, or EMALS, which conveys a number of advantages over traditional steam catapults that include increased efficiency, precision and shortening aircraft launch cycles.
Beijing-based Chinese naval expert Li Jie  acknowledged the problem to the South China Morning Post  "Compared with submarines, a carrier is much bigger," . "It will take time for our nuclear engineers to develop a safe and powerful engine capable of driving a huge platform of more than 100,000 tonnes." However, China might attempt to follow in the footsteps of the recently retired USS Enterprise (CVN-65), which used eight submarine reactors but at the cost of a lot of space, since United States didn't have the technology to build reactors suitable for an aircraft carrier when Enterprise was built.
U.S. Naval War College analyst Andrew Erickson expects Beijing to produce "more than three" homemade flattops, presumably by the 2020s. "Developing such a capability is the only way for China to achieve robust sea control and long-range maritime power projection," Erickson wrote.
References and Resources also include:
Cite This Article