In 2019, 1,473 data breaches in the U.S. led to the exposure of 164,683,455 confidential records, as per the Identity Theft Resource Center (ITRC). Additionally, in May 2020 alone, 841,529 records were exposed in 108 data breach incidents. The records ranged from people's financial and medical information to strongly protected national secrets. Weak passwords, improper configuration, complex access permissions, and malware attacks are the major reasons behind data breaches. Moreover, with more companies transitioning to the cloud, the threat is becoming even more real.
Cybersecurity Ventures expects global cybercrime costs to grow by 15 percent per year over the next five years, reaching $10.5 trillion USD annually by 2025, up from $3 trillion USD in 2015. This represents the greatest transfer of economic wealth in history, risks the incentives for innovation and investment, is exponentially larger than the damage inflicted from natural disasters in a year, and will be more profitable than the global trade of all major illegal drugs combined.
The cybercrime cost prediction includes damage and destruction of data, stolen money, lost productivity, theft of intellectual property, theft of personal and financial data, embezzlement, fraud, post-attack disruption to the normal course of business, forensic investigation, restoration and deletion of hacked data and systems, and reputational harm.
The worldwide cyber damage estimates do not include unreported cybercrimes, legal and public relations fees, declines in stock and public company valuations directly and indirectly related to security breaches, negative impact on post-hack ability to raise capital for start-ups, interruptions to e-commerce and other digital business transactions, loss of competitive advantage, departure of staff and recruiting replacement employees in connection with cyberattacks and resulting losses, ongoing investigations to trace stolen data and money, and other.
Cyber-attacks are a serious concern, particularly to high-value targets including government agencies, defense, and aerospace. Governments all around the world have strict cyber security regulations in place to protect individuals' and corporations' data and privacy. The market is being driven by such governmental rules and regulations.
Cyber warfare refers to the use of technology to launch attacks on nations, governments and citizens, causing comparable harm to actual warfare using weaponry. Cyber warfare has developed into a more sophisticated type of combat between countries, where you can destroy critical infrastructure such as power, telecommunications or banking by damaging the computer systems that control those infrastructures.
The defence industry is enhancing efficiency through digitization enabled by information technology, up-gradation of existing weapons with intelligence, surveillance, and reconnaissance systems along with increasing volume of classified data gathered systems have necessitated the usage of reliable and enhanced cyber security solutions for the defence industry. This is also leading to increased vulnerability to cyber attacks and cyber warfare campaigns  such as cyber-attacks from worms and viruses to enhanced techniques such as zero-day attack, Dynamic Trojan Horse Network (DTHN) Internet worm, and Stealth Bots.
Cyber Security Market
The Global Cyber Security Market was valued at USD 140.12 Billion in 2021, and it is expected to reach a value of USD 423.56 Billion by 2028, at a CAGR of more than 17.12% over the forecast period (2022 – 2028).
Most people associate cyber security with a simple antivirus, but it is a lot more than that, encompassing application, enterprise, endpoint, network, database, cloud, email, and information security. Among these, the demand for enterprise security solutions is the highest, as organizations are becoming aware about keeping their entire IT infrastructure safe from cyber miscreants.
The defence and the homeland security agencies are expected to cover around 40% share of the global cyber security market in 2015. Rising threat of cyber-attacks to critical infrastructures by organised criminal groups along with technological advancement in the cyber security market remains as the key driver for the growth of cyber security solutions for the defence industry.
The defense cyber security market was valued at US$ 17.3 Bn in 2021 and is forecast to reach a value of US$ 45.4 Bn by 2030 at a CAGR of 11.8% between 2022 and 2030.
This rise in market value can be attributed to the significant rise in the prevalence of cyber-attacks and cyber-threats globally as well as the advanced, complicated nature of these threats. Growth in investments on military programs and allocation of resources for research and development of cyber security solution for the battle field communication systems is expected to remain as the most upcoming trends in the cyber security market for the defence industry over the coming years.
Cyber Security Technologies
The study further mentions that numerous countries are redesigning their defense security norms to protect their crucial data. The U.S. Department of Defense (DoD), for instance, launched new guidelines in January 2020 through Cybersecurity Maturity Model Certification (CMMC) for defense-based contractors
Globally, countries are spending on technologies in order to secure internet protocols, improve capabilities to model the effects of cyber attacks, test software, and analyze vulnerabilities, as well as information system insider threat-detection models and mitigation technologies. Moreover, cyber attacks are now not only limited to nations but have extended to terrorist groups, organized crime, hackers, industrial spies, and foreign intelligence services. As such, the changing dynamics of cyber threats and increased demand for cyber weapons is expected to stimulate growth over the forecast period.
The cybersecurity market consists of sales of cybersecurity software and related services. Cybersecurity is a practice of protecting the network, computers, mobile devices, hardware, electronic systems and data from digital or malicious attacks. It is also known as electronic information security and information technology security. Cybersecurity can be segregated into categories including network security, application security, information security, operational security and others.
Cybersecurity is the combination of various technologies, techniques and parameters set forth to prevent attacks; restrict the effects of potential cyber-attacks while limiting the chances of any unauthorized access. This technology is specially designed for different various industries, based upon the different threats of that particular industry as well as the different parameters required for the successful deployment of these services. Military cyber-security is the technology compilation based on the parameters and requirements of various military authorities.
Despite of declining defence budget in North America, and the West European region, the global cyber security market for the defence industry is expected to grow significantly over the next decade. Huge investments in cloud network security solutions applicable for the battle field management, data protection, & wireless security solutions along with development of network security & cloud security software stands out as the key factors contributing to the growth of cyber security market for the defence sector.
"Militaries across the globe are budgeting for and pursuing the development of new enabling, next-generation technologies for cybersecurity," said Ryan Pinto, Research Analyst, Frost & Sullivan. "These technologies will open up significant growth opportunities by improving the speed and accuracy of logistics battlefield planning, increasing autonomous functionality of systems, aiding decision-making, lowering overhead costs, and enabling less soldier risk."
Market Drivers
Cyber security market growth is driven by the rising adoption of e-commerce online platforms and the emergence of disruptive technologies such as Articial Intelligence (AI) , Internet of Things (IoT), Blockchain, and others.
 "Rising Adoption of E-commerce Platforms and advent of Disruptive Technologies to Drive the Market"
In the present scenario, security related to the IT sector has become the primary concern for the corporate, public, and private division. The growing adoption of e-commerce and the advancement of disruptive technologies such as articial intelligence and blockchain has increased the adoption of cyber security solutions in a connected network ecosystem. As per the current market, these factors will enormously boost the cyber security market growth in the coming years.
Nowadays, various companies are using IoT for a large number of military applications, such as AR remote training, autonomous reconnaissance, real-time fleet and vehicle management, and monitoring of combat health.
Additionally, cyber security solution providers are adopting AI, cloud, and ML technologies in their IT and electronic security systems. Increasing adoption of these technologies to mitigate cyber threats is fueling the demand for cyber security solutions.
"Increasing Investments by Governments in Cyber Security Solutions to Spur Growth Opportunities"
Cyber security has become an emerging discipline and has driven the focus of many global organizations and government to invest in advance security solutions. Increasing government investments in cybersecurity solutions is a major trend shaping the growth of the cybersecurity industry. In the current period, governments of emerging countries are among the major customers for the cyber security solutions due to a huge volume of condential data and information. According to a report by the European Cyber Security Organization, the government in the U.K. invested around USD 2.30 billion for the implementation of various cyber security programs in defense and research.
For instance, in October 2019, the UK government has announced a multi-million investment project of $48 million (36 million) to protect the country's businesses from cyberattacks. This scheme combines the government's partnership with leading tech firms such as ARM as a part of the government's digital security by design initiative, which was backed previously by Microsoft and Google. The government funding will help to detect future threats and mitigate their effects including terrorism, financial extortion and damaging established systems.  This would help to boost the overall adoption rate for cyber security solutions across multiple industries in near future. All these investments, rising focus of organization, and support from government of various countries are projected to contribute in the growth of the market in terms of revenue. Thus, increasing investments by the governments globally are likely to create large avenues for expansion for the players operating in the cybersecurity market over the forthcoming years.
Additionally, the adoption of cyber security solutions is expected to grow with increasing investments from countries such as India, Italy, Spain, Canada, Oman, South Korea, Qatar, and others. Also, rising demand for enterprise security solutions from industries including banking, financial services and insurance (BFSI), manufacturing, along with aerospace & defense and healthcare sectors is anticipated to boost the market size in the forthcoming years.
The factor that negatively impacts the market growth is the low cybersecurity budget and high installation costs. The budget for cybersecurity of emerging startups is insufficient in order to adopt Next-Generation Firewalls (NGFWs) and Advanced Threat Protection (ATP) technologies. Due to their limited financial resources, these businesses lack the necessary IT security infrastructure, resulting in a sluggish adoption of new technologies and corporate security solutions. Small businesses are tasked with managing budget finances for a variety of operational issues and business continuity plans; which limits the growth.
Market trends
Modern innovations and technological advancements resulting in the availability of unmanned vehicles requiring better levels of security services to ensure reduction of chances of hacking of these products Focus on better security from various private contractors regarding the confidential and intellectual property is also expected to augment growth of the market
"Growing Adoption of Cloud-based Services in IT Securities to Favor Market Growth"
One of the key trends that enable the overall growth of cyber security market is the rising  adoption of cloud computing. Cyber security solutions are based on complex mathematical prediction models, handling large amounts of data. This data monitoring can only be fullled by
cloud technology in a secure and reliable environment at low cost. Key players such as IBM Corporation, Cisco System and others, are focusing on integrating cloud computing with cyber security solutions. These cloud computing services are backed up by 'Analytics as a Service' (AaaS) oerings, allowing users to detect and mitigate uncertain threats quickly.
"Integration of Technologies such as Internet of things (IoT), Machine Learning and Big Data in Threat and Security Technique Upgradation by Key Vendors to drive the Market"
Companies in cyber security market are adopting technologies such as internet of things (IoT) , machine learning, and big data in their security business units. With the rising IoT market growth, the adoption of IoT solutions and services is also increasing in IT security applications.
Therefore, the adoption of IoT and machine learning in security is  considered as one of the swiftly developing cyber security market trends. Additionally, big data technology is assisting organizations in studying and analyzing the potential risks. Considering the impact of these technologies, the adoption of IoT and AI is increasing exponentially in the cyber security solutions. Most of the companies operating in this market are shifting from a "signature-based" malware detection system to an IoT-enable machine learning "signature-less" system. This shift would help them to understand ambiguous activities and events, and further help to detect and identify uncertain threats.
Cyber regulations and Cyber Insurance
Apart from the increasing cyberattack incidence, another key driver for the cyber security market is the stringent compliance regulations in numerous countries. To encourage companies to take steps for safeguarding their reputation and avoid losses and protect customers' confidential data, several acts mandating a robust cybersecurity infrastructure have been passed. Examples of these laws are the 2018 California Consumer Privacy Act (CCPA), 1999 Gramm-Leach-Bliley Act, 1996 Health Insurance Portability and Accountability Act (HIPAA), Federal Information Security Management Act (FISMA), 2002 Homeland Security Act, General Data Protection Union (GDPR), and Payment Card Industry Data Security Standard (PCI DSS).
68 percent of U.S. businesses have not purchased any form of cyber liability or data-breach coverage, showing that businesses are not adopting cyberinsurance at a rate that matches the risks they face, according to a Cisco paper. However, a majority of the 25 most populous U.S. cities now have cyberinsurance or are looking into buying it, according to a Wall Street Journal survey.
Singapore announced the launch of the world's first commercial cyber risk pool, a facility for providing cyber insurance to corporate buyers, as cyberattacks in the Asia Pacific region become more pervasive. The pool will commit up to $1 billion (USD) in risk capacity and will be backed by capital from traditional insurance and insurance-linked securities markets to provide bespoke coverage.
Key market Restraints and threats
"Limitations Related to High Cost of Innovation and Budget Constraints for SMEs to Hinder the Market Growth"
With the growth in number of cyber security threats and attacking tools, the requirement for advanced cyber security solutions to deal with such attacks is growing exponentially. The traditional cyber security solutions are not enough accomplished of securing the organizations
from advance threats of cloud, network, endpoint security, among others. In addition, huge algorithms are required for cyber security solution providers to develop technically advanced solutions. Further, high cost associated with cyber security solutions and services limits the adoption among small and medium enterprises.
The increasing use of unlicensed or pirated software is a significant threat to the cybersecurity market.
Pirate software refers to the unauthorized copy of the software, which is a replica of the original software. Internet-based piracy of software and solutions is an emerging issue for the industry. According to the BSA global software survey published in June 2018, despite the 2% drop in the pirated software installation rates, the unlicensed software was being installed at alarming rates during 2016 and 2017, accounting for 37% of software installed on personal computers. The organizations purchasing unlicensed software packages and a computer with pirated software installed can impede the growth of bottom line and induce unprecedented security risk. Thus, this high rate of software piracy is hindering the growth of the cybersecurity market.
Market Segmentation
"Rising Adoption of End-point Security by Enterprises to Boost the Market Growth"
Based on solutions, the market is divided into network security, cloud application security, endpoint security, secure web gateway, internet security, and others. Among these, cyber security solutions in end-point security are expected to grow at a gradual CAGR. The cyber security
solutions in the cloud application security area are expected to grow at the highest CAGR in the forecast years. This growth is owing to the rising investment and adoption of cloud technology among the various industries including nancial institutions, IT & telecom, and others
In the coming years though, the requirement for cloud security solutions is expected to rise the fastest, on account of the burgeoning usage of cloud computing. Cloud allows companies to minimize their IT infrastructure requirement, access the data from anywhere, at any time, and scale up and down the storage capacity as per usage. The 2020 State of the Cloud Report says that by 2023, around $500 billion will be publicly spent on cloud around the world. In 2019, McAfee had said that in any company, around 9% of the cloud applications in use are highly vulnerable to cyberattacks.
The cyber security market, under segmentation by use case, is categorized into incident response, security monitoring, threat hunting, network traffic analysis, data exfiltration, and others. Among these, the security monitoring category dominated the industry during the historical period (2014–2019), because of the increasing need to monitor and track events and analyze threats in real time. During the forecast period, the highest CAGR is expected in the threat hunting category, with users becoming more aware on studying persistent threats and responding to them quickly.
Using cybersecurity solutions for threat hunting results in quicker threat and response management system (TRMS) operation, reduced inspection time, proactive specific threat identification, early threat detection, thereby helping secure the network infrastructure, and information analysis by actionable intelligence resources. In an article published in October 2019, CNBC says, "Cyberattacks now cost companies $200,000 on average, putting many out of business." Therefore, it is essential to catch the attack as it happens, so that it can be quickly thwarted and losses can be avoided.
By Enterprise Size Analysis
"Key players are Planning to Expand their Business by partnering with SMEs to Aid the Market Growth" Based on enterprise size, the market is segmented into small and medium enterprises and large enterprises. Among these, the small and medium enterprise segment is estimated to grow at the highest CAGR. This growth is mainly owing to the rising adoption of cybersecurity solutions across various industries including retail and nancial organizations. Further, key players in this market are focused on expanding their business oerings by completing a deliberate partnership.
For instance, in January 2020, GTT Communications, Inc., partnered with Fortinet, Inc., to provide cost-eective advanced security solutions to small and large enterprises clients.
By End-Use Analysis
"Rising Investment by Key Players to Boost the Market Growth"
Based on end-use, the market is segmented into BFSI, IT and telecommunications, healthcare, government, retail, travel and transportation, manufacturing, energy and utilities, and others. Among these industries, BFSI is expected to rise with a gradual CAGR during the forecast period. This growth is attributable to the rising demand for robust security and digital privacy system across nancial and banking institutes. Additionally, an increase in the adoption of internet banking, online applications and cloud are driving the cyber security market growth. Cyber security solutions are helping banks, insurance and nancial organizations to secure highly condential data integrated with real-time intelligence against insistent cyber-attacks.
Moreover, the healthcare segment is expected to rise at the highest CAGR during the forecast period. The healthcare sector has unique real-time methods of deploying cyber security solutions among various end use applications including hospitals, research & laboratories and clinics. In the healthcare industry, cyber security solutions help to cater the need for data protection, including customer health care records. Furthermore, in response to the rising cases of intense threats and breaches, several governments across the world are emphasizing on increasing investment in defense and research sectors to establish advanced and secure cyber safety infrastructure.
Furthermore, to fulll the rising demand for customized security solutions, key companies in the market are aiming to accomplish acquisitions and partnerships with other players. For instance, in October 2018, IBM Corporation acquired Red Hat, Inc. With this acquisition, IBM Corporation will also be able to develop and cater to the security solutions across a wide range of industries.
Regional analysis
Presently, North American people are the most significant users of cybersecurity solutions, due to the wide usage of data analysis tools, increasing number of data centers, rapid adoption of cloud computing, fast-paced digitization, high download rate of mobile applications, and rising usage of electronic health records (EHRs). In the immediate future, the demand for cybersecurity solutions is expected to boom in Asia-Pacific (APAC), due to the increasing awareness about thwarting cyberattacks, rising adoption of data encryption and protection solutions, growing penetration of mobile internet, and government support.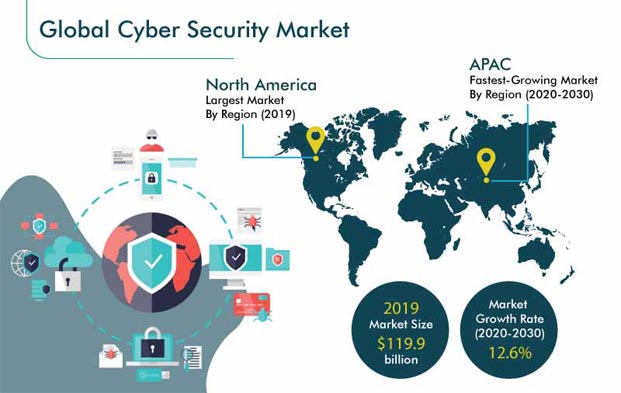 North America is projected to capture the maximum market share in the cyber security market during the forecast period. High section security breaches and dependency is driving the demand for cyber security solutions and hence boosting overall market growth across the region. The evolution of the e-commerce online platform is boosting the market growth in North America.  The government in countries such as the U.S. and Canada are implementing cyber security protocols to oers enhanced security measures.
Other market drivers include increasing spending by companies in this region and rising demand for enterprise security solutions across various industries including retail and government. For instance, during 2016-2018, in the U.S., several global providers of cyber security solutions namely Microsoft Corporation, Palo Alto Networks, Inc., IBM Corporation and others, have invested in developing advanced cyber security based on core technologies such as AI and IoT.
For instance, during 2016-2018, Microsoft Corporation spent nearly USD 1 billion for the development of secure cloud operations. Similarly, Palo Alto Networks, Inc., invested around USD 400.7 million in 2018. Palo Alto Networks is robustly investing in the development of technology related to security and enhancement of subscription oerings.
Europe is expected to grow with the highest CAGR during the forecast period. In Europe, the market growth is considerably driven by increasing cyber projects and related investments by major companies in countries, namely the U.K., Germany France, Spain, Italy, and others. Signicant developments in this region is the result of the rising demand for cyber security solutions from the manufacturing and retail industry. Key manufacturers in this region are focusing on deploying advanced cyber security solutions to secure the information related to
manufacturing operations and hence increase their productivity. The government in countries are focused on adopting various cyber security solutions in defense and surveillance to create a robust, secure platform for the functioning of the military.
While Asia Pacic is expected to grow with a remarkable CAGR during the forecast period. The growth in this region is probably to occur owing to increasing demand for location-based services from industries including transportation & logistics, entertainment and education & research sectors. To cater to the rising demand for cyber security solutions and services from these industries, several companies in this region are focusing on developing and introducing advanced cyber security solutions.
The market growth in countries such as China, India, and Korea are anticipated to develop with an exceptional CAGR during the forecast period owing to rising investments by government and foreign investors in various smart city projects. According to a report released by the online security rm and Symantec Corporation, India has been ranked among the top ten countries to witness the cyber security crimes. Also, according to a global survey, India holds the third rank in terms of the number of internet users across the globe, followed by the U.S. and China. This historical data and available statistical data will assist the
Key Industry Players
Some of the Key Companies  are: Cisco Systems, Inc. (United States), Fortinet, Inc . (United States), Proofpoint, Inc. (United States), Microsoft Corporation (United States), IBM Corporation (United States), Palo Alto Networks, Inc. (United States), Zscaler, Inc. (United States), Broadcom, Inc. (United States), F5 Networks, Inc. (United States), Check Point Software Technologies (Israel), and Sophos Ltd. (United Kingdom)
Few of the major competitors currently working in the global military cybersecurity market are Lockheed Martin Corporation; Northrop Grumman Corporation; Raytheon Company; General Dynamics Mission Systems, Inc.; Thales Group; BAE Systems; Booz Allen Hamilton Inc.; CACI International Inc; Airbus; Salient CRGT; DIGITAL MANAGEMENT, LLC; KeyW Corporation; Check Point Software Technologies Ltd.; FireEye, Inc.; ManTech International Corporation; Radiance Technologies, Inc.; Cisco and Symantec Corporation among others.
"Market leaders such as Cisco System to Focus on Expanding their Product Oerings" Cisco Systems, Inc. is focusing on enhancing its network capabilities by applying the latest technologies such as machine learning and advanced analytics. The company provides a wide range of cyber security solutions based on network-related areas. Some of the key solutions include superior threat protection, web, unied threat management, network and data center security, access and policy, email security, and advisory, integration, and managed services.
November 2019 – Cisco System launched platform enhancements and services. This platform assists its users to enhance their environments by increasing the speed of threat detection and moderation. December 2019 – Cisco Meraki expanded its product portfolio oerings along with the incorporation with Cisco networking innovation into its solutions. This strategy would assist the company in providing a simple, secure, and intelligent platform for building and managing the
network for digital business.
Future Scenario
The emergence of cyber security is proceeding towards the development of a robust security environment for the public and private sector. This development would help organizations to predict and mitigate possible outraged threats associated with their business units. The adoption of cyber security solutions may enhance the end-to-end security standards and accelerate the detection and mitigation of dierent cyber threats in the years to come.
References and resources also include:
https://www.fortunebusinessinsights.com/industry-reports/cyber-security-market-101165