In 2013, Chinese President Xi Jinping announced the launch of both the Silk Road Economic Belt which will link China with Europe through Central and Western Asia, and the 21st Century Maritime Silk Road which will connect China with Southeast Asian countries, Africa and Europe. The two were collectively referred to first as the One Belt, One Road initiative but eventually became the Belt and Road Initiative (BRI).
China's leaders have continually framed the BRI as an economic cooperation initiative grounded in "win-win" cooperation that promotes world peace and development. As outlined in the initiative's vision statement, the BRI is meant to improve financial, trade, and people-to-people connectivity; address the urgent need for infrastructure financing and development; enhance policy coordination; and further financial integration
The BRI project, is one of the most ambitious infrastructure projects ever conceived. Chinese-led $900 billion BRI Silk road  infrastructural project will connect China with Central Asia, the Middle East, Europe and Africa. New Silk Road represents, in fact, three roads with vital subroutes. The first is over land and revives the ancient Silk Road from China's Sinai to Rome. On its northern branch, the road reaches from China to Russia; a southern route connects China to Europe through Iran. Combined, these routes pass through Asia and Africa, linking East Asia with Europe and Russia. When the New Silk Road is ready, the  The maritime portion of the Silk Road links China's seas with the Mediterranean through the Indian Ocean, the Arabian seas, and the Red Sea.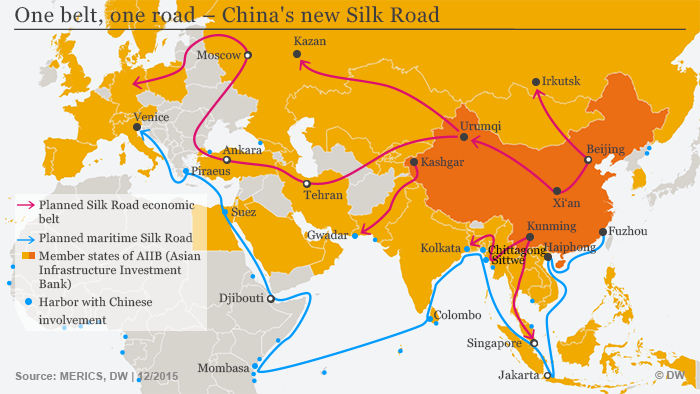 The land route will begin in Xi'an, in central China, before stretching to the border with Kazakhstan. The Silk Road, then heads southwest to Iran before passing through Iraq, Syria and Turkey. The new Silk Road, then crosses the Bosporus and heads through Europe, traversing Bulgaria, Romania, the Czech Republic, Germany and Rotterdam in the Netherlands – from which the path runs south to Venice where it converges with the planned maritime route.
Under Maritime  Silk Road, to accommodate expanding maritime trade traffic, China would invest in port development along the Indian Ocean, from Southeast Asia all the way to East Africa. President Xi Jinping said the ambitious project is designed to "break the connectivity bottleneck" in Asia.
Impact of Covid-19
Then came COVID-19. In 2020  China's Ministry of Foreign Affairs admitted that as much as 60 percent of Belt and Road projects have been impacted to some degree by the pandemic. That figure is surely higher now. New Chinese overseas lending has fallen precipitously. This year, as low-income countries face a debt crunch, Chinese lenders could take enormous losses.
According to a Refinitiv database, till 2020, more than 2,600 projects at a cost of $3.7 trillion were linked to the BRI, although the Chinese foreign ministry said last June that about 20% of projects had been seriously affected by the Covid-19 pandemic.
But the Belt and Road Initiative hasn't died of COVID-19. On the contrary, Xi and other senior Chinese officials continue to trumpet the initiative. China's plans were made clear in remarks this past November by Meng Wei, a spokesperson for the National Development and Reform Commission, which oversees Belt and Road projects. Even as she insisted that the program "has shown full resilience … in the face of the pandemic," she mostly focused her talk on "new breakthroughs on the Health Silk Road." More and more countries, she said, "have seen the cooperation opportunities of the Health Silk Road, the Digital Silk Road, and the Green Silk Road." Ning Jizhe, the commission's vice chairman, elaborated on her comments in a follow-up speech in Hong Kong.
G7 led by US to compete with Chinese Belt and Road
In June 2021, the seven richest economies in the world, known as G7, got in a huddle and   arrived at a consensus and offered developing nations an infrastructure plan, which can rival China's multi-million-dollar Belt and Road Initiative or BRI. The infrastructure plan is being led by United States president Joe Biden. The Build Back Better World (B3W) initiative will provide a transparent infrastructure partnership to help narrow the $40 trillion, needed by developing nations by 2035. An official of the Biden administration said that until now, the West had failed to offer a positive alternative to the "lack of transparency, poor environmental and labor standards, and coercive approach" of the Chinese government that had left many countries worse off.
The B3W plan discussed by the US, Britain, Canada, France, Germany, Japan and Italy calls for spending hundreds of billions of dollars in collaboration with the private sector while adhering to climate standards and labor practices. The B3W initiative is also seeking to mobilise private-sector capital in areas such as climate, health and health security, digital technology, and gender equity and equality. It's designed to compete with president Xi's BRI, which has been criticised for creating massive debt and exposing countries to undue influence by Beijing.
Economic Motives
Economically,  new investment opportunities, cultivate export markets, and boost Chinese incomes and domestic consumption, as the slowing growth has put pressure on the country's leadership to open new markets for its consumer goods and excess industrial capacity. The BRI also serves to build in structural economic advantages by enabling China to bring its goods to European and other international markets cheaper and faster than competitors and, at the same time, to secure low-cost access to natural resources through BRI corridors. The BRI is designed to allow capabilities of Chinese state-controlled construction companies to further expand its already booming trade with central Asia and Europe by diversification of Chinese trade routes, lowering transportation costs, opening up new markets, and an expansion of the Chinese sphere of influence beyond Asia. It will also secure the supply of Uranium and rare metals from Central Asia.
In its largest definition, OBOR involves 65 countries and covers 4.4 billion people, accounting for 63% of global population. The aggregate economic value of these countries amounts to US$21 trillion, with share in the global trade 29%. China is backing the plan with considerable resources, setting up a New Silk Road Fund of US$40 billion to promote private investment along OBOR. The New Silk Road Fund is sponsored by China's foreign exchange reserves, as well as government investment and lending arms. In addition, the China Development Bank said it would invest almost US$900 billion into more than 900 projects involving 60 countries to bolster the initiative.
At the time it was estimated the project would cost more than $1 tn and have a transformative effect on the region, although estimates vary widely: a 2018 report from Moody's placed the overall cost at between $2 tn and $8 tn.  Morgan Stanley has predicted China's overall expenses over the life of the BRI could reach $1.2–1.3 trillion by 2027, though estimates on total investments vary.
Indeed, between 2013 and 2018, China invested $614 bn in the project, with 38 percent of that going toward the energy sector, 27 percent to transport, 10 percent to real estate and 6 percent to metals, according to an analysis by Moody's. More than half of that investment was in Asia, while 23 percent of it was in Africa and 13 percent in the Middle East. Analysts estimate the largest so far to be the $68 billion China-Pakistan Economic Corridor, a collection of projects connecting China to Pakistan's Gwadar Port on the Arabian Sea.
Infrastructure development
OBOR project also includes Maritime Silk Road (MSR) passing through the ports of Colombo in Sri Lanka, Gwadar in Pakistan, Chittagong in Bangladesh, Maday Island in Myanmar, and Port Victoria in the Seychelles. Port infrastructure is central to the BRI because ports are critical to China's economy. Secure access to ports enables China to transport commodities to feed its industrial and domestic needs and to bring its products efficiently to market. Ports, and their associated sea-lanes, have significant strategic value as conduits for energy as well as goods. As such, they need to be protected.
Ports are one of several strategic components of the Belt and Road Initiative. It also includes other forms of transportation infrastructure such as roads, railways, airports, and energy infrastructure such as pipelines and dams. In fact, energy projects account for approximately 44 percent of overall BRI construction, surpassing transportation infrastructure, which represents roughly 30 percent. China has accelerated its drive to draw Africa into the MSR by speedy construction of a modern standard-gauge rail link between Nairobi and Mombasa.
In addition to physical infrastructure, China plans to build fifty special economic zones, modeled after the Shenzhen Special Economic Zone, which China launched in 1980 during its economic reforms under leader Deng Xiaoping. Such a network would expand the international use of Chinese currency, the renminbi.
Digital Silk Road
Although the importance of physical infrastructure cannot be overstated, the BRI is much more than a portfolio of terrestrial assets. The initiative's expansion into the digital and space arenas underscores its all-encompassing nature. In launching the Digital Silk Road and the BRI Space Information Corridor, the provision of Chinese technology and access to Chinese networks provides Beijing the opportunity to enhance digital connectivity in partner states and regions, advance Chinese technological standards, and support China's rise as a technological power.
China now accounts for 23 percent of global cross-border data flows—mostly thanks to use of Chinese apps and services in Japan and Southeast Asia. This is almost double the U.S. share. China is also rolling out a world-leading digital renminbi with the goal of collecting more data and weakening the dominance of the U.S. dollar. Some Chinese tech companies are exporting "smart city technologies." Others are offering integrated city or "country-as-a-platform" solutions, which could be a euphemism for exporting China's techno-authoritarian toolkit.
The "Green Silk Road" is another way China can burnish its international image while peddling its high-tech products abroad. China's recent pledge to become carbon neutral by 2060 doubles as an industrial policy: It plans deepen its dominance in the fast-growing overseas market for wind turbines, photovoltaics, electric vehicles, lithium-ion batteries, and smart grid technologies. In 2019, over 70 percent of solar photovoltaics manufactured worldwide were made in China. China also controls up three-quarters of global manufacturing capacity for lithium-ion battery cells. These are some of the world's fast-growing manufacturing industries: 72 percent of net new electricity generating capacity installed worldwide in 2019 was renewable.
Geopolitical
Nearly 70 nations have agreed to cooperate in the plan, which aims to foster industrial development not only in the developing nations of Asia and Africa, but also in China's western provinces, which have yet to share in the economic prosperity of the country's coastal regions. The ambition is immense. China is spending roughly $150bn a year in the 68 countries that have signed up to the scheme.
Chinese President Xi Jinping's pet project – called for new roads, railways, bridges, and ports—to recreate the overland and maritime trade routes that once led to China. BRI is central to his strategy of expanding China's influence and establishing its place as a global leader. Evidence of the BRI's importance is the fact that it was enshrined into the Chinese Communist Party's (CCP) constitution in 2017. Experts have pointed to the numerous motivations for BRI initiative from  pushback against the U.S. "pivot to Asia," which many in Beijing read this as an effort to contain China by expanding U.S. economic ties in Southeast Asia.
Belt and Road Initiative Got Major Boost in Jan 2020 as China, Myanmar Inked 33 Deals. Xi Jinping and SuuKyi signed 33 agreements covering areas such as politics, trade, investment and people-to-people communications, shoring up mammoth projects that are part of the flagship Belt and Road Initiative (BRI). The main focus of the agreements signed after the talks between the two leaders appeared to be on the implementation of the China Myanmar Economic Corridor (CMEC) which is akin to the USD 60 billion-dollar China-Pakistan Economic Corridor (CPEC) under which China looks to access Pakistan's Gwadar port in the Arabian Sea. CMEC is also a giant connectivity project linking the landlocked southwestern China to the Indian Ocean.
Military Motives
There are also geostrategic and military motives. Nayan Chanda, former editor of the Far Eastern Economic Review, calls the BRI "an overt expression of China's power ambitions in the 21st century," arguing that Beijing's goal is to remake the global geopolitical balance of power. Experts claim that china's final aim is to to provide the PLAN access to a series of ports stretching from the South China Sea to Africa's East Coast.
One of the major goal for China is to link its landlocked western region to the port at Gwadar. This would allow ships carrying oil and other goods from the Persian Gulf to avoid the "choke point" of the Strait of Malacca, shaving thousands of kilometers off existing routes frequently patrolled by foreign navies.
Senior officers frequently claim that the PLA is not involved in the projects; in fact, protection of BRI facilities overseas is typically left to host governments or to a growing number of ostensibly private Chinese security contractors. However, in 2019 did China's defense minister explicitly refer to the BRI in an address to an overseas audience, saying merely that the Chinese military would pursue friendly cooperation with foreign militaries "in the framework of the BRI."
Yet deep suspicion attaches to the BRI and to China's ulterior strategic motives. Indian Prime Minister Narenda Modi expressed his concern that connectivity facilitated by the BRI was undermining the sovereignty of other states. U.S. Secretary of Defense Mark Esper accused China
of leveraging its overseas investments to force other nations into suboptimal security decisions.  U.S. Indo-Pacific Command's Admiral Philip Davidson characterized the BRI as "a stalking horse to advance Chinese security concerns." Japan's 2019 Defense White Paper highlighted the concern that BRI infrastructure projects are facilitating the expansion of the PLA into the Indian and Pacific Oceans, Africa, and Europe
Opposition from partners
The initiative has also stoked opposition in partner countries. For some countries that  have taken large amounts of debt to fund the necessary infrastructure,  its has led to Ballooning deficits including  countries like Pakistan Sri Lanka, the Maldives and Laos. BRI projects are built with low-interest loans as opposed to aid grants, explain CFR's Alyssa Ayres and Elizabeth C. Economy and Johns Hopkins's Daniel Markey. Some BRI investments have required the use of Chinese firms and their bidding processes have lacked transparency. As a result, contractors have inflated costs, leading to canceled projects and political pushback.
In Malaysia, Mahathir bin Mohamad, elected prime minister in 2018, campaigned against overpriced BRI initiatives, which he claimed were partially re-directed to funds controlled by his predecessor. Once in office, he canceled $22 billion worth of BRI projects. The new Maldivian government has also begun to unwind some of the BRI projects introduced under former President Abdulla Yameen Abdul Gayoom, while the China-Pakistan Economic Corridor is at risk as Islamabad faces a balance-of-payments crisis. In 2018, as debts to China began to weigh on its economy, Pakistan sought billions of dollars in loans from Saudi Arabia, the International Monetary Fund, and China.
The Chinese Silk Road plans, however, compete with other Central Asian strategies, especially the Russia-initiated the Eurasian Economic Union and the U.S.-initiated Silk Road Initiative. The Trump administration, with bipartisan support in Congress, has instead tried to counter the BRI with the BUILD Act. This consolidated the Overseas Private Investment Corporation (OPIC), a U.S. government agency for development finance, with components of the U.S. Agency for International Development (USAID) into a separate agency with a $60 billion investment portfolio.
China Europe BRI
China plans to build a high-speed railway between China and the UK, which will connect Kazakhstan, Uzbekistan, Turkmenistan, Iran, Turkey, Bulgaria, Romania, Hungary, Austria, Germany, Belgium and France. The project, with an estimated cost of $150 billion, is scheduled for completion in 2020-2025."
Some European countries are torn between traditional ties to the United States and the economic opportunities that the BRI presents. There has been no unified EU policy toward China's One Belt, One Road initiative, writes Philippe Le Corre. Several EU countries and cities have been particularly receptive to Chinese investors. Others have been more cautious, seeking guarantees from China that it will follow international standards and not exclusively pursue its geostrategic interests.
Facing with recession, Greece and Italy  badly need new investments and infrastructure to jump-start their recovery, reduce unemployment, and boost competitiveness and  have given signals to join the Chinese scheme. Chinese state shipping giant COSCO has heavily invested in Piraeus port during the past decade, transforming it into the Mediterranean's busiest trade port, along with Valencia, Spain.
Built by China National Machinery Import and Export Corporation (CMC), the Kaposvar 100MW Photovoltaic Power Plant is Hungary's largest solar power station with a total venture of around 100 million euros (about 121 million U.S. dollars). The 180-km-long highway linking the Bar on Montenegro's Adriatic coast to Serbia's landlocked neighbor is another example.
At  a critical EU-China summit on April 2019 in Brussels, European Union (EU) members and China agreed on a road map for specific bilateral trade arrangements aimed at drastically reducing unfair trade practices and subsidies. The prospective agreement is on one hand expected to satisfy Europeans demanding freer access to China's protected market for exports and investments. For China it will also further advance China's ambition to become the world's 21st century superpower, mainly by acquiring full access to the huge European market.
Srilanka
Sri Lanka is located at a strategic point for the BRI. The port of Hambantota is indispensable for China's energy security because the country imports two-thirds of its oil through shipping lanes south of the port. Sri Lanka's debt equals 81.6% of its gross domestic product, which the International Monetary Fund says is the third-highest ratio among emerging economies. Reports indicate Sri Lanka owed $13 billion on its debt in 2018, with expected total government revenues of just $14 billion.
In Sri Lanka, China's takeover of a troubled port has raised questions about a loss of sovereignty. President Maithripala Sirisena sought to renegotiate Colombo's repayment schedule, but China asked for a long lease on a major port in return for debt forgiveness. For its part, China gained an important beachhead for its attempt to expand its military influence in the Indian Ocean.
India and BRI
India has repeatedly said it will not join BRI because it does not offer a level playing ground to the country's businesses. India,  has rejected the BRI program because China is financing projects on land that is claimed by both India and Pakistan. Arun Jaitley, India's finance minister, says the BRI violates India's sovereignty. "We are not a part of the project, and the proposed [BRI] road passes through what we regard as Indian territory," Jaitley said, referring to a project in the Gilgit-Baltistan area of Kashmir. India has decided to join hands with Japan and Sri Lanka to expand the port in Colombo as part of efforts to balance Chinese inroads into the neighbourhood.
China-Pakistan Economic Corridor
The China-Pakistan Economic Corridor (CPEC), one of the most ambitious components of Beijing's Belt and Road Initiative, was announced to great fanfare in 2015. Since then it has consistently been held up as a "gamechanger" for Pakistan's economy. But the road to completion has proved long and winding. Reports indicate that the pace of CPEC projects has been slowing down in Pakistan in recent years.
The government of Pakistan plans to transform Gwadar into one of the world's largest port cities by 2055, housing steel mills, terminals for liquefied natural gas, oil refineries and other facilities. Mushtaq Khan, an economist and former chief economic adviser at the State Bank of Pakistan, acknowledges that the country's debt to China is rising. But he says Beijing "cannot afford" to bankrupt Pakistan — in part because of the country's importance as a counterweight to India, a regional rival of China's. "China's primary interest in Pakistan is geopolitical rather than strictly economic, and therefore, for China, repayment of the debt burden will be secondary to maintaining a good political and economic relationship with Pakistan," he said.
China-Pakistan Economic Corridor will lead to more India-Pak tension, says UN report
The China-Pakistan Economic Corridor (CPEC), which is the flagship project of China's 'One Belt, One Road' (OBOR) initiative, has been projected as a game-changer for Pakistan's economy. It is expected that the $50 billion project would not just help raise Pakistan's economic output but also transform the country, which is at present infamous for its terror credentials. However, a report has revealed that Pakistan may not gain much from CPEC in its present form. The report by UN's Economic and Social Commission for Asia and the Pacific (ESCAP), prepared on the request of China, has made some disturbing predictions for Pakistan.
The report said CPEC, which will traverse through Pakistan-occupied Kashmir (PoK) may create "geopolitical tension" in the region by igniting further tensions between India and Pakistan. "The dispute over Kashmir is also of concern since the crossing of the CPEC in the region might create geopolitical tension with India and ignite further political instability," said the report on China's ambitious Belt and Road Initiative. This problem can be resolved only when China take India on board OBOR but this cannot happen as long as Pakistan continues to claim PoK as its own. Secondly, Pakistan also needs to shun terrorism to start a peaceful relationship with India.
The report says that CPEC could fuel separatist movement in Pakistan's Balochistan province. While noting that CPEC could serve as the "driver for trade and economic integration" between China, Pakistan, Iran, India, Afghanistan and the Central Asian states, the report said that the project may also cause several problems within Pakistan and reignite separatist movement in the country due to opposition in Balochistan. "However, social and environmental safeguards are a concern. The CPEC could lead to widespread displacement of local communities. In Balochistan, there are concerns that migrants from other regions of Pakistan will render ethnic Baloch a minority in the province," it said.
The report says that instability in Afghanistan could cast a shadow over the viability of the CPEC. "Afghanistan's political instability could also limit the potential benefits of transit corridors to population centres near Kabul or Kandahar, as those routes traverse southern and eastern Afghanistan where the Taliban are most active," it said.
Moreover, the report says that there are concerns over CPEC passing through the already narrow strip of cultivable land in the mountainous western Pakistan, destroying farmland and orchards. The resulting resettlements will reduce local population into an "economically subservient minority", it said, adding, "In addition, Hazaras are another minority of concern. If the benefits of the proposed CPEC are reaped by large conglomerates, linked to Chinese or purely Punjabi interests, the identity and culture of the local population could be further marginalised," the report cautioned. "Marginalisation of local population groups could reignite separatist movements and toughen military response from the Government," it further said.
The UN report says that CPEC would "wide-reaching implications for China and for the countries it links across the Asia-Pacific and for the global economy." But to realise the full potential of the project, the report has pointed some prerequisites. It said that CPEC should be founded on principles such as trust, confidence and sharing benefits among participating states. These are, however, missing at present. Second, CPEC should play a positive role in the response to climate change. "Lastly, to be effective and deliver results in a timely fashion, it should go beyond bilateral project transactions to promote regional and multilateral policy frameworks," the report said.
China and Afghanistan
China's role in Afghanistan in the past two decades has been limited. China has steadily increased its involvement in Afghanistan in recent years, and a nascent peace process offers some hope that stability might return to the country, bringing with it the possibility of greater trade and investment. This shift is reflected in a major new report on the BRI's expansion into Afghanistan by the Organization for Policy Research and Development Studies (DROPS), a Kabul-based think tank.
China is now Afghanistan's largest business investor, it has pledged increasing amounts of aid to the country, and Chinese companies have been involved in construction projects. Beijing has also shown some interest in Afghanistan's cornucopia of natural resources, which includes vast deposits of essential minerals such as lithium (used in mobile phone batteries).
China has for years had grand investment plans for Afghanistan's resource riches, which the Afghanistan Geological Survey estimates are as much as $3 trillion. Afghanistan has the world's largest unexploited reserves of copper, coal, iron, gas, cobalt, mercury, gold, lithium and thorium, valued at over USD 1 trillion. "The direct railway can be the best route for them to transfer copper to China," said Azarakhsh Hafizi, the head of the international relations committee at Afghanistan Chamber of Commerce & Industries in the capital, Kabul. This is why Beijing is strongly interested in assuming a predominant role in Afghanistan through the extension of the CPEC project, in particular the strengthening of its transport infrastructure, which would help to ensure the internal stability of the country, necessary for Chinese companies to work safely and supply China with additional natural resources.
Iran and China
Report by Iran's government-affiliated Tasnim News Agency in  February 2019  stated that Iranian Parliament Speaker Ali Larijani said his nation is prepared to cooperate with China's Belt and Road Initiative. The proposed 2,000-mile (3,200-kilometer) route of the new Silk Road begins in Urumqi in western China and continues to Tehran, where it would eventually continue northwest through Turkey into Europe. In June 2017, the Financial Tribune estimated that the new Silk Road between Iran and China would become a "tailwind" of long-term bilateral trade of as much as $600 billion per year
"Iran is the key link of the "Silk Road" land route to Europe, as it is connected to China by a railway through Turkmenistan and Kazakhstan," Sarkis Tsaturyan, a Russian-Armenian historian and international policy analyst, writes in his latest report for Regnum. Indian scholar and strategic affairs consultant Debalina Ghoshal  points to the fact that China's interest in Iran goes "beyond its energy resources."
"It [China] has a keen interest in Iran's geostrategic location, bordering both the Caspian Sea and the Persian Gulf. The location enables China to carry out the One Belt One Road agenda," the Indian scholar emphasizes. China considers Iran to be key strategic partner for meeting its energy security needs, Iran has world's fourth-largest oil reserves, second-biggest stores of natural gas. Iran is emerging as a large weapons market for China, with a bigger scale and more promising prospect than the Pakistan market.
China and Russia
The New Silk Road will also include Russia as one of the major partners. In February, a test freight train arrived in Russia's Kaluga Region from China.
Russia has permanent interests in Central Asia, Putin's political project to pull former Soviet republics of Central Asia into the Kremlin's orbit via the Eurasian Customs Union with Belarus and Kazakhstan, which were later joined by Kyrgyzstan and Tajikistan. Russia is trying to extend its traditional soft power in the region, project its military might as well as facilitating Central Asia's hydroelectric revolution.
China and Turkey
It is also to bolster China Turkey trade, Turkey and China have agreed to increase economic cooperation and take their annual bilateral trade to USD 100 billion.
The major logistics companies from China, Kazakhstan, Georgia, Azerbaijan and Turkey have signed a document on establishing a consortium for the transportation of goods from China to Europe, bypassing the Russian territory. The Russia Turkey relations have been deteriorating after downing of a Russian Su-24 bomber by the Turkish Air Force.
China and US
The Trump administration has resuscitated the 'New Silk Road' initiative, first announced by then Secretary of State Hillary Clinton in July 2011 in a speech in Chennai, and the Indo-Pacific Economic Corridor linking south and Southeast Asia.  A brief outline of the two projects was made available in the administration's maiden annual budget, which indicated that the 'New Silk Road' project would be a public-private initiative in which India would be an important player.
In November 2019, the US, Japan and Australia had unveiled the 'Blue Dot' infrastructure network, ostensibly to promote infrastructure development, but in reality as an alternative to China's BRI. The Western alternative has been in the making for some time as nations have voiced alarm at the 'debt-trap diplomacy' of China through its BRI projects and their security ramifications. Blue Dot is proposed to be funded by Japan and America's newly founded International Development Finance Corporation and as said, as also by a number of global development finance windows backed by the West.
The state department said the budgetary request of its south and central Asia will support the two initiatives: the New Silk Road (NSR) focused on Afghanistan and its neighbours, and the Indo-Pacific Economic Corridor linking South Asia with Southeast Asia. The New Silk Road Initiative, aims to integrate the Central Asian countries of Kazakhstan, Kyrgyzstan, Tajikistan, Turkmenistan, and Uzbekistan with Afghanistan, India, and Pakistan by liberalizing trade and building infrastructure, such as roads, bridges, electrical grids, railways, and pipelines as well as provide needed balance in the region, helping avoid a Chinese monopoly.
India  has launched a vision document for Asia-Africa Growth Corridor (AAGC) at the ongoing African Development Bank meeting in Gujarat. The initiative,  is a joint vision of Prime Minister Narendra Modi and his Japanese counterpart Shinzo Abe. It aims for Indo-Japanese collaboration to develop quality infrastructure in Africa, complemented by digital connectivity. The AAGC, based on India's decades old goodwill in Africa and Japan's financial resources, aims to be an efficient and sustainable mechanism for linking economies, industries and institutions, ideas and people among, and between, Africa and Asia in an inclusive fashion. There is still vast and untapped potential among, and in between, Asia and Africa, which needs to be explored for shared growth, development, peace, prosperity and stability of these regions, officials said.
"The AAGC would consist of four main components: development and cooperation projects, quality infrastructure and institutional connectivity, capacity and skill enhancement and people-to-people partnerships. These four components are complementary to promote growth and all round development in both the continents," the document said. Japan is expected to join the Indian foray into the expansion of Iran's Chabahar port and the adjoining special economic zone. In eastern Sri Lanka, the two countries are expected to jointly expand the strategically located Trincomalee port. They are also likely to join hands to develop Dawei port along the Thai-Myanmar border.
However the strained US-Russia relations, growing Russia-China understanding, stagnation of Russia's economy, US capability to offer much fewer resources, compared to the increasing financial clout of China,  implies china has upper hand at present.
References and Resources also include:
http://www.sjtu-germany.de/sites/default/files/SJTUAMD-Files/8th%20FCPAE%20Europe%20Forum%20Invitation%20(1st%20draft)_0.pdf
http://osnetdaily.com/2016/06/china-marches-turkey-germany-intrudes-armenia-whats-next/
http://www.bloomberg.com/news/articles/2016-09-11/china-lays-new-brick-in-silk-road-with-first-afghan-rail-freight
https://sputniknews.com/politics/20160712/1042846437/iran-china-pivot-silk-road.html
http://www.financialexpress.com/world-news/cpec-why-pakistan-will-not-gain-much-from-this-obor-project-in-its-present-form/684725/
https://foreignpolicy.com/2021/01/06/coronavirus-hasnt-killed-belt-and-road/
Cite This Article