The blurring of boundaries between the digital world and physical products is leading what has become known as the Fourth Industrial Revolution, or Industry 4.0. At the front line of this revolution are "smart" technology applications like global connectivity, big data, machine learning, and virtual reality. Digital Twin technology combines these applications and has become a key component of Industry 4.0.
As its name suggests, a digital twin is a virtual replica of an object, being, or system across its life-cycle. A digital twin can be of  any real life entity, such as a city, factory, a tunnel , or even a jet engine. which often evolves in real-time along with its physical counterpart through data gathered through sensors. Connected sensors on the physical asset collect data that can be mapped onto the virtual model. Anyone looking at the digital twin can now see crucial information about how the physical thing is doing out there in the real world.
Digital twin is a virtual model of a process, product or service used by developers and analysts in their labs to understand the behavior of the real-world system in its operational environment. This pairing of the virtual and physical worlds allows analysis of data and monitoring of systems to head off problems before they even occur, prevent downtime, develop new opportunities and even plan for the future by using simulations. It can be used as a testing ground to simulate what happens under certain circumstances or provide alerts of potential problems thanks to predictive algorithms. That, in turn, improves reliability and saves costs.
The idea of digital twins, which first emerged in 2002, has its roots in the pairing technology pioneered by NASA who deployed mirrored systems to help rescue Apollo 13.  NASA now uses digital twins to develop new recommendations, roadmaps, and next-generation vehicles and aircraft.
Digital twin technology
At their core Digital Twins are virtual replicas of physical devices, products or entities created by combining data with machine learning and software analytics to create digital models that update and change alongside their real-life counterparts.
Digital twins combine numerous technologies to create full-scale digital versions of real-world objects and processes. The emerging revolution of  the Internet of Things (IoT), machine intelligence and connectivity to the cloud have made it cost-effective for large-scale implementation of digital twin technology for companies in a variety of industries. Digital twins consist of three components: a data model, a set of analytics or algorithms and a set of executive controls. They combine a real-time simulation of system dynamics with a set of executive controls.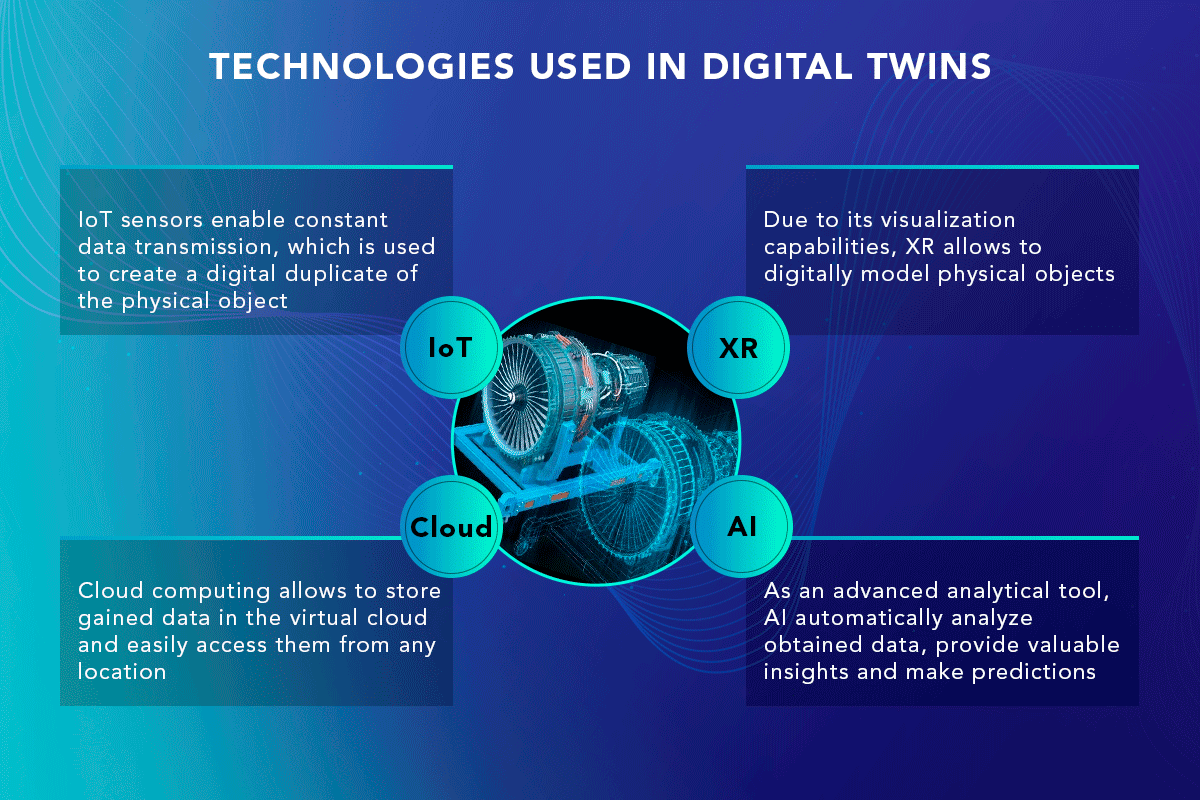 Internet of Thins (IoT) is the main technology used in every application of Digital Twin. IoT is based on the collection of data acquired from real-world objects with the help of sensors. These data are then used to create a digital duplicate of the physical object that can be analyzed, manipulated, and optimized. Therefore, the value created by the IoT is governed by the flow of information through a system. IoT helps a Digital Twin applications to connects a virtual representation with a physical object in real time, keeping it constantly updated.
Extended Reality (XR) is the visualization technology which creates digital representations of objects. XR capabilities enable Digital Twins to digitally model physical objects, allowing users to interact with digital content. That data is collected through multiphysics modeling tools, which create mathematical representations of systems and parts.
When digital twins are designed with virtual reality capabilities, for example, the immersive views and natural interaction that VR offers makes tweaking designs more instinctive and less cumbersome. Simulations can be run in real time to observe what the product in action will look like, allowing for rapid-pace design phases. Furthermore, your actions in VR with a digital twin could be physically replicated by using robotics. Imagine a surgeon performing a remote surgery using the digital twin of a patient's heart.
Cloud Computing technology is used for efficient storing and accessing data over the Internet. As applications of Digital Twins operate with large volumes of data, cloud computing allows to store all data in the virtual cloud and easily access required information from any location.
Digital twin is already helping organizations stay ahead of digital disruption by understanding changing customer preferences, customizations and experiences. It means businesses can deliver products more rapidly, with higher quality, from the components, to the code. Yet the promise of digital twin can still go further.
Artificial Intelligence (AI) is an advanced analytical tool that is able to automatically analyze obtained data and provide valuable insights. It can also make predications about possible outcomes and give suggestions as to how to avoid potential problems. Predictive analytics tools employing machine learning  build the virtual understanding of the physical product.
The use of cognitive computing increases the abilities and scientific disciplines in the digital twin. Technologies and techniques such as Natural Language Processing (NLP), machine learning, object/visual recognition, acoustic analytics, and signal processing are just a few of features augmenting traditional engineering skills.
The marriage between machine learning and digital twins can accelerate the  growth of innovative ideas. Machine learning can be applied to a digital twin to create countless variations of the twin and come up with new patterns, solutions, or creative ideas that humans may not have considered.
For example, using cognitive to improve testing a digital twin can determine which product tests should be run more frequently and which should be retired. Cognitive digital twins can take us beyond human intuition to design and refine future machines. No more "one-size-fits-all" model, but instead, machines are individually customized. That's because cognitive digital twin is not just about what we are building, but for whom.
Digital twin Applications
Today this technology allows us an unprecedented potential. Fighter jets cost the Air Force and other military branches tens of millions of dollars each. NASA space missions can run into the hundreds of millions of dollars. Those agencies need to ensure that they are using reliable machines and systems, especially if they are needed for war zones or critical missions to Mars. Thanks to digital twin technology, they can.
Digital twins have been used across multiple industries including, but not limited to: manufacturing, product development, design customization, performance improvement, predictive maintenance, aerospace, automotive, health care, supply chain, construction, and retail. Defense and maritime applications of digital twins have been limited to optimizing shipyard operations, adding innovation, such as modernizing and standardizing IT architectures, to existing fleets, tracking ship parts, and enabling predictive maintenance of deployed assets.
Smart city programmes in places such as Portland, the US, for example, use digital twins to model traffic flows, Rotterdam, the Netherlands, is building one of its port to increasingly automate its operations, and attempts have been made to make a virtual copy of the human body for medical purposes.
Drawing on anatomical knowledge and thousands of heart images, Philips has created Heart Model, a digital representation of the human heart that can help clinicians diagnose cardiac images up to 80% faster and with fewer variations than traditional methods allow. "With digital twins in health care, you can evaluate different scenarios and treatment options; you can combine personal and medical data to provide real-time intervention and prevention," explains Ger Janssen, department head of the digital twin department at Philips. "We're looking not just at cardiology but also oncology, pulmonology, and neurology. A digital twin of the human body is the ultimate goal."
Digital twin technology helps companies improve the customer experience by better understanding customer needs, develop enhancements to existing products, operations, and services, and can even help drive the innovation of new business. For example, GE's "digital wind farm" opened up new ways to improve productivity. GE uses the digital environment to inform the configuration of each wind turbine prior to construction. Its goal is to generate 20% gains in efficiency by analyzing the data from each turbine that is fed to its virtual equivalent.
Every Tesla car has its own digital twin. Through sensors, the physical car continuously sends data to its digital twin. If the vehicle has a rattling door, the system will prompt you to download software that will adjust the door's hydraulics. As Tesla collects information about the performance and use of each vehicle, its engineers also aggregate the data to create updates that will improve the performance of that specific range of cars, a very real example of real-time innovation. This process also helps engineers and designers understand what cannot be improved with software updates alone — crucial information to make bigger innovation leaps when seeding the next version of a product.
Thomas Kaiser, SAP Senior Vice President of IoT, put it this way: "Digital twins are becoming a business imperative, covering the entire lifecycle of an asset or process and forming the foundation for connected products and services. Companies that fail to respond will be left behind." "For every physical asset in the world, we have a virtual copy running in the cloud that gets richer with every second of operational data," says Ganesh Bell, chief digital officer and general manager of Software & Analytics at GE Power & Water.
"The ultimate vision for the digital twin is to create, test and build our equipment in a virtual environment," says John Vickers, NASA's leading manufacturing expert and manager of NASA's National Center for Advanced Manufacturing. "Only when we get it to where it performs to our requirements do we physically manufacture it. We then want that physical build to tie back to its digital twin through sensors so that the digital twin contains all the information that we could have by inspecting the physical build."
Beyond resolving supply-chain issues, the virtual technology will also improve maintenance. Repetition and exposure are the best ways to grow mechanics' and technical inspectors' skills. But training and repetitive work on operational aircraft has the propensity to cause maintenance issues. "Digital-twin technology provides a virtual environment that facilitates the crawl, walk, run training philosophy that enables Soldiers to develop confidence in a simulated environment before performing the task on an actual aircraft," said AMCOM Command Sgt. Maj. Mike Dove. "Virtual environments enable a task to be taught through distance learning with the subject matter expert thousands of miles away."
For Rolls-Royce this means creating virtual copies of our pioneering aero engines. A Digital Twin will continuously learn and update itself using data from sensors that monitor various aspects of the real-life product's environment and operating conditions. It can also factor in historical data from prior usage.
In engineering terms, the use of Digital Twins reduces the need to rely on probability-based techniques to determine when an engine might need maintenance or repair. Our Engineers create a Digital Twin of an engine, which is a precise virtual copy of the real-world product. They then install on-board sensors and satellite connectivity on the physical engine to collect data, which is continuously relayed back to its Digital Twin in real time. The twin then operates in the virtual world as the physical engine would on-wing and will determine how the engine is operating and predict when it may need maintenance. This also allows us to enact preventative engine maintenance, which can greatly reduce aircraft downtime and, in turn, enhance reliability.
The data analysis used by the Digital Twin allows us to model a greater number of potential circumstances than physical engine tests would ever allow, which results in a greater understanding. Using a Digital Twin, Rolls-Royce can study and predict the physical behaviours that an engine would exhibit under very extreme conditions. This allows us to model potential operational scenarios entirely digitally.
The ability to map complex, real-life scenarios on a virtual platform allows Rolls-Royce to improve and adjust operations as well as maintain our highly complex aero engines even more effectively. Digital twinning is part of a comprehensive suite of digital models that underpin the IntelligentEngine, our vision for the future. As well as designing, testing and maintaining engines in the digital twin environment, the IntelligentEngine vision sets out a future where an engine will be increasingly connected, contextually aware and comprehending, helping us deliver products that are more reliable and efficient.
Military applications
Military planners and technology leaders on the industry side agree that with the rise of big data, and the ready availability of massive compute power, digital twins could dramatically improve maintenance regimens and lead to more efficient introduction of new and emerging systems.
"The digital twin concept is critical," Donald McCormack, executive director for the Naval Surface Warfare Center, said in recent Navy documents. "To pace the threat, we must have an agile testing methodology, which allows for the complexities presented by new automation and technologies. We need to understand how we test in the future with artificial intelligence."
VADIS, a project being carried out by the University of Nottingham and aerospace company Electroimpact is using it to improve production in the aircraft assembly line. 'We want to improve quality and reduce assembly time for wing construction,' said Dr Joseph Griffin, senior aerospace engineer at the University of Nottingham and project manager of VADIS. 'We want to measure the holes that need to be drilled in a wing skin, and use those measures to update a digital model. This way we can adjust the construction process to a specific component.'
A key component of the digital twin architecture is the "digital thread," which Deloitte defines as a "single, seamless strand of data that stretches from product requirement to product retirement," Vitale says. The digital thread is where the digital twin lives, Vitale says, and the backbone for that is usually product lifecycle management software. Federal agencies can also use manufacturing execution software. The digital thread can also include the IoT platform, CAD tools and predictive analytics tools, according to Vitale.
"For the Navy it solves a lot of critical issues," said Kelly Jones, a systems engineer at Cisco, which has been collaborating with the Navy on the development of such systems. Those issues primarily have to do with maintenance and, by extension, readiness. Military leaders struggle to keep their legacy systems in working order. A recent report from the Navy for found that fewer than half the Navy's 546 Super Hornets are mission capable. Digital twins could help, advocates say, by paring back routine maintenance in favor of as-needed repairs.
The Air Force has embraced the digital thread concept to improve its acquisition process and performance of weapons systems. "Though Digital Thread appears to be a complex, abstract concept at the surface, the benefits to the Air Force at all stages — from initial product design to manufacturing, operation and sustainment of aircraft and weapons systems by the warfighter — are enormous," an Air Force release notes. "Streamlined resolutions of weapon system performance issues, identification of system maintenance needs and management of risk are just a few benefits to the field," according to Brench Boden, technical lead in the Air Force manufacturing technology division, materials and manufacturing directorate of the Air Force Research Laboratory.
Army Using Digital Twins to Breathe new Life into Aging Helicopter Fleet
The Army is turning to "digital-twin" technology to resolve challenges and boost efficiencies for its enduring fleet of Black Hawk helicopters. Through a partnership between the U.S. Army Aviation and Missile Command, the Strategic Capabilities Office within the Office of the Secretary of Defense, and Wichita State University, researchers at the National Institute of Aviation Research (NIAR) will create a virtual model of a UH-60L Black Hawk helicopter. Researchers will completely disassemble one of the airframes from Corpus Christi and capture a 3-D scan of each structural part, creating a virtual model – or digital twin – of the workhorse of Army aviation.
"This is a unique opportunity to bring a game-changing technology to the sustainment and logistics fields," said Maj. Sam Gray, Program Manager for the Strategic Capabilities Office. The Lima model of the Black Hawk helicopter has been out of production for 15 years, so most of its technology is at least that old, with some parts dating back 40 years. The digital twin opens the door to acquire parts that are out of production while building the capacity to use advanced techniques, such as additive manufacturing, to produce components.
"The intent is to enable readiness across the Army and the UH-60 fleets in the joint service and the applicable foreign military sales environment," Royar said. "At the same time, we generate new opportunities to provide parts that are obsolete, low-volume or small quantity. The result is reduced operation and sustainment costs."
To ensure the digital twin can support future airworthiness activities, AMCOM is working with the Combat Capabilities Development Command Aviation and Missile Center's (CCDC AvMC) Systems Readiness Directorate, which uses drawings, structural reports and physical checks to evaluate airworthiness of ongoing modifications to the UH-60L. "The digital twin offers significant opportunities for improving the efficiency of airworthiness assessments and the potential to streamline evaluation and modifications from a fit and maintenance perspective," said Douglas Denno, who serves as CCDC AvMC's lead for coordinating actions on the digital-twin effort. "This is a thrilling opportunity to bring these key elements of technical data for the Army's utility workhorse into the digital age."
Navy Optimizing Shipyards With Digital Twin Technology
The Navy's public shipyards — which repair the service's submarines and aircraft carriers — are aging and facing obsolescence issues. To revitalize the yards and improve infrastructure, the Navy is in the midst of a multi-billion-dollar optimization overhaul that will employ digital twin technology to map out areas most in need of changes.
The Shipyard Infrastructure Optimization Program, or SIOP, is a 20-year, $21-billion effort to modernize the four public yards in Kittery, Maine; Pearl Harbor, Hawaii; Portsmouth, Virginia; and Puget Sound, Washington. "We've got dry docks that are over 100 years old," said Steve Lagana, program manager for the SIOP office. "We have buildings that are over 100 years old."
Over time, the infrastructure "got a little misconfigured for what we're doing," Lagana said in an interview with National Defense. The missions had changed over the years from shipbuilding to maintenance, and then to nuclear-powered ship maintenance, he noted. "The infrastructure just never evolved with those changes," he said.
The Navy recognized that infrastructure is intrinsically linked to performance and in 2017 began laying the groundwork for the SIOP program, which officially began in the summer of 2018, Lagana said. "This really is an … industrial manufacturing optimization program with a focus on productivity in the shipyards and how that affects the overall national defense," he said. "How do we get submarines in and out of shipyards as efficiently as possible, so the fleet commanders have the assets they need to do their mission?"
Critical to the effort is a modeling-and-simulation technology known as digital twins which digitally replicates an object, place or building, said Stephanie Douglas, executive director for logistics, maintenance and industrial operations at Naval Sea Systems Command. "The modeling and simulation is really key as it allows us the opportunity to figure out how to optimize flow, not only within the shops, but around the yards to provide the most efficient and productive layout for operations within the shipyard," she said.
"We're already seeing some really exciting things come out of the modeling-and-simulation piece of it in terms of opportunities." The service reached out to industry to tackle the "massive effort" and chose Siemens Government Technologies to create digital twins for each of the four yards, Lagana said. "There has never been a digital twin modeling-and-simulation effort of this size and scale ever in the world," he said. The service completed its first digital twin of Pearl Harbor Naval Shipyard near the end of 2020, he said. Puget Sound recently finished up its baseline model and will soon begin an analysis for its industrial optimization. Meanwhile, data collection recently wrapped up in January at Portsmouth, which is located in Kittery, Maine. "Once we do the validation and verification of that, we will start into that effort," he said.
In April, the office plans to bring together all of Pearl Harbor's facilities engineers, modelers and industrial engineers to sift through the data and outline a new area development plan that will articulate the service's intentions for the shipyard, Lagana said. That will include infrastructure investments that are required to achieve efficiencies and a strategy to execute them.
"We're learning as we're ingesting thousands and thousands of lines of data and information into the model," he said. The service is identifying limitations in the software and working through those to make the system more efficient. Those changes will then be incorporated into the other digital twins.
Lagana compared the Navy's digital twin approach to what is known as spiral development of software. "You let [the first version] run for a little bit, find your bugs, and then you program in the fixes for those bugs," he said. "We can continuously do this with the model. We can manipulate the model with new information, and you can program in different functionality … so we can run different types of analyses." The digital twins are becoming very robust and flexible tools, he added
Lagana noted that digital twin technology could be useful across the Navy, including in private ship repair yards for surface vessels. Bryan Clark, director of the Center for Defense Concepts and Technology at the Hudson Institute, noted that some private construction shipyards are already employing the technology.
"Doing digital models of your shipyard is very popular in some of the high efficiency shipyards you see overseas. Chinese shipyards, Daewoo in South Korea, German shipyards — all use computer modeling," he said. They "have for a long time been using computer modeling to improve the efficiency of their shipyards and improve their workflow and figure out how to maximize the predictability of the ship construction process." Digital twins are just now starting to be employed in ship repair yards, he noted. The challenge for them, however, is that they are much smaller than new-construction yards and have less money to invest.
"The returns aren't as significant," he said. "You don't get the big tranche of money that you do with a ship construction project where you can sort of bring your digital twin investment into the construction of a new class of ship." Digital twinning requires a lot of software and time which can result in a significant investment, he said.
Air Force turns to digital twin technology
Having successfully used "digital twinning" to design and prototype its latest jet trainer aircraft, the Air Force is moving to use the new technology to develop and test weapons, too—building an online Colosseum in which vendors' systems can virtually fight each other. Digital twinning involves creating a detailed virtual model of an aircraft, weapon, or other object for testing without the time and expense of building an actual prototype. The Air Force's new Boeing-Saab ET-7 Red Hawk jet trainer, was designed and tested using this technology.
Air Force magazine reports. Generating a digital virtual representation of a real object, or digital twin, will help the Air Force to develop and test weapons by enabling defense companies to fight each other's designs virtually. Col. Garry A. Haase, head of the Munitions Directorate at the Air Force Research Lab, said AFRL plans to stage regular competition events in the Colosseum, each dealing with a different technology area.
To operate their digital twins in the Colosseum, while maintaining the integrity and confidentiality of their proprietary designs, vendors will have to build them to conform to a Government Reference Architecture, Haase explained. "It's not us owning all your intellectual property or the technologies necessarily, but it's owning how we interface with those systems," he said. The reference architecture provides data standards and defines the interfaces the digital model can use, "so that we can more easily plug other people's systems and subsystems into a bigger system" like the Colosseum.
The online Colosseum will be the next step in the AFRL's Golden Horde program—developing networked, collaborative, autonomous (NCA) systems like swarming drones or "fire and forget" weapons, which find their own targets and then attack them in a synchronized fashion. Golden Horde is a Vanguard program—one of a handful of high-profile research projects the Air Force sees as the most promising for delivering new warfighter capability most quickly.
References and Resources also include:
https://www.nationaldefensemagazine.org/articles/2021/3/1/navy-optimizing-shipyards-with-digital-twin-technology
https://www.avm-mag.com/army-using-digital-twins-to-breathe-new-life-into-aging-helicopter-fleet/
https://www.rolls-royce.com/media/our-stories/discover/2019/how-digital-twin-technology-can-enhance-aviation.aspx
Cite This Article