Cloud computing is the on-demand delivery of IT resources over the internet with pay-as-you-go pricing. You no longer have to manage and maintain your own hardware in your own data centers. Companies that provide cloud services enable users to store files and applications on remote servers and then access all the data via the Internet.
A cloud platform allows organizations to create cloud-native applications, test and build applications, and store, back up, and recover data. It also allows organizations to analyze data. Organizations can also stream video and audio, embed intelligence into their operations, and deliver software on-demand on a global scale.
Benefits of Cloud Computing ( AWS)
Cloud computing is a popular option for people and businesses for a number of reasons including cost savings, increased productivity, speed and efficiency, improved flexibility and scalability, performance, and security. It can also automate repetitive common tasks that don't differentiate your business, like installing virtual machines or storing backups, enabling you to focus on what is strategically unique to your business. Another attractive point of the cloud is its ability to enable a mobile workforce, which brings enhanced flexibility and efficiency. Every day, millions of users are accessing online cloud services such as Apple iCloud, Gmail and Dropbox across desktop and mobile devices.
Pay as you go. Instead of investing in data centers and hardware before you know how you are going to use them, you pay only when you use computing resources, and pay only for how much you use.
Benefit from massive economies of scale. By using cloud computing, you can achieve a lower cost than you can get on your own. Because usage from hundreds of thousands of customers is aggregated in the cloud, AWS can achieve higher economies of scale, which translates into lower pay as-you-go prices.
Stop guessing capacity. Eliminate guessing on your infrastructure capacity needs. When you make a capacity decision prior to deploying an application, you often end up either sitting on expensive idle resources or dealing with limited capacity. With cloud computing, these problems go away. You can access as much or as little capacity as you need, and scale up and down as required with only a few minutes notice.
Increase speed and agility. IT resources are only a click away, which means that you reduce the time to make those resources available to your developers from weeks to just minutes. This results in a dramatic increase in agility for the organization since the cost and time it takes to experiment and develop is significantly lower.
Stop spending money running and maintaining data centers. Focus on projects that differentiate your business, not the infrastructure. Cloud computing lets you focus on your customers, rather than on the heavy lifting of racking, stacking, and powering physical infrastructure. This is often referred to as undifferentiated heavy lifting.
Go global in minutes. Easily deploy your application in multiple Regions around the world with just a few clicks. This means you can provide lower latency and a better experience for your customers at a minimal cost.
The major  challenge of  cloud service providers has been of ensuring security.  Today, majority of organizations and many government departments and agencies have shifted their databases onto the cloud to improve efficiency and productivity of resources as well as bring down costs. Unfortunately, this move has exposed sensitive information to hackers, who have frequently launched cyber-attacks to retrieve and misuse data. For instance, the US-based Center for Strategic & International Studies (CSIS) revealed that in April 2020 hackers from Iran attempted to breach personal files of World Health Organization (WHO) staffers while the world was reeling under the coronavirus pandemic. In February 2020, two Chinese hackers were persecuted by the US Department of Justice for performing cryptocurrency laundering activities for North Korean nationals. Such attacks are prompted by the availability of delicate data on cloud platforms and the constant threat of privacy infringement may hinder the cloud computing market growth in the upcoming years.
But it seems soon all these asperations about safety are  about to cast aside and cloud adoption rises in proportion to its benefits like mobility, greater than before efficiency, cost-effectiveness, simplified collaboration and high speed connectivity. With the massive exodus to the cloud, 80% of companies are predicted to close their traditional data centers by 2025, according to Gartner Research.
Types of Cloud Platforms
The National Institute of Standards and Technology (NIST) has devised the following definition: "Cloud computing is a model for enabling ubiquitous, convenient, on-demand network access to a shared pool of configurable computing resources (e.g., networks, servers, storage, applications, and services) that can be rapidly provisioned and released with minimal management effort or service provider interaction. This cloud model promotes availability and is composed of five essential characteristics, three service models, and four deployment models."
The three main types of cloud computing consist of: private cloud, public cloud and hybrid cloud.
The services of the public cloud are provided over the Internet, off-site. In this model, third party cloud service providers offer end users the ability to access a range of services like email, social networking, marketing applications, data storage and more. All the resources used to deliver these services are owned and maintained by the third party service provider (e.g. Amazon Web Services, Microsoft Azure, Google Cloud Platform) and are shared by all users or subscribers to such public clouds. The public cloud offers the most in terms of shared resources and efficiency. The downside to this service is that they face more security and reliability issues than private clouds. Public cloud security is shared, therefore threats to security are also shared
Cloud services that are targeted towards just one company at a time, where all resources are used exclusively by one organization, typically come under the definition of private cloud. Infrastructure like servers and data centers may be located on premises or may be maintained in a remote location and managed by a third party vendor, just for a single company.  Private clouds offer the highest level of control and security, but there is more cost involved than the public cloud. The business has to buy and maintain all the infrastructure and software, which increases the required investment.
Companies that want the best of both worlds, typically go down the route of building a hybrid cloud infrastructure.  It allows access to both private and public cloud services for greater scalability and flexibility, with reduced resource overcapacity. The hybrid cloud lets you keep each part of your business in the most efficient environment. There is the drawback of having to keep track of several security platforms and be sure that all aspects of your company are able to communicate with one another.
Omni-cloud and Hybrid Cloud computing
The multicloud is the usage of more than one public or private cloud service with all cloud services residing either in public or private domains exclusively. Omni-cloud computing is a cloud solution that allows multiple cloud services to smoothly integrate and streamline their data on a single platform.
The omni-cloud system is being increasingly preferred over the multi-cloud system owing to its multiple advantages and leading the cloud computing market trends. For example, an omni-cloud tool makes possible accessing real-time information from any location. In a departmental store, for instance, whenever there is an inventory shortfall, the cloud will send notification to the authorities, who will then take the necessary action. Similarly, storage of data on a unified platform also enables efficient analysis, enhances productivity, and elevates the quality of services. These, along with a few other benefits, are widening the applicability of omni-cloud computing across a variety of industries.
There are also hybrid multicloud systems, like the Nutanix Enterprise Cloud, which help organizations manage all their various cloud ecosystems from a single, unified platform. Hybrid clouds allow companies to spread their apps, data and systems across a choice of private and public clouds, based on most critical requirement for each resource. For instance, mission-critical enterprise software may run on a private cloud, while applications like marketing automation tools that require lower security controls may be hived off on the public cloud. Research by Flexera reveals that 84% of enterprises have a multicloud strategy, with 58% reporting a hybrid approach to cloud computing.
Type of cloud services based on usage
Cloud computing is not a single piece of technology like a microchip or a cellphone. Rather, it's a system primarily comprised of three services: software-as-a-service (SaaS), infrastructure-as-a-service (IaaS), and platform-as-a-service (PaaS). SaaS, PaaS, and IaaS are simply three ways to describe how you can use the cloud for your business.
PaaS: hardware and software tools available over the internet. Examples are AWS Elastic Beanstalk, Heroku, Windows Azure (mostly used as PaaS), Force.com, OpenShift, Apache Stratos, Magento Commerce Cloud.
IaaS: involves a method for delivering everything from operating systems to servers and storage through IP-based connectivity as part of an on-demand service. . Cloud-based services, pay-as-you-go for services such as storage, networking, and virtualization. Examples are AWS EC2, Rackspace, Google Compute Engine (GCE), Digital Ocean, Magento 1 Enterprise Edition
SaaS: involves the licensure of a software application to customers. Licenses are typically provided through a pay-as-you-go model or on-demand. This type of system can be found in Microsoft Office's 365, BigCommerce, Google Apps, Salesforce, Dropbox, MailChimp, ZenDesk, DocuSign, Slack, Hubspot.
On-premise: software that's installed in the same building as your business.
Cloud computing has grown into a vast and complex ecosystem of technologies, products, and services.  More than one in four developers prefer to develop software on cloud platforms. Over half of all software testing, too, is now done in the cloud. This means the cloud can serve the IT specialist in the company by providing networking and infrastructure services with IaaS or Infrastructure as a Service. It can offer a sandbox for software development and testing for programmers with Platform as a Service or PaaS. It can even offer ready-to-use software applications that are directly used by end users via Software as a Service or SaaS. Each of these cloud computing service models offer users varying degrees of control, customization options and security.
The next evolution in delivering corporate cloud services is known as anything-as-a-service or XaaS. XaaS can deliver integrated hardware and software services over the internet, in one seamless package. XaaS (pronounced 'Zaas') is the next generation of cloud computing services which integrates the online delivery of separate private or public cloud services to users.
Hyper-scale Data Centers Set to Scale Up
In the digital age, businesses operate at a hectic speed. This is an era of instant consumption, and enterprises cannot wait for their information technology systems to deliver the services at a pace that traditional systems offer. Organizations need an IT infrastructure that can scale at an extremely quick pace to provision increased demand and then scale down appropriately when demand reduces.  This has led to the demand for hyper-scale data centers.
'A Hyperscale (or Enterprise Hyperscale) data center is a facility owned and operated by the company it supports. This includes companies such as AWS, Microsoft, Google, and Apple.
They offer robust, scalable applications and storage portfolio of services to individuals or businesses. Hyperscale computing is necessary for cloud and big data storage.
Hyperscale data centers are significantly larger than enterprise data centers, and because of the advantages of economies of scale and custom engineering, they significantly outperform them, too. Not by any means an official definition, a hyperscale data center should exceed 5,000 servers and 10,000 square feet. What further distinguishes hyperscale data centers is the volume of data, compute, and storage services they process. In a survey, 93% of hyperscale companies expect to have 40 GigaBytes per second (Gbps) or faster network connections.
Due to the modularity of hyper-scale data centers, data center operators can replace individual physical components, which gives organizations extreme flexibility in scaling at the physical level, as components can be added modularly.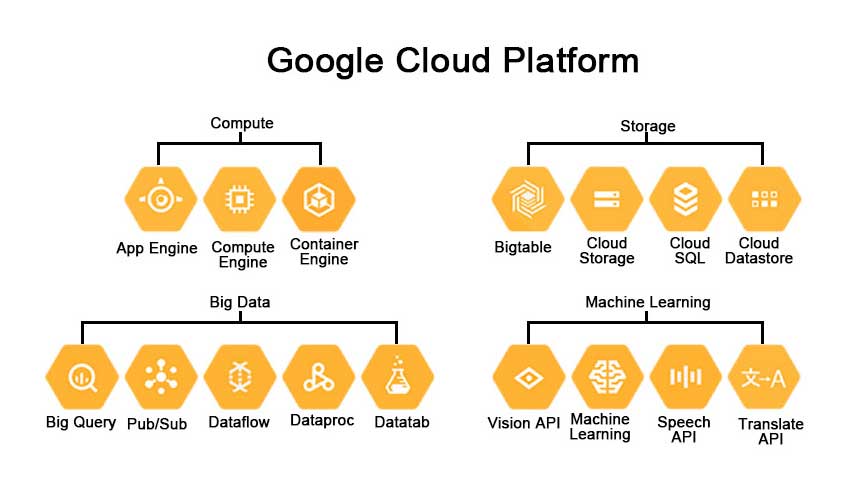 Growing demand for cloud-based container system
An alternate to a virtual machine, the cloud-based container system as service, is in demand. It allows apps to be deployed in a quick and straightforward manner.Containerization creates abstraction at an OS level that allows individual, modular and distinct functionality of the app to run independently. As a result, several isolated workloads can dynamically operate using the same physical resources.
Using a containerization engine such as the Docker Engine, containers create several isolated OS environments within the same host system kernel, which can be shared with other containers dedicated to run different functions of the app. Only bins, libraries and other runtime components are developed or executed separately for each container, which makes them more resource efficient as compared to VMs.
The build it once, run it anywhere mantra of containers has found huge interest among organizations. It also delivers better infra security and allows quick releases of new software modules and features to run smoothly.As containers simplify deployment, management and operational concerns associated with a hybrid cloud, they are expected to see a huge rise in deployment, in line with the growth observed with respect to the hybrid cloud. It's possible for CSPs to offer hosted container management services and at the same time segregate the platforms from each other using cloud container systems.
By 2023, Gartner predicts that more than 70 per cent of global organizations will be running more than two containerized applications in production, up from less than 20 per cent in 2019. Similarly, IDC predicts that 95 per cent of new micro-services will be deployed in containers by 2021.  In a study by 451 Research found that by the year 2020, spending on containerization technologies will grow at a 40 percent compounded annual rate to reach the $2.7 billion mark.
Serverless Computing
Serverless computing is a cloud-computing execution model in which the cloud provider acts as the server, dynamically managing the allocation of machine resources. As with containers, serverless has enabled developers to focus on application development without worrying about underlying infrastructure considerations such as the number of servers, amount of storage, etc. Pricing is based on the actual amount of resources consumed by an application, rather than on pre-purchased units of capacity. It is a form of utility computing.
The  real utility of  "serverless computing" is  simplicity  because the server management and capacity planning decisions are completely hidden from the developer or operator.We're witnessing a reengineering of public cloud services to use a serverless approach. First, we're seeing resource-intensive services such as compute, storage, and databases, but you can count on the higher-end cloud services being added to the list over time, including machine learning and analytics. What this all means for the enterprise is that less work will be needed to figure out how to size workloads. This serverless trend should also provide better utilization and efficiency, which should lower costs over time. Still, be careful: I've seen the use of serverless computing lead to higher costs in some instances. So be sure to monitor closely, advises  David S. Linthicum is a chief cloud strategy officer at Deloitte Consulting.
Artificial Intelligence &  Cloud Fusion
AI & ML are now set to revolutionize cloud solution. Gary Eastwood from the IDG Contributor Network predicts an AI and cloud fusion in the future. According to him "the many, disparate servers which are part of cloud technology hold the data which an AI can access and use to make decisions and learn things like how to hold a conversation. But as the AI learns this, it can impart this new data back to the cloud, which can thus help other AIs learn as well." In fact, with the cloud, we reach a calculation power and the capability of treating a number of data and intelligence.
Major companies in the Artificial Intelligence & Machine Learning division are IBM, Google, Microsoft and Amazon Web Services. These tech giants are already making use of both these technologies to deliver cloud-based services geared to drive business growth.
Edge Computing Moves to Center Stage
A survey by Cisco predicts that the number of devices connected to IP networks will be more than three times the global population by 2022. Similarly, a Gartner study forecasts that 14.2 billion connected things will be in use in 2019, and that this total will reach 25 billion by 2021, producing immense volume of data. A McKinsey study claims that 127 new IoT devices connect to the Internet every second. This clearly has a big impact on the way data centers are built, as companies will require smaller data centers at the edge and place it closer to the location where data is being generated.
Many IoT devices don't have their own computing power. Fog computing typically provides a better way to collect and process data from these devices than the cloud does. Instead of storing data at the cloud or at a remote data center, fog computing provides a way to gather and process data at local computing devices. Fog computing is also known as Edge Computing. In this model, sensors and other connected devices send data to a nearby edge computing device like a gateway (switch or router).
As per Business Insider 5.8 billion IoT devices owned by enterprises and governments will use fog computing in 2020. Gartner states that by 2025, 75 per cent of enterprise-generated data will be created and stored at the edge. Similarly, an IDC FutureScape report states that by 2022, 40 per cent of enterprises will have doubled their information technology asset spending in edge locations and nearby co-location facilities versus core data centers to deliver digital services to local users and things.
5G and Cloud
5G is the fifth generation of cellular mobile communications, preceded by 4G (LTE/WiMax), 3G (UMTS), and 2G (GSM) systems. 5G advantages include high data-throughput rates, reduced latency, energy savings, cost reduction, greater system capacity, and massive simultaneous device connectivity, at a practical cost. The most awaited fifth-generation network (5G) is surely set to rule 2018.
5G will bring cloud computing to everyone, that can take their businesses to the next level by using cloud-based systems to begin to automate things. This means connectivity for IoT devices (whether outside or on factory floors), the ability for staff to use analytics to understand where their business stands, and the ability to train employees online on the latest processes and technologies wherever they happen to be.
Market growth
The global cloud computing market size is expected to grow from USD 445.3 billion in 2021 to USD 947.3 billion by 2026, at a Compound Annual Growth Rate (CAGR) of 16.3% during the forecast period.
This growth can be attributed to several factors, including digital transformation across various industries, a surge in internet penetration, and big data consumption in various verticals. Increasing adoption of 5G, Internet of Things (IoT), and Artificial Intelligence (AI) is expected to further support the growth of the market for cloud computing.
Segments
The IaaS segment is expected to register the highest CAGR over the forecast period owing to the increased adoption of multi-cloud due to benefits, such as scalability and fast data accessibility
Small & Medium Enterprises (SMEs) is anticipated to emerge as the fastest-growing segment from 2021 to 2028 due to high demand for cloud computing in SMEs owing to reduced costs of IT hardware and software, improved processing capacity and elasticity of storage, and greater mobility of access to data and service
The hybrid deployment segment is anticipated to register the second-fastest CAGR from 2021 to 2028 owing to the growth of cloud and industrialized services and decrease in traditional Data Center Outsourcing (DCO)
Moreover, along with the flexibility to move workloads between private and public deployment depending on the computing needs, a hybrid deployment is expected to provide enterprises more data deployment options in the long run
The manufacturing end-use segment is expected to register the highest growth rate over the forecast period. Owing to various functionalities, cloud computing aids manufacturers in utilizing multiple types of production systems, ranging from High-Performance Computing (HPC) and 3D printing to IoT and industrial robots
Cloud computing spending is expected to grow at a whopping rate of 6x the rate of IT spending through 2020 and it is found to be growing at 4.5 times the rate of IT spending since 2009, says an IDC research report.
The same report also predicts that half of the IT spending will be cloud-based by the end of 2018, reaching upto 60% of entire IT infra, and 60-70% of all applications, technology, and services spending by 2020. The Silicon ANGLE determines that cloud spending for enterprises is growing at a 16% CAGR (compound annual growth rate) from 2016 to 2026.
A recent study from Bain & Co, KPMG and Statistica says that as long as cloud is growing, it's natural for Software as a Service (SaaS), Platform as a Service (PaaS), Infrastructure as a Service (IaaS), function as a service (FaaS), backend as a service (BaaS) to grow aggressively too. SaaS is a software license service on a subscription basis and it's hosted centrally. Currently, this sector is influenced by key players like Google Apps and Salesforce, and new companies are likely to jump in the competition.
The growth rate for SaaS is predicted to be 18% CAGR by 2020. The PaaS offers a safe platform which gives customers a chance to develop, launch and manage applications in a modest way rather than having to build and maintain the infra by yourself. The growth rate of PaaS has been remarkable; it has been predicted that the adoption rate will escalate from 32% in 2017 and is supposed to reach 56% in 2020. IaaS provides a virtual resource service on the web and is dominated by Google Compute Engine (GCE), Azure, Amazon Web, AWS and IBM Bluemix. IaaS market is predicted to go over $17B in 2018. We saw positive performance in cloud sector services. Hence, we can expect greater cloud sector growth in 2018 and later.
A total amount of about 370 EB (Exabyte) data is stored in data centers presently and the global cloud storage capacity at the end of 2017 was upto 600 EB. These numbers are set to amplify the total capacity of 1.1 ZB (Zettabyte) in 2018 which nearly doubles the storage available in 2017 according to a survey by Cisco. Sharing of families and friend's storage is going to now become a common practice in 2018 and will be used in place of applications like Google Drive and Dropbox.
Geographical outlook
North America is home to some of the biggest technology companies such as Google, Microsoft, and IBM and this factor has enabled the region to boast a market size of USD 61.59 billion in 2019. Moreover, the regulatory and research environment in the region is extremely favorable for development and adoption of advanced cloud technologies based on Artificial Intelligence (AI) and Machine Learning (ML). As a result, North America is slated to dominate the cloud computing market share during the forecast period. Increasing penetration of the internet and rising usage of smartphones will aid Asia-Pacific register a high CAGR, while rapid deployment of 5G will favor market growth in Latin America and Middle East & Africa.
While technology spending in APAC has increased, the setback due to the recent COVID-19 pandemic is imminent. The cloud technology adoption is expected to increase in sectors where the WFH initiative is helping to sustain enterprise business functions.
Asia Pacific is expected to emerge as the fastest-growing regional market over the forecast period owing to the increasing focus of SMEs and large enterprises to enhance their digital initiatives
The growth in the IT services industry in markets, such as India, China, and other South Asian regions, is also expected to propel the regional market growth over the forecast period
Market leaders
Some of the Key Players  in the Cloud Computing Market are: Adobe, Inc.; HCL Technologies; SAP SE;VMware, Inc.; The International Business Machines Corporation (IBM); Amazon Web Services (AWS); Hewlett-Packard Company (HPE); Salesforce.com; Rackspace, Inc.;
Microsoft Corporation; Oracle Corporation
Today, the cloud computing world is dominated by Amazon Web Services (AWS), Microsoft Azure, and Google Cloud Platform. New emerging and large scale players like IBM Cloud, Oracle Cloud,  SalesForce and  Alibaba are also aiming at holding the battle against the market leaders. Data from Research and Markets shows that the cloud computing marketing which stood at $272 billion in 2018, will grow to $623 billion by 2023, at a CAGR of 18% Y-o-Y.
Amazon Web Services (AWS) is a giant that enables companies across the globe to develop their digital infrastructure entirely or partially using the cloud. 2018 was the year of total supremacy for AWS. Half of the cloud users were under its umbrella. In 2019, their growth slowed down, but they still managed to stay on top as market leaders. Since AWS is the oldest cloud service provider, they offer a plethora of services. They have an offering or more for every client. For the companies that already use on-premise data centers, Amazon has recently launched AWS Storage Gateway. This enables the customers to connect their existing storage and backup to the cloud, with a single console to access storage configurations. AWS CloudFormation is another technology by Amazon that lets the firms to control the resources and application stacks that are required for mobile and web apps. Simply put, the customers get access to infrastructural components of cloud service with a central command-line interface to manage them.
Microsoft Azure is the closest competitor of cloud king AWS and it's getting even closer.  Like AWS they also have a hefty lot of services which includes cloud services to Office 365, business subscription to Dynamic 365 and LinkedIn services. This makes it challenging to compare their services directly with their competitors or other cloud service providers. One of the useful features of Microsoft's cloud solutions is the Microsoft Azure Machine Learning Service. The users can develop, test, deploy, manage, move, and even monitor their machine learning model in a cloud-based environment using this service.
In 2018, the Google Cloud platform was too new to be a contender in the list of top cloud providers. In April 2019, GCP picked up the pace with Google Next. Google Cloud Platform and VMware announced a partnership in July 2019. It was one of the biggest collaborations of last year. They have proved a firm grip over the banking and finance sector by getting HSBC as a client. Recently, the company has acquired a Looker platform that offers analytical solutions to cloud users. GCP offers the cheapest cloud services in the market.
Salesforce, another major player in the cloud market, is expected to generate a revenue of 17 billion dollars in FY 2020. The fact that the majority of the top 20 banks from Europe and the US use SalesForce also reflects its penetration in the cloud market. One of the facts that led to its success is the deployment of cutting-edge technology in its CRM platform. The customers of SalesForce CRM can rely on AI to recognize sales opportunities, which in turn, leads to more revenues. Another reason behind its enormous growth is the early mover advantage. It was the first company to start offering CRM in the cloud. The launch of AppExchange, a third-party marketplace that allowed developers to create and sell their apps to Salesforce users, was also a major event that added to its success.
IBM reported a revenue of 5.3 billion dollars in Q3 2019, which is 6.4 percent higher than the previous quarter. Some features that have attracted the businesses include:Open technologies that ensure interoperability; An integrated hybrid cloud that lets the businesses unlock hybrid data;Powerful analytics system and Development solutions for enterprises. In the near future, IBM plans to acquire the untapped area of hybrid cloud solutions. It has recently acquired Red Hat, which is expected to aid the delivery of hybrid solutions efficiently.
 Simon Hu, senior vice-president of Alibaba Group and president of Alibaba Cloud, said China's vast home market plus expansion into countries signing up to the Chinese government's "Belt and Road Initiative" trade development plan, gives the company its confidence. "We have taken on Amazon on all fronts as our benchmark over past three years. Some of our products have already exceeded theirs," Hu told the South China Morning Post on the sidelines of the Alibaba Computing Conference in the Chinese city of Hangzhou, where the company is based. "While market expansion needs to be step by step, the technical capabilities of Alibaba Cloud are as good as Amazon's AWS," said Hu. He had vowed in 2015 to "match or surpass Amazon in four years" in terms of customers, technology and worldwide scale. "The large internet population in China and the country's booming internet economy have given Alibaba Cloud a golden opportunity," Hu said. "That is why we have been the fastest growing cloud computing company for the past several years."
The market leaders such as Oracle and SAP are directing their research and investment energies toward efficiently utilizing the opportunities generated by the Internet of Things (IoT) phenomenon. Most of the players in this market are focused of making their products and services smarter and more streamlined using IoT-based tools. SAP SE, the German software company, launched SAP HANA, the company's integrated cloud service with advanced data and analytics capabilities. The service comprises of the SAP Data Warehouse Cloud solution to enable efficient warehouse management.
References and Resources also include:
http://www.scmp.com/tech/enterprises/article/2114965/alibaba-says-it-track-overtake-amazon-worlds-top-cloud-computing
https://www.esds.co.in/blog/cloud-computing-trends-driving-growth-2018/#sthash.4CQ2lCAU.dpbs
https://www.infoworld.com/article/3284410/cloud-computing/serverless-cloud-computing-is-the-next-big-thing.html
https://www.esds.co.in/blog/cloud-computing-iot/#sthash.QoYpxpRN.dpbs
https://www.techaheadcorp.com/blog/top-cloud-service-providers/
https://www.nutanix.com/theforecastbynutanix/technology/battle-of-the-clouds-private-vs-public-vs-hybrid
Cite This Article