An unmanned aerial vehicle (UAV) ( commonly known as a drone) is an aircraft without a human pilot on board. UAVs are a component of an unmanned aircraft system (UAS); which include a UAV, a ground-based controller, and a system of communications between the two. The flight of UAVs may operate with various degrees of autonomy: either under remote control by a human operator or autonomously by onboard computers referred to as an autopilot.
Compared to crewed aircraft, UAVs were originally used for missions too "dull, dirty or dangerous" for humans. While drones originated mostly in military applications, their use is rapidly finding many more applications including aerial photography, product deliveries, agriculture, policing and surveillance, infrastructure inspections, science, smuggling, and drone racing. UAV technology has offered several  applications to a wide range of end-use industries  including mining, security, healthcare, wildlife, forest, disaster management, traffic management, urban development. The use of Unmanned aerial vehicles  can provide  these industries a superior option to gather highly precise  remote data in real time in cost-efficient manner  as with higher safety compared to piloted aerial vehicles.
The UAVs  have become one of the essential constituents  of all militaries to  perform intelligence, surveillance, and reconnaissance missions. Their roles have expanded to areas including electronic attack, suppression or destruction of enemy air defense, network node or communications relay, combat search and rescue and many others.
In contrast to this, there is a huge scope for research & development in the field of UAV, which aims at increasing the operational efficiency and provides complete autonomy. Investments are infused in this field, which has resulted into adoption of autonomous control systems.
Market Growth
The global UAV Drones market size is projected to reach USD 20590 Million by 2026, from USD 10580 Million in 2020, at a CAGR of 11.7% during 2021-2026. The global Commercial UAV market size is projected to reach USD 1597.1 Million by 2026, from USD 919.5 Million in 2020, at a CAGR of 9.6% during 2021-2026.  GMD's analysis indicates that the cumulative revenue of global defense & security drones market will reach $121.9 billion during 2019-2025, resulting from a continuous growth of 9.91% per annum over the forecast years.
Market Drivers
Key factors fueling the growth of the UAV (Unmanned Aerial Vehicle) market includes increasing demand for UAVs for commercial applications, advancements in technologies of drone payloads, enhanced capabilities of UAVs to fight terrorism. and increasing defense budgets of emerging economies. The UAV market is also driven by the reduced risks associated with the use of UAVs, and technological innovations that have created a demand for UAVs in performing complex operations, thereby reducing the need for human intervention.
The nascent drone industry took a big step forward in 2015 as the Federal Aviation Administration (FAA) granted hundreds of new exemptions for companies to operate drones in the US. Those exemptions included many new use cases in a variety of industries including insurance, construction, and agriculture, all of which demonstrate the broad range of commercial applications for drones.
Market Restrainers
The current utility-owned Global Defense Security Drones Market are affected primarily by the COVID-19 pandemic. Most of the projects in China, the US, Germany, and South Korea are delayed, and the companies are facing short-term operational issues due to supply chain constraints and lack of site access due to the COVID-19 outbreak.
However, strict airspace regulations and procedural issues in  several countries across the world, such as flying of drones beyond the visual line of sight, has restrained the market to grow up to its full potential. Other factors, like security and safety concerns and scarcity of trained pilots, are also anticipated to challenge the growth of the drones market to a certain extent.
Civil Market
There are growing number of civil and commercial applications of UAVs, including humanitarian aid and disaster relief, infrastructure monitoring (such as oil pipelines), wildlife conservation and precision agriculture. Consumer UAVs are showing that they can do many of the easier commercial missions such as simple real estate photography.
"The market for UAVs looks very strong, increasingly driven by new technologies such as the next generation of unmanned combat systems, and the development of new markets such as civil and consumer drones," said Philip Finnegan, Teal Group's director of corporate analysis and an author of the study. "Our 2015 UAV study calculates the UAV market at 72% military, 23% consumer, 5% civil cumulative for the decade." Of the three areas, civil UAVs grow most rapidly over the forecast period as airspace around the world is opened, but it grows from a very low base.
Factors such as the increase in UAV venture financing, technical advances, and growing application in commercial sectors, including 3D mapping, are expected to drive the commercial drone market size. Firms in aerospace, data analysis, semiconductors and telecommunications are driving the diverse market. Venture capitalists and companies like Intel, Qualcomm, Microsoft, Apple have poured $455 million into drone startup investments in 2018 ($2.6 billion since 2012). U.S. start-ups received 67% of the total, enabling them to take the lead in drone analytics. Chinese firms (15% of total investment) are focusing on continuing their lead in hardware, moving from consumer to commercial systems. Europe lags at 9%.
Furthermore, the leading technology giants have demonstrated UAVs' use in delivering goods to customers from the warehouse. It is expected that the implementation of commercial drone delivery services will promote various creative types of cargo transport capabilities, such as temperature-sensitive goods and emergency medicines. This adoption of drones in delivery services is expected to fuel the growth of the commercial drone market size.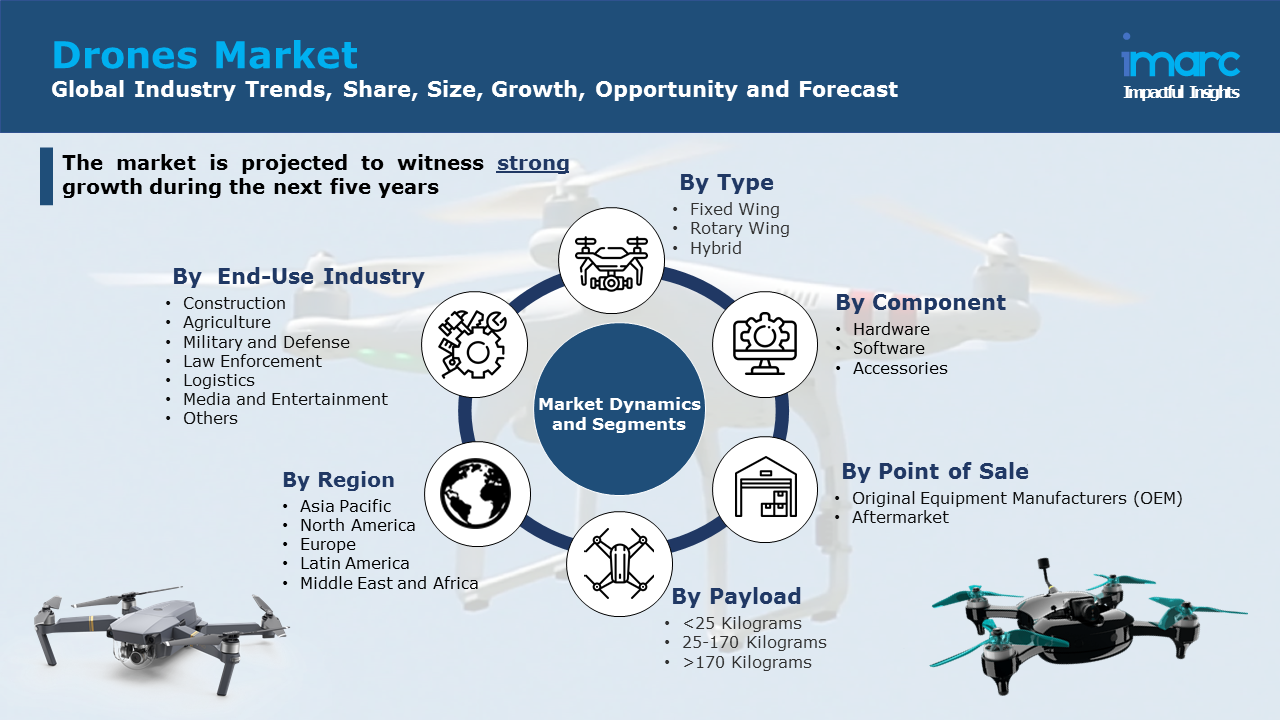 Market Segments
The market is segmented based on application, into construction, agriculture, energy, entertainment, law enforcement, delivery, and other applications. The energy subsegment includes the deployment of drones in the oil and gas sector, asset monitoring and maintenance activities, such as visualization of cracks on windmill blades, oil and gas pipeline monitoring, etc.
The law enforcement segment includes the use of drones for border monitoring and customs checks, search and rescue (SAR), and other police applications, such as surveillance. The other applications subsegment encompasses the deployment of drones for firefighting, mining, and aerial mapping.
In 2019, the construction segment held the largest market share. The proliferation of drones has revolutionized the operational processes in the construction industry. Drones are rapidly replacing the traditional land surveillance methods, as they offer a significant reduction in labor and time to capture the necessary data while eliminating the scope of human error. Drones are being increasingly utilized to perform the visual inspection of the high-risk areas of a construction site. The efficiency of on-site communication and management is also bolstered by the ability to collect real-time data from drones. Drones also help engineers and surveyors carry out the inspection of high-rise structures and visualize the project progress through aerial shots. Additionally, they provide site managers with an overview of potential issues and facilitate key decision-making aspects to streamline the operations at a construction site.
For instance, in October 2018, DJI launched its Phantom 4 RTK drone, for surveying and mapping, at the European Drone Summit in Frankfurt, Germany. The drones are designed for ensuring significant improvement in surveying, mapping, and inspection.

UAV types
Advancements in drone technologies have allowed manufacturers to produce a wide range of models in different sizes, weights, and shapes, which can carry different sensor payloads, making them favorable across a broad application base.
UAVs have been divided into classes like Micro/Mini, Tactical, MALE, HALE; UCAVs based on parameters like flight altitude, endurance, speed, maximum take off weight (MTOW) e.t.c.
Category Name
Mass (Kg)
Range (Km)
Flight Altitude

(m)

Endurance
NAV – Nano Air Vehicles
< .02

1-12 minutes
Micro
< 5
     < 10
250
1 hour
MUAV or Mini UAV
< 5/30/150
      <30
150/250/300
<2 hours
Close-Range UAV
  25-150
100
3000
2-4 hours
TUAV – Medium Range or Tactical UAV
5-250
100-300
3000
3-6 hours
MALE – Medium altitude long endurance
500
5000-15,000
24 hours
HALE – High altitude long endurance
> 250
> 70
>15,000
24-28 hours
VTOL UAV Market
VTOL stands for vertical take-off and landing. It describes aircrafts and drones (unmanned aerial vehicles / UAVs) able to take off, hover and land vertically, like a helicopter. The most common type of VTOL UAVs are multicopter drones.
Amid the COVID-19 crisis, the global market for VTOL UAV estimated at US$4.4 Billion in the year 2020, is projected to reach a revised size of US$15.6 Billion by 2027, growing at a CAGR of 19.6% over the analysis period 2020-2027. Military, one of the segments analyzed in the report, is projected to record a 21.4% CAGR and reach US$9 Billion by the end of the analysis period
The growth of this market is forecast to be driven by the increasing demand of VTOL UAVs in civil & commercial sector. The market is further driven by the demand for 3D mapping, oil & gas pipeline inspection, recreational activities, safety and surveillance. However, the market faces hurdles such as strict airspace regulations and social issues such as privacy and nuisance concern. The growth in the market is attributed to factors such as increasing demand in commercial and law enforcement applications, better technological advancements, amended safety norms to perform complex operations with least human interventions, and reduced risks and cost associated with the use of VTOL UAVs.
The increasing adoption of fixed-wing VTOL UAVs in the commercial and military verticals is one of the most significant factors expected to drive the growth of the market. Based on vertical, the military segment is estimated to lead the fixed-wing VTOL UAV market in 2019. The growth of the military segment can be attributed to the increasing adoption of fixed-wing VTOL UAVs in various military applications such as intelligence, surveillance, and reconnaissance (ISR) and electronic warfare. These fixed-wing VTOL drones reduce collateral damage while hovering, searching, and identifying, which makes them an invaluable asset for the military, driving the growth of the fixed-wing VTOL UAV market.
In the global Homeland Security segment, USA, Canada, Japan, China and Europe will drive the 15.5% CAGR estimated for this segment. These regional markets accounting for a combined market size of US$1 Billion in the year 2020 will reach a projected size of US$2.8 Billion by the close of the analysis period. China will remain among the fastest growing in this cluster of regional markets. Led by countries such as Australia, India, and South Korea, the market in Asia-Pacific is forecast to reach US$1.9 Billion by the year 2027.
The VTOL UAV market in the U. S. is estimated at US$1.3 Billion in the year 2020. China, the world`s second largest economy, is forecast to reach a projected market size of US$2.7 Billion by the year 2027 trailing a CAGR of 18.8% over the analysis period 2020 to 2027. Among the other noteworthy geographic markets are Japan and Canada, each forecast to grow at 17.5% and 16.8% respectively over the 2020-2027 period. Within Europe, Germany is forecast to grow at approximately 14.3% CAGR.
Solar Powered UAV Market
The solar-powered UAV market is poised to grow by $ 485.46 million during 2020-2024 progressing at a CAGR of 10% during the forecast period.  The rising adoption of UAVs by numerous end user industries and the development of efficient solar powered propulsion system are expected to drive the solar powered drones market.
On the basis of applications, the global solar powered drones market can be segmented into agriculture, energy, government & defense, telecommunication, and media & entertainment. Solar-powered UAVs are primarily adopted by militaries, defense agencies, paramilitary forces, and other national security agencies for intelligence, surveillance, and reconnaissance (ISR) missions as they can perform activities beyond the scope of human ability. The increasing investments from government agencies in R&D activities will positively impact the growth of the solar-powered UAV market in the defense segment.
Reliable and good quality internet connectivity has become a necessity around the globe, which is restricted only to the urban areas. Initiatives taken by network providers to connect with remote rural regions with best quality internet services and increase in the consumer base are expected to drive market growth. Such unmanned aerial vehicles also find major applications in mapping, disaster management, and surveillance.
Extensive applications for law enforcement activities to assist crime investigation are gaining prominence. It is used for accumulating evidence by capturing quality videos and images from over the crime scene without tampering the existing evidence. Also, it can be used for traffic management, accident inspection, and congestion analysis.
Technological advancements surfacing in hydrogen fuel cell, photovoltaic cell, and hybrid propulsion system used to generate energy may help in improving the endurance and flight range. This will assist in their penetration in the global market owing to their increased demands in civil and commercial application utilities to function on an autonomous power source. Upcoming aerial vehicles have encapsulated photovoltaic cells on the wings to reduce the weight while maintaining the aerodynamic features to extend the flight range of UAVs.
North America solar powered drone market share was the largest in 2015 owing to high adoption rates due to the extensive applications of military drones. Combat and surveillance operations in the critical war zones are projected to enhance growth prospects in the region.
Key participants holding major solar powered drone market share include Airbus (QinetiQ), Boeing Phantom Works, Google (Titan Aerospace), and Facebook (Ascenta). Other participants include AeroVironment/NASA, Lockheed Martin (Hale-D), Bye Engineering, and Atlantik Solar. Solar powered aviation has witnessed a steep rise in R&D expenditure in the last two years prior to 2015.
Small Unmanned Aerial Vehicle (UAV) Market 
Micro, Mini & Nano UAVs are being utilized in Military, Homeland Security, Law Enforcement, Industrial, Media, Agriculture & Scientific Applications. Visiongain has assessed that the small UAV market will reach $1.61bn in 2015
Homeland security and defence applications are set to grow, particularly as payloads grow to enable collection of a wide variety of data (such as CBRN threats, facial recognition, military ISTAR sensors and others), as are data-collecting applications for research purposes. The automation of small UAVs will also likely bring great cost and time savings for applications such as agricultural spraying, delivery of goods and many other applications.
Defense and Security Drone market 
Recent estimates released by the Stockholm International Peace Research Institute (SIPRI) show that the total global military expenditure rose by 3.6% from 2018 levels, reaching USD 1,917 billion in 2019. The biggest spenders were the US, China, India, Russia, and Saudi Arabia, who together accounted for 62% of this staggering rise. The demand for unmanned aerial vehicles (UAVs) is expected to skyrocket in view of the increased military spending as countries are aggressively strengthening their defense arsenal to deter hostile parties and effectively raise the safety and security of their borders and their citizens.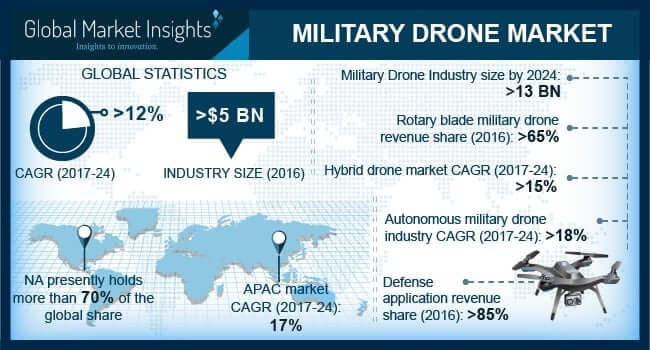 The success of UAVs in combat operations has increased their demand in North America, the Middle East, and Asia-Pacific regions. North America led to the largest market share in the Unmanned Aerial Vehicle (UAV) market due to increased application in military, home-security and commercial areas. Furthermore, Asia Pacific is expected to grow with the highest growth rate owing to the growing trend of globalization and automation and instability due to internal political tensions.
The market for military drones is expected to almost double by 2024 to beyond $10 billion (8.9 billion euros), according to a report published by specialist defense publication IHS Jane's Intelligence Review. "The global defense and security market for Unmanned Aerial Vehicles (UAVs) will expand at 5.5 percent per year over this decade, from the current figure of $6.4 billion," according to the analysis.
UAVs have become indispensable to modern militaries in providing intelligence, near-real time reconnaissance and surveillance to commanders, and offering warfighters greater battlespace awareness. They have proven effective in electronic combat support, battle damage assessment and even in national security operations like border surveillance, low intensity conflict and guerilla / terrorist warfare.
In the future, UAVs will act as airborne data links, enemy radar jammers, chemical and biological weapons detectors, target acquisition systems, and finally precision air attack systems. "Operators are now moving to expand their mission sets beyond visual surveillance and reconnaissance, and are introducing sophisticated intelligence and electronic warfare systems, as well as a wider range of munitions," said Huw Williams, unmanned systems editor for IHS Jane's.
Additionally, factors such as recent advancements in stealth technology is also expected to spur this market's growth prospects over the forecast period. The use of stealth technology, also called low observable technology, promote passive electronic countermeasures to make aircraft, submarines, ships, missiles, and satellites less visible or undetectable to radars, infrared, sonars, or other detection platforms. With time, stealth technology has experienced distinguishable changes in the selection of materials, aerodynamic designs, and operational techniques of combat platforms. Along with manned platforms, various UAVs also feature stealth technology. Of late, the use of UAVs in security and surveillance applications has been rising. This phenomenon has also necessitated both the development and operating agencies to emphasize on two vital factors, including reduction of radar cross section to ensure low observability and increase in the payload capacity of UAVs
The introduction of artificial intelligence (AI) in UAVs has triggered an unprecedented wave of innovation in drone technology. Several companies and start-ups are actively researching and developing UAVs armed with autonomous tools powered by AI and machine learning (ML) capabilities, which is fueling the military drone market growth. For example, Lockheed Martin, the aerospace & defense behemoth, offers a drone designed for field use called 'Desert Hawk III' that can be operated by a single user.
The drone can chart its upcoming flight path and even train the operator on how to deploy and maneuver it in the field. Similarly, another US-based defense company, AeroVironment, has a novel line-up of military drones called the Raven series, which can fly autonomously along a route using GPS coordination and computer vision. Such innovations are intensifying technology-based conflicts between countries and widening the scope of the market for the military drones.
 UCAV
They are also increasingly being utilized in combat roles like next generation UCAVs, Boeing's X-45 Phantom Ray, and Northrop Grumman's X-47 Pegasus. The future operations in anti-access/area-denial (A2/AD) environments will lead to a need for longer-range and stealthy sensors for a variety of new and legacy UAV platforms. "As technology matures, we are set to see Unmanned Combat Air Vehicles (UCAVs) come in to service," said Huw Williams, unmanned systems editor for IHS Jane's. "These will feature 'stealthy' characteristics and advanced payloads and weaponry. They will operate alongside manned aircraft and eventually even replace them in many roles."
The unmanned aerial vehicles market is dominated by key players such as GA-ASI (U.S.), Northrop Grumman Corporation (U.S.), Elbit Systems Ltd. (Israel), IAI Ltd. (Israel), AeroVironment, Inc. (U.S.) Lockheed Martin (U.S.), The Boeing Company (U.S.), BAE Systems PLC (U.K.), Textron Systems (U.S.), Aeronautics Ltd. (Israel), Safran SA (France), SAAB AB (Sweden), Thales Group (France), TAI Inc. (Turkey), and Aviation Industry Corporation of China.
UAV Subsystems
UAV contains many subsystems such as Flight control and Navigation systems , Command Datalink system which links it with Ground Control System for guidance, telemetry and sensor information. In most modern UAV applications, video transmission is required. So instead of having 2 separate links for C&C, telemetry and video traffic, a broadband link is used to carry all types of data on a single radio link.
Drones  contain sensors which are critical to it's operation such as  IMUs, GPS, camera, infrared, ultrasound, radar and LIDAR sensors. Position and movement sensors give information about the aircraft state. System hardware for small UAVs is often called the flight controller (FC), flight controller board (FCB) or autopilot. UAV software called the flight stack or autopilot. The purpose of the flight stack is to obtain data from sensors, control motors to ensure UAV stability, and facilitate ground control and mission planning communication.
UAV actuators include digital electronic speed controllers (which control the RPM of the motors) linked to motors/engines and propellers, servomotors (for planes and helicopters mostly), weapons, payload actuators, LEDs and speakers. UAV computing capability followed the advances of computing technology, beginning with analog controls and evolving into microcontrollers, then system-on-a-chip (SOC) and single-board computers (SBC).
As mobile networks have increased in performance and reliability over the years, drones have begun to use mobile networks for communication. Mobile networks can be used for drone tracking, remote piloting, over the air updates,[80] and cloud computing.
UAV Payloads
The global unmanned aerial vehicle (UAV) payload and subsystems market size is poised to grow by USD 23.01 billion during 2019-2023, according to a new report by Technavio, progressing at a CAGR of close to 26% during the forecast period. The market is driven by the enhanced application profile encouraging procurement. In addition, the miniaturization of integrated sensors is expected to further boost the growth of the unmanned aerial vehicle (UAV) payload and subsystems market
EO/IR is still the default sensor for the vast majority of UAVs. Rapid technological advances have enabled developers to design miniaturized EO/IR payloads. These sensors offer sufficient heat dissipation and conform to industry standards without compromising on performance. Thus, the reduction of size and cost of advanced IR detectors and improvements in the resolution of low-end IR microbolometers will widen the application scope of UAV-mounted EO/IR sensors. This will fuel the overall growth of the market during the forecast period.  However, new sensor markets will see significant increases as radio frequency (RF) systems replace EO/IR capabilities, and next-generation UAVs at all scales require much more sophisticated – and expensive – sensors including Synthetic Aperture Radars (SARs), SIGINT and EW Systems, and C4I Systems.
"Rapidly increasing capabilities for RF sensors will be funded, as potential conflicts shift from clear-skies Central Asia to the more restrictive geographies of Eastern Europe and the Pacific," says Dr. David Rockwell, author of the electronics portion of the new study. New technologies being developed are wide angle, hyperspectral and high definition EO/IR systems, a variety of ground and foliage-penetrating radars, and sensors for smaller and smaller UAVs.
Recently, it has been observed that the use of carbon composite materials for manufacturing UAV airframes has gained acceptance among manufacturers as ensure reduced weight and enhanced service life. Since the use of carbon composite materials also helps reduce the overall maintenance cost per landing, many manufacturers have started using composite manufacturing technologies for UAVs since the last decade. For instance, a US-based composite product manufacturing company, Fiber Dynamics, has been supplying the main landing gear struts for the Predator B MQ-9 Reaper (a MALE UAV offered by General Atomics) since last ten years
Regional Share
North America is expected to hold the largest commercial drone market share during the forecast period. This dominance of North America is attributed to the increased use of drones for protection, recreational purposes, engineering projects, and surveying and mapping applications in countries such as Canada and the U.S. The Asia Pacific, on the other hand, is expected to show considerable growth driven by high demand from Japan and China for unique and automated drones. In both countries, they are widely used to combat rising labor costs.
The Asia-Pacific drones market is anticipated to witness the highest growth during the forecast period. The recent changes in drone regulations in several countries across the region are expected to support the growth of the market. China became the global hub for drone manufacturing in the past six years. About 70% of the global civilian drone market is supported by China, which had about 1,200 drone manufacturers in the beginning of 2019 (up from 130 manufacturers in 2013). The Chinese government is providing various subsidy schemes and other favorable domestic policies for drone purchases to promote the adoption of drones in various industrial sectors.
Moreover, Japan's UAV market segments (consumer, enterprise, and military) are expected to witness rapid growth, in terms of technology and procurement. The Japanese government recently implemented new regulations for drone manufacturers and users, which may support the Japanese drones market in the future. The government took initiatives to improve the country's commercial drone industry and reach its goal of enabling drone delivery in Tokyo by 2020.
Australia is a major industry hub in Asia-Pacific, which is witnessing the rising importance of BVLOS testing. As of July 2019, there were more than 1,200 drone operators in Australia. These operators are rapidly developing technologies and services to support the large drone ecosystem. The supportive drone regulations in Australia introduced by the Civil Aviation Safety Authority (CASA), in support of many domestic and international players, is helping the penetration of drones into many applications. Hence, the market in Asia-Pacific is expected to grow at a rapid pace during the forecast period.
Drone Industry
Key players in Defense & Security Drones  are AeroVironment, Inc., Aeryon Labs, Aviation Industry Corporation of China (AVIC), BAE Systems plc, Boeing, Challis Heliplane UAV Inc, China Aerospace Science and Technology Corporation (CASC), CybAero AB, Denel Dynamics, Elbit Systems Ltd., FT SISTEMAS S.A., General Atomics Aeronautical Systems, General Dynamics Corporation, Israel Aerospace Industries, Kratos Defense & Security Solutions, Inc., L-3 Communications Holdings Inc., Leonardo-Finmeccanica, Lockheed Martin, MMist Inc., Northrop Grumman Corporation, Prox Dynamics AS, Proxy Technologies Inc., Safran S.A., Schiebel, Textron Inc., Thales S.A.
Cite This Article