The oceans, which covers seventy percent of our earth's surface are believed to be able to satisfy our need of minerals like gold, copper, silver, zinc, cobalt and manganese for the next hundred years. Water is heated in the Earth's crust by magma and rises up through fissures, venting into the ocean and bringing with it many minerals. Rich beds of deposits form around them as the plumes settle. The minerals form chimneys tens of metres high around the springs through thousands of years of accumulation.
These contain critical minerals such as high-grade copper, gold, silver, zinc, and other trace metals vital for many applications, such as aircraft components and rechargeable batteries. There is enough gold on the seafloor to give every person alive nine pounds, scientists estimate. That would be worth about $150 trillion, or $21,000 a person.
Increased demand for such minerals has driven technology development for exploration and extraction from deep-sea mining. Deep-sea mining is the process of exploring the deep seabed and retrieving minerals like cobalt and manganese (used in things like rechargeable batteries, smartphones, and steel), as well as gold, nickel, and rare earth elements.
Land-based mining can adversely affect the terrestrial environment. For example, acid rock drainage (created by the exposure of crushed rocks to air and water) can release harmful contaminants, such as arsenic, mercury, and lead. Advances in deep-sea mining may decrease those effects by reducing the demand for land-based mining.
Private companies are designing and testing several technologies to explore and sample wide areas of the ocean floor. However, the long-term environmental effects from deep-sea mining are as yet unknown.  These could include the release of sediment plumes that contain toxic heavy metals, which could affect ecosystems and spread to other countries on ocean currents.
Mineral mining race
These deep-sea minerals exist in three forms that hold most of these minerals. Polymetallic nodules also called manganese nodules, are lying on the seabed; Massive sulfide deposits (MSD) form of minerals expelled via deep-sea hydrothermal vents; and ferromanganese crusts, which are rich in cobalt and manganese and line the sides of ridges and seamounts.
The mineral scarcity and rising prices of gold, copper and rare earth minerals is creating great interest among many nations for deep ocean mineral mining. Many of these minerals are in international waters. For example, the Clarion-Clipperton Zone, which spans 1.7 million square miles between Hawaii and Mexico, holds trillions of polymetallic nodules. Mining for sand, gravel, and aggregates is underway nearer to shore, but these areas hold only limited critical minerals.
These minerals play an important role in the U.S. economy, contributing to industries such as transportation, defense, aerospace, electronics, energy, construction, and health care. The International Energy Agency expects demand for cobalt, copper, nickel, and rare earth elements to at least double (or possibly more than triple) within the next 20 years.
According to a 2019 Department of Commence report, the U.S. needs to mitigate the risk of being heavily dependent on critical mineral sources under foreign government control. Currently, such sources include China, Russia, and the Democratic Republic of the Congo. Mining deep-sea minerals could provide an alternative source for critical minerals.
International Seabed authority (ISA), formed under the UN convention of the law of the sea has granted 26 licenses since 2001 including China, Russia, India, Japan and South Korea. South Korea has launched operations in sea areas off the island of Tonga.
In order to sustain its high rate of economic growth and an increasingly affluent and expanding middle class, China needs huge amounts of minerals. This has led to China has been securing access to minerals all around the globe from Africa, Latin America, Southeast Asia to central Asia. China is investing heavily in submersibles, manned and robotic, that are able to at least provide superficial documentation of what is in the deep ocean.
Now china has adopted strategy for mineral mining from Moon,  ocean floor, Arctic and Antartica. China wants to arrange a joint Arctic expedition with Russia, while deep-sea mining and a deep-sea station in Antarctica are also on the Beijing agenda, according to the Chinese State Oceanic Administration. "[The] administration will advance innovative development patterns for the ocean economy involving internet and big data, and a number of state oceanic laboratories will be built," said Zhang Zhanhai, the SOA's head of strategic planning.
China is likely to become the first country in the world to start mining seabed minerals if the international rules for exploitation are approved in 2020, the head of the International Seabed Authority (ISA) said. The ISA has already signed 30 contracts with governments, research institutions and commercial entities for exploration phase, with China holding the most, five contracts. The body, which was established to manage the seabed resources by the United Nations Convention on the Law of the Sea (UNCLOS), is aiming to adopt seabed mineral exploitation rules by July 2020. "I do believe that China could easily be among the first (to start exploitation)," Michael Lodge, ISA general-secretary,  said.
"The demand for minerals is enormous and increasing, there is no doubt about the market." There is also interest from European countries including Belgium, Britain, Germany and Poland, as well as from the Middle East. However, no one has yet demonstrated that deep sea mining can be cost effective and some non-governmental organizations have questioned whether it would be possible to reach a deal on exploitation rules next year.
If the rules are approved, it could take about two to three years to obtain permits to start deep sea mining under the current draft, Lodge said. Canadian Nautilus Minerals had tried to mine underwater mounds for copper and gold in the national waters off Papua New Guinea, but it run out of money and had to file for creditor protection earlier this year.
This has not deterred others, such as Global Sea Mineral Resources (GSR), a unit of Belgian group DEME, and Canada's DeepGreen, to continue technology tests and research. In July, Greenpeace called for an immediate moratorium on deep sea mining to learn more about its potential impact on deep sea ecosystems, but the ISA has rejected such a proposal.
Mining the deep ocean requires permission from the International Seabed Authority. Exploration contracts provide the right to explore a specific part of the seabed for 15 years. As of mid-2020, 30 mining groups have signed exploration contracts, including governments, public-private partnerships, international consortiums and private multinational companies.
Two entities hold the most exploration contracts (three each): the government of Korea and the China Ocean Mineral Resources R&D Association, a state-owned company. Since the U.S. is not a member of the Law of the Sea treaty, it cannot apply for contracts. But U.S. companies are investing in others' projects. For example, the American defense company Lockheed Martin owns UK Seabed Resources, which holds two exploration contracts.
https://www.youtube.com/watch?v=IYKaKeJv2dQ
Deep Ocean Mining Technology
Scientists and industry leaders have known that there are valuable minerals on the seafloor for over a century, but it hasn't been technologically or economically feasible to go after them until the past decade. Widespread growth of battery-driven technologies such as smartphones, computers, wind turbines and solar panels is changing this calculation as the world runs low on land-based deposits of copper, nickel, aluminum, manganese, zinc, lithium and cobalt.
The Canadian mining firm Nautilus Minerals Niugini Ltd plans to undertake first commercial undersea mining from Papua New Guinea by extracting metals from a field of hydrothermal vents. The company operations to harvest gold and copper from about 3,400 feet (1,036 meters) under the water, under Solwara 1 project. China and Russia have procured licenses for eastern Pacific oceans. Two of the new licenses – for German and Indian organizations – cover deep ocean ridges where hydrothermal vents have created potentially rich deposits. The total area of seabed now licensed in this new gold rush has reached an immense 1.2 million square kilometers.
India has secured an exploration contract from the International Seabed Authority to mine polymetallic nodules in the Central Indian Ocean over 1,50,000 sq km.  According to an estimate, the total mass of nodules in the area allocated to India in the Indian Ocean region is 380 million metric tonne.
Tokyo and New Delhi have signed a significant agreement in September 2014 on the commercial contract between Indian Rare Earths Limited (IREL) and Toyota Tsusho Corporation (TTC) for the exploration and production of rare earths and are working towards finalising the commercial contract and commencement of commercial production at the earliest.
Currently, 13 national consortia operate exploration leases on 4.5 million km2 of the Clarion-Clipperton (Fracture) Zone (CCZ), between Baja and Hawaii. The U.S., as a non-party to UNCLOS and ISA, issued exploration leases on its own to Ocean Minerals Company (OMCO), a subsidiary of defense contractor Lockheed Martin, to explore for nodules in the CCZ
Many states and private industries have also joined the fray, like UK Seabed Resources (UKSRL), a subsidiary of the British arm of Lockheed Martin which is planning operations in south of Hawaii and west of Mexico has conducted a baseline environmental survey of its licence area in the Pacific.
Multiple companies are designing and testing technologies for retrieving material, including hydraulic pumping and conveyance systems. Some of this testing has occurred to depths of approximately 21,000 feet.
To date, there are no deep-sea commercial mining operations though several companies are progressing in that direction. For example, a Canadian company reported that it is retrofitting a former ultra-deep-sea drilling vessel as the first sub-sea mining vessel. It anticipates beginning a pilot mining project in mid-2022 to retrieve polymetallic nodules.
Extraction technology
Researchers continue to develop technologies for locating and extracting mineral samples and for establishing deep-sea mining operations.
Private companies have developed several technologies and designs for both exploration and systems to deliver extracted material to ships or surface-based mining platforms. For example, Impossible Sensing, a St. Louis-based deep tech start-up specializing in optical sensors and edge analytics, partners with the U.S. Department of Interior's Bureau of Ocean Energy Management (BOEM) to pioneer a new way to discover cleantech resources on the seafloor.
VIPER utilizes the space exploration technology originally developed by Impossible Sensing for NASA to comprehensively map and discover marine minerals in the exclusive economic zone of the United States. Impossible Sensing and BOEM estimate that 100 km2 mineral and environmental surveys can be completed in days, rather than months, without the need to take samples.
Underwater remotely-operated vehicles (ROVs) can be used to locate prime extraction sites and collect samples from the seabed. Robot submarines will be sent to survey seabeds, record life forms for cataloguing and collect mineral samples. As a self-contained laboratory, the station will analyse those samples and send reports to the surface. While the base will depend on cables connected to a ship or platform for power and communication, its powerful "brain" and sensors will allow it to carry out autonomous missions. Other scientists are sceptical about the project and think politics and technology will present big challenges.
Mining MSDs involves sending down remotely operated vehicles (ROVs) between 1,500 m – 5,000 m deep to break up the deposits on the sea floor. The resulting debris is sucked through pipes to a ship or platform on the surface, where the precious minerals are extracted. Up to 90% of the material is a waste. These tailings are dumped back onto the sea floor.
Other minerals exist in potato-sized (diameters from 5 cm – 50 cm) rocks called polymetallic nodules. The nodules contain a high proportion (about 28 %) of metals, which is ten times larger than found on land. These nodules are rich in manganese, nickel, cobalt, copper, lithium, molybdenum, iron, and Rare Earth Elements. They are found on the sea floor, covering up to 70% of it in some places These nodules are much deeper (4,000 m – 6,000 m deep ), mining them would involve vacuuming them up to a processing ship on the surface.
Companies are also developing technologies to collect material from the seabed. Designs to gather polymetallic nodules include a vacuum to systematically dredge large swaths of the seafloor, along with hydraulic pumps and hose systems that lift the extracted materials to surface vessels or platforms. Extraction of sulfide deposits around hydrothermal vents or the slopes of undersea ridges could involve drilling and cutting into the crust, breaking up the materials, and transporting the pieces to the surface in a similar system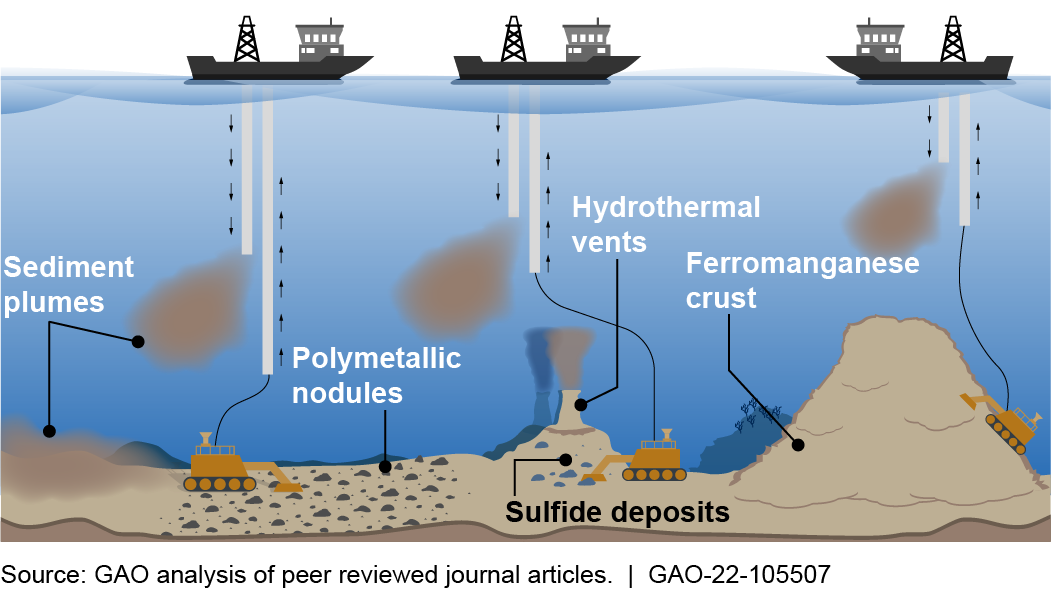 One mining method is to use a conveyor belt system of buckets to bring soil containing metal and mineral deposits from sites on the sea floor up to a mining ship for processing. A second method is to use pipes to hydraulically suck up soil from sites on the sea floor, also to a mining ship for processing. The technology for vacuuming the minerals has been made possible using hydraulic pumps and bucket systems devised to raise ores to the surface for processing. Lockheed Martin, Soil Machine Dynamics, IHC Mining and Nautilus Minerals are developing ROVs, which they say can operate down to five kilometers.
The Australian-Canadian company Nautilus Minerals' has completed Construction of the world's first deep-sea mining machines that will work 1,600m down on the seabed off Papua New Guinea to mine for copper and gold. Nautilus Minerals' three remote controlled machines that shall be operated remotely from control rooms on a ship. The ship that sits on the surface of the ocean will be connected to a central pumping system that will pipe minerals upward.
The auxiliary cutter begins the work by grinding down the seafloor to make it level enough for the second piece of equipment, the bulk cutter. That machine grinds the resulting slurry up fine enough for the collection machine to suck it up before it is sent to a ship on the surface. On the ship, the water is separated from the rock, particles larger than 8 microns are filtered out and the water is pumped back to the seafloor. Each of the machines are around 50 feet long, 15-20 feet wide, weigh anywhere from 220 to 340 U.S. tons with combined value of $100m.
Impact on Ecology and Marine life
Deep-sea mining technology is still in development but will probably include vacuuming nodules from the seafloor. Scraping and vacuuming the seafloor can destroy habitats and release plumes of sediment that blanket or choke filter-feeding species on the seafloor and fish swimming in the water column. Mining also introduces noise, vibration and light pollution in a zone that normally is silent, still and dark. And depending on the type of mining taking place, it could lead to chemical leaks and spills. Scientists still have a lot to learn about these habitats and the species that live there. Research expeditions are continually discovering new species in deep-sea habitats.
MIDAS project, which is made up of scientists, industry figures, NGOs and legal experts from 32 organizations across Europe, gathered data to gain a good picture of what damage might be done by mining and so inform regulators of what needs to be put in place to protect the deep sea environment.
MIDAS scientists have found that new environmental issues need to be considered, such as the large surface areas affected by nodule mining, the potential risk of submarine landslides through sediment destabilization in gas hydrate extraction or the release of toxic elements through oxidation of minerals during mining.
There is a risk that the mining process will release metal ions into the water column, either in the benthic plume created by mining vehicles or, following dewatering on the surface vessel, in a mid-water plume. Such plumes can potentially travel hundreds of kilometers, carrying potential toxicants with them. Mid-water plumes may impact photosynthetic microalgae or animals within the water column.
"Environmental risks and impacts of deep sea mining would be enormous and unavoidable, including seabed habitat degradation over vast ocean areas, species extinctions, reduced habitat complexity, slow and uncertain recovery, suspended sediment plumes, toxic plumes from surface ore dewatering, pelagic ecosystem impacts, undersea noise, ore and oil spills in transport, and more", writes Richard Steiner Professor and conservation biologist, Oasis Earth.
The race for deep-sea minerals is imminent. There are compelling arguments for mining the seabed, such as supporting the transition to renewable energy, which some companies assert will be a net gain for the environment. But balancing benefits and impacts will require proactive and thorough study before the industry takes off.
Thus, there is need for adequate legal and environmental regulations for this activity. Currently the U.N. Convention on the Law of the Sea (UNCLOS) governs activity on the seabed. UNCLOS states that international waters are the "common heritage of mankind" and that the International Seabed Authority (ISA), based in Jamaica is the body responsible for administering it. The ISA has signed a number of mining deals and is in the process of drawing up a mining code to govern deep-sea mining before 2018. The basic principle of the ISA is that seabed riches should be shared globally.
References and Resources also include:
http://voices.nationalgeographic.com/2016/07/21/deep-sea-mining-an-invisible-land-grab/
https://ramumine.wordpress.com/2017/02/07/scientists-fear-experimental-seabed-mining/
https://www.reuters.com/article/us-mining-deepsea/china-leads-the-race-to-exploit-deep-sea-minerals-un-body-idUSKBN1X213T
https://therevelator.org/seabed-mining-experts/
https://www.gao.gov/products/gao-22-105507
Cite This Article