According to the International Air Transport Association (IATA), the demand for air travel rose by 7.4% in 2018 from 2017 levels. Air passengers accounted for 81.9% of the load factor on aircrafts, while freight load was 49.3%, the IATA data reveals. However, the COVID-19 pandemic has created turmoil in the global economy. One of the worst-hit industries by this pandemic is the aerospace & defense industry, with lockdowns and trade restrictions choking supply-chains worldwide.
Rising deployment of airplanes for passenger and cargo transport necessitates the utilization of efficient materials in building aircraft components. Any laxity shown in the quality of materials used will endanger the lives of thousands of passengers and put at risk highly valuable cargo. Thus, increasing air travel has escalated the demand for next-gen aerospace & defense materials.
Aerospace Materials have evolved from  wooden frames to fiber-reinforced composite polymers and self-cleaning and self-healing materials, with primary focus on weight reduction, improving damage tolerance, fatigue and corrosion resistance. Weight has been an important consideration in military and commercial aircraft design since the beginning of manned flight. It affects directly the amount of lift required to fly, which in turn affects the drag on the aircraft and therefore the thrust required to achieve the desired performance. Weight also has indirect impacts on the cost of the aircraft. Aerospace has the highest carbon footprint per tonne-km over any other mode of transportation and regulatory demands and economic advantages mean that saving any weight is a constant target.
The demand for advanced materials is principally driven by the need for lighter, stronger and durable materials. Traditionally aluminum dominated the aerospace industry, it was considered to be lightweight, inexpensive, and state-of-the-art. In fact, as much as 70% of an aircraft was once made of aluminum.   In the aerospace domain, although aluminium is still widely used, advanced materials such as carbon-fibre composites and superalloys are gaining popularity among engineers aiming to improve efficiency and performance, while reducing weight.
Significant investments towards R&D has resulted in the development of sophisticated fabrication processes for advanced aerospace materials. For instance, in April 2018, Toray Composite Materials America, Inc. announced successfully developing a new fabrication technology for Carbon Fiber Reinforced Plastics (CFRPs) that enables both improved dimensional accuracy and energy savings for aircraft manufacturing. Dispersal of several new procurement contracts for aerial assets is envisioned in the future, driving the North America segment of the market in focus during the forecast period.
Military Aircraft materials
Advanced materials have the ability to significantly improve operational effectiveness in military missions. Military aircraft should be strong, light weighted, able to fly faster, heat resistant, with increased agility and heavier payloads. Survivability is a design parameter for all military aircraft but a primary driver only for fighters, which sometimes depend on low observability to get to the target. Fifth-generation technology aircraft, made of advanced composite materials, and stealth technology are emerging trends for military aircraft, which will drive its demand in the market.
Defense aircraft material are lightweight materials known to deliver high performance. They are selected depending upon various properties such as strength, thermal shock resistance or expansion, resistance, flammability, stealth, and fuel efficiency. There is an increase in the requirement of aircraft materials owing to the rise in the demand for fuel-efficient aircraft. Military forces around the world prefer lightweight aircrafts, which provide fuel efficiency and higher strength. This leads to the use of different types of materials that can be used instead of the conventional ones to create efficient and advanced aircrafts.
The different types of materials used in defense aircrafts are aluminum alloys, super alloys, steel alloys, composite materials, and titanium alloys among others. The aluminum alloys segment dominated the market in the past years, but the increasing use of composites is replacing the aluminum alloys from the aerospace industry. However, due to low fatigue and high strength capabilities, aluminum alloys will still be preferred over composite materials.
A modern military aircraft is composed of several metal alloys and composite structures joined to create the specific structural profile of airframe and other constituent parts and components that fulfill the specified operational requirements of the aircraft.
Advanced materials can be used for a wide range of applications in defence, including camouflage and protection for platforms as well as soldiers. They provide the advantages of improved functionality, survivability and low life cycle cost. Materials such as metamaterial- can even make military systems invisible.
Despite all the benefits and positive results, such aircrafts materials have high cost in terms of maintenance. This in turn limits the defense aircraft material market growth. However, the inclination of countries toward increase in defense power and newer technology presents a good opportunity for both defense aircraft material industry and defense aircraft manufacturers.
Aerospace Materials Market
Aerospace Materials Industry" 9 Billion in the year 2020, is projected to reach a revised size of US$32.4 Billion by 2027, growing at a CAGR of 5.7% over the analysis period 2020-2027.Aluminum Alloys,  is projected to grow at a 6.1% CAGR to reach US$12.1 Billion by the end of the analysis period. After an early analysis of the business implications of the pandemic and its induced economic crisis, growth in the Steel Alloys segment is readjusted to a revised 4.9% CAGR for the next 7-year period. This segment currently accounts for a 9.9% share of the global Aerospace Materials market.
Driving  factors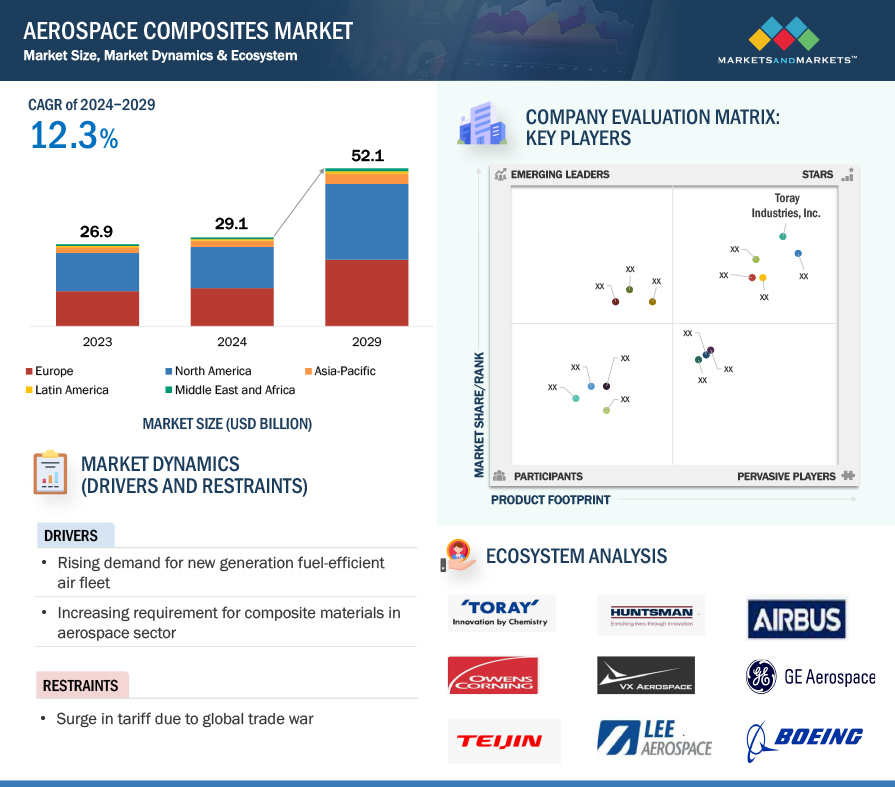 The major drivers of the Global Defence Aircraft Materials market is increase in demand of fuel-efficient aircraft, cheaper raw material prices, the rise in global security issues, robust economic growth, increasing demand for low-cost carriers, and advancement in technologies.
The growth of defense aircraft material market is due to available substitutes, which reduces the weight of the aircraft, and thus results in increased speed and higher fuel efficiency. Global security issues and advancement in technology are the key driving factors for defense aircraft materials market. Governments supporting and focus on increasing the expenditure for defense through various initiatives, which in turn is expected to boost development and innovation in defense aircraft material industry. The collaboration between the government and suppliers lead to innovation of new technology.
A large portion of the enhanced defense expenditure is directed towards the procurement of new generation military aircraft, both combat and non-combat, thereby encouraging research and development (R&D) towards new materials for producing the different aircraft types and configurations.
Restraining Factors
Acquisition of quality material, costly maintenance, low-cost production technologies, replacement, and overhaul are some of the major challenges for the Global defence aircraft materials market
Another major challenge is the declining of the global defense expenditure due to defense budget reductions by key defense spending nations. The U.S. government has declared for the reduction in the defense spending till 2022 which has impacted the global defense equipment manufacturer's market; especially the military aircraft manufactures market, which in turn will impact the global defense aircraft materials market.
The major restraining factor for the growth of market for defense aircraft material is the high cost involved in maintenance, repair and overhaul of composite materials, or various alloys used in the defense aircrafts. The alloys or composites are manufactured with different expensive materials such as titanium, aluminum, and stainless steel, fiber reinforced plastics, and epoxy among others. The maintenance of these materials incur huge costs, due to which, the defense forces in the emerging nations are limiting their purchase of aircrafts with these materials. Thus, impacting negatively on the growth of the market in future.
Segmentation
The market is segmented by material type, application, and region.
Based on application, defense aircraft material market is classified into fighter aircrafts, transport aircrafts, military cargo aircrafts, helicopters, and unmanned aerial vehicles.
Rising Adoption of Carbon Fiber Composites to Feed Market Growth
The aerospace & defense materials market growth is slated to accelerate as airliners expand application of carbon fiber composites in their aircraft fleet.
Carbon fiber is known for its excellent lightweight and enhanced durability properties, which make aircrafts more fuel-efficient. Moreover, composites of this material are resistant to fatigue and corrosion, which lowers maintenance costs of components. For example, Airbus tested the new carbon fiber wings on its advanced A350 XWB in 2014 and found that the wings displayed greater flex, strength, and rigidity compared its aluminum predecessors. A more recent example is the introduction Sigrafil, a novel carbon fiber with a high Young's modulus developed by SGL Group, designed for use in aerospace applications.
Titanium Alloys Segment Corners a 14.8% Share in 2020
In the global Titanium Alloys segment, USA, Canada, Japan, China and Europe will drive the 4.7% CAGR estimated for this segment. These regional markets accounting for a combined market size of US$2.5 Billion in the year 2020 will reach a projected size of US$3.4 Billion by the close of the analysis period. China will remain among the fastest growing in this cluster of regional markets. Led by countries such as Australia, India, and South Korea, the market in Asia-Pacific is forecast to reach US$4.4 Billion by the year 2027, while Latin America will expand at a 6.2% CAGR through the analysis period.
Based on region, defense aircraft material market analysis is done across North America, Europe, Asia-Pacific, and LAMEA (Latin America, Middle-East and Africa). North America covers large defense aircraft material market share owing to the major investment and a dominant agreements and is witnessing high demand for defense aircraft material. Countries from Asia-Pacific such as India, Japan, China, and South Korea are focusing on procurement as well as development of advanced defense aircraft material.
The global defence aircraft industry consists of combat and non-combat aircraft. The former ones are designed to destroy opponent's equipment using their own armament by attack, reconnaissance and surveillance. They are usually developed and procured only by military forces. The later ones are designed for transport and training and are used by military, border patrol enforcement, law enforcement, paramilitary forces, and other special security groups.
Combat Aircraft Segment to Dominate the Market
Combat aircraft are vital for protection against aerial threats as they can engage in both aerial warfare and ground-support missions. Global military powerhouses such as the US, the UK, China, France, and Japan are vying to achieve a profound reconceptualization of modern aerial warfare techniques by fostering the indigenous development of fifth-generation and the envisioned sixth-generation combat aircraft. The F-35 Joint Strike Fighter (JSF) is one of the most advanced combat aircraft currently in service.
At the start of 2020, Lockheed Martin Corporation announced that the company successfully reached its annual delivery target of 131 units of F-35 JSF aircraft in 2019. Constellium supplies the corrosion-resistant 7050 and 7140 alloys used in the F-35 airframe. It is also a major supplier of the Airware 2297 and 2098 alloys used in the bulkheads, skins, and other key structural components of the Boeing F-18 and Lockheed Martin F-16 aircraft programs. On a global scale, the demand for combat aircraft greatly outnumbers the demand for non-combat aircraft, hence the segment is envisioned to dominate the market in focus during the forecast period.
Given the defense aircraft material market size, based on material type, the market is segregated into aluminum alloy, steel alloy, super alloy, titanium alloy, composite material, and others. The aluminum alloy segment holds largest defense aircraft material market share in 2018, whereas, the composite material segment is expected to grow at the fastest rate during the forecast period which initially was used in secondary structures only.
On the basis of Type, the global defence aircraft materials market is segmented into Aluminium Alloys, Steel Alloys, Titanium Alloys, Super Alloys, Composite Materials and Others. On the basis of aircraft type, it is categorised into Military Aircraft, Commercial Aircraft, Helicopters, Business & General Aviation and Others
Regional Insights
Geographically, the market for defense aircraft material is categorized based on five regions across the globe as North America, Europe, Asia Pacific, Middle East and Africa, and Latin America.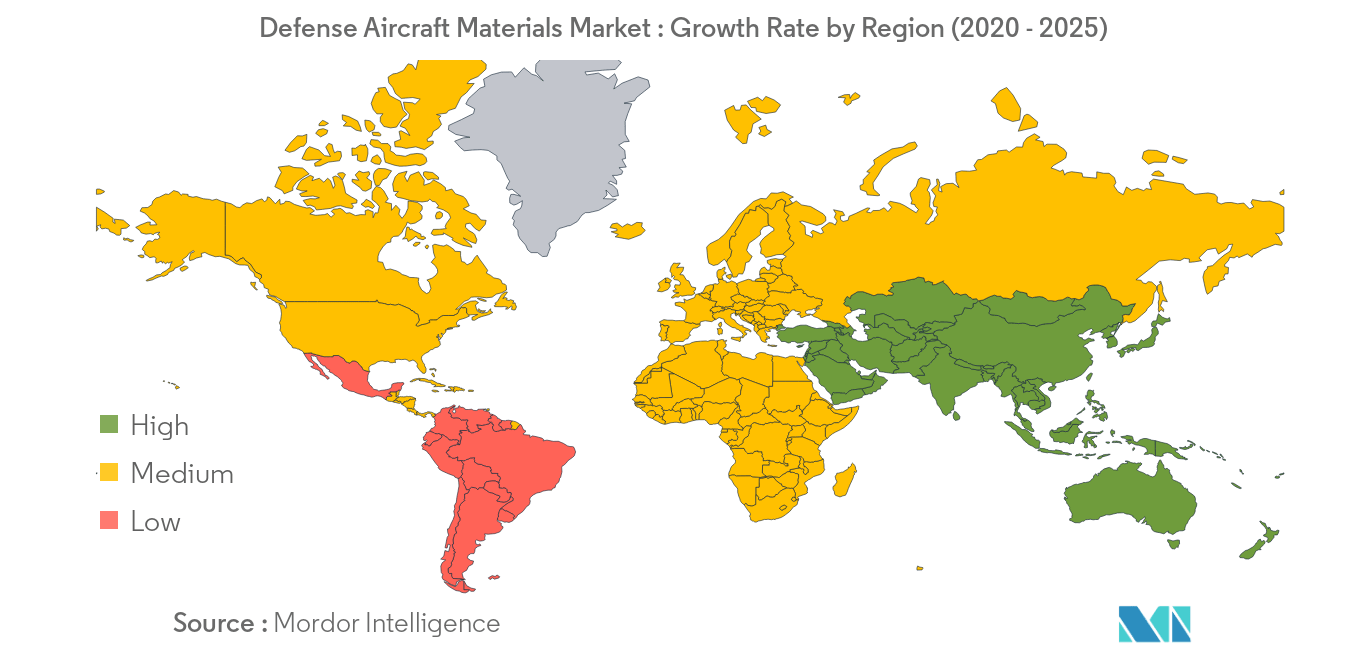 The U.S. Accounts for Over 27.1% of Global Market Size in 2020, While China is Forecast to Grow at a 8.8% CAGR for the Period of 2020-2027. The Aerospace Materials market in the U.S. is estimated at US$5.9 Billion in the year 2020. The country currently accounts for a 27.08% share in the global market.
The constant focus on development of robust technologies in order to strengthen the defense forces, North America is investing huge amounts, which has led the region to dominate the market. Moreover, due to the presence of major defense contractors in the United States, the demand for defense aircraft materials is also increasing in the region.
China, the world second largest economy, is forecast to reach an estimated market size of US$6.8 Billion in the year 2027 trailing a CAGR of 8.8% through 2027. Among the other noteworthy geographic markets are Japan and Canada, each forecast to grow at 3.1% and 5.1% respectively over the 2020-2027 period. Within Europe, Germany is forecast to grow at approximately 3.6% CAGR while Rest of European market (as defined in the study) will reach US$6.8 Billion by the year 2027.
In Europe, the market growth is based on France's capacity to produce large volumes of commercial as well as military aircrafts. The market in Asia-Pacific is set to rise on the shoulders of the increasing investments by India and China in enhancing their indigenous aircraft manufacturing and development capabilities.
Countries in Asia Pacific such as China, India, Japan, and South Korea among others are also focusing on development and procurement of advanced defense aircraft materials. This factor is helping the region to grow at a faster rate over the period over other regions globally.
North America to Continue its Dominance in the Market
The United States, one of the leading defense spenders, globally, is focusing on increasing its defense expenditure every year. Currently, it spends about 3.2% of its GDP on defense. In July 2018, the US government instructed the NATO leaders to increase their defense spending, to meet 2% of the country's economic output, and further increase it up to 4%, higher than the group's goal of 2%. Following this, in November 2019, NATO announced that in 2019, the defense spending across European Allies and Canada increased in real terms by 4.6%, marking the fifth consecutive year of growth. Compared to other regions, North America houses a majority of aerospace OEMs, hence the region boasts of a robust supply chain.
The defense aircraft material market is expected to surge over the period due to growing defense budgets in countries such as Mexico, Germany, Russia, China, India, South Korea and Saudi Arabia among others. The growing defense budget is demanding for advanced aircraft materials in order to support the military forces with the latest aircrafts. The increasing defense budget across the globe is estimated to bolster the market for defense aircraft materials in the coming years.
Defense Aircraft Materials Industry
The defense aircraft material market is capital concentrated and branded by presence of recognized players holding robust monetary backgrounds enabling them to invest further for business expansions. The rivalry in such market is lower and manufacturers go for long-term agreement with suppliers, end users, and government. Market players are investing more into developing sophisticated technology and high performing material by incorporating new materials, nanotechnology, and fabrication process. Emerging fabrication technologies and manufacturing processes are envisioned to improve the current properties of the military aircraft materials and foster the impetus for developing new alloys for manufacturing high-performing aircraft parts and airframe structures.
Key Indutry Players
The key players in the market are Pratt & Whitney, Saudi Basic Industries Corporation, The Boeing Company, Toray Composites America Inc., Advanced Metallurgical Group N.V (AMG), Constellium NV, Magnesium Elektron, Allegheny Technologies Incorporated (ATI), Henkel AG & Co. KGaA, and Toray Composite Materials America, Inc. Teijin Ltd. (Renegade Materials Corp.) (Japan), Koninklijke Ten Cate BV (Netherlands), AMI Metals Inc. (US), Hexcel Corporation (US),  Huntsman (US), Arconic Inc. (US), Sofitec (Spain), TATA Advanced Materials Limited. (India), Materion Corp. (US), Evonik Industries (Germany), Toray Composite Materials America, Inc. (US)
References and Resources also include:
https://www.globenewswire.com/news-release/2021/07/22/2267412/0/en/Global-Aerospace-Materials-Market-to-Reach-US-32-4-Billion-by-the-Year-2027.html
Cite This Article