The synthetic biology, the design and construction of biological devices and systems, promises  to augment biological life, in order to have it producing outcomes which we dictate. It is used for designing and constructing new biological parts, devices, and systems as well as for re-designing of existing, natural biological systems for useful purposes.
It has applications in various industries like diagnostics, cell reprogramming, therapeutics, enzymes, vaccines, biomaterials, biofuels, fine chemicals, and many more. It is the way of harnessing the power of nature to solve problems in medicine, manufacturing, and agriculture for researchers and companies around the world. Microorganisms harnessed for bioremediation to clean pollutants from water, soil, and air.
Synthetic biology represents an intersection of biology and engineering that focuses on the modification or creation of novel biological systems.Therefore, it combines the knowledge of genomics and chemical synthesis of DNA for the rapid production of catalogued DNA sequences. This branch of science  encompasses a wide range of methodologies from various sectors including biotechnology, computer engineering, control & biological engineering, genetic engineering, molecular biology, molecular engineering, systems biology, membrane science, biophysics, and evolutionary biology.
"I think the biggest innovations of the 21st century will be at the intersection of biology and technology," said Apple co-founder Steve Jobs when asked where he thought the next economic revolution would be – "A new era is beginning."
Products produced by synthetic biology are used across several applications, including energy, bioplastics & environment, and pharmaceutical & diagnostics. Synthetic biology is mainly known for the usage of molecular biology along with standard industrial fermentation for the production of renewable, sustainable, algal oils that would reduce the pressure on the ecosystem due to habitat damage and deforestation.
Synthetic biology has a potential in DNA sequencing research and there is an expectation of improvement of bio-based chemicals, development of food crops and sources of green energy with the technology.
What is the growth rate of the Global Market?
The synthetic biology market is projected to reach USD 19.8 billion by 2025 from USD 6.8 billion in 2020, at a CAGR of 23.9%. Asia Pacific is expected to grow at the highest CAGR during the forecast period.
What are Key drivers and driving and hindering its growth?
The market growth is driven by declining cost of DNA sequencing and synthesizing coupled with increasing R&D investment in drug discovery. Increased amount of study data generation with dipping prices of DNA sequencing, rise in government funding and increase in demand for renewable energy such as biofuels, demand for genetically modified crops, advancement in molecular biology, and surging demand for effective vaccines and drugs are the key factors offering lucrative opportunities for the global synthetic biology market growth.
The global synthetic biology market is expected to drive by the growing demand of synthetic biology in pharmaceutical and biotechnological companies for research and development purposes, government investment in science and technology for drug discovery and synthetic biological products and its applications in various industries. According to the International Federation of Pharmaceutical Manufacturers & Associations (IFPMA); the pharmaceutical research-based industry has a expenditure of over USD 149.8 billion on R&D per year including the synthetic biology products.
The key factors driving the growth of this market include the wide range of applications of synthetic biology, including  increasing R&D investments and initiatives  in medicine, drug discovery, increasing demand for synthetic genes and synthetic cells, and the development and declining cost of DNA sequencing and synthesizing.  Increasing investment in science and technology to improve healthcare, food and energy production industry through focused research and development in synthetic biological products are some important factor driving the growth of synthetic biology market.
Growing concern pertaining to global food security owing to the rising population increased waste during storage, production processes and import & export along with changing climate and environmental stress will boost the market for synthetic biology. Factors such as minimum use of chemical fertilizers for production, better quality food in terms of its nutritional value and better shelf life will augment the synthetic biology across agricultural applications.
The biopharmaceutical industry is witnessing challenges such as need for improved productivity, faster building of drugs pipeline, reduce costs, and decrease time to market the product. In this context, custom engineering enzymes through the application of synthetic biology will work as catalyst in novel and efficient manufacturing processes. Furthermore, due to technological advances in genetic engineering and integration of computational methods has paved the way for the development of highly improved biocatalyst to enhance efficiency and reduce cost in the discovery, development, and manufacturing of active pharmaceutical ingredients (APIs) and drug products.
Strong business outlook across various industries such as agriculture, healthcare, industrial chemicals, and energy will propel the synthetic biology market. Increasing R&D activities in collaboration with science, engineering, and technology to modify the living organisms through genetic and biological system manipulations will create new avenues for the industry participants. Further, increasing favorable government policies to boost biotechnology sector will create new avenues for industry participants.
Government Funding
The increasing involvement of government bodies, research institutes, and large-scale organizations in synthetic biology research activities is likely to support the market over the next few years. The governments of various nations have been providing support for research on synthetic biology, due to its wide applications. There has been a lot of research studies and projects, running in various countries with respect to synthetic biology that have tried to tap various complexities in the genomes of organisms, and hence, have helped in creating more effective and efficient therapies to treat them.
Since 2012, the UK government has pumped over £300 million into funding synthetic biology and it is presented as one of "Eight Great Technologies" for its potential to develop the bioeconomy. The field has grown rapidly, outpacing the rest of Europe in start-ups, but clouds remains over many synthetic biology applications: regulation and public acceptance.
According to National Center for Biotechnology Information, the synthetic biology research & development investment by the US government was valued USD 220 million annually with the funding from various departments in the US including the Department of Energy, the National Science Foundation (NSF), the DoD (including DARPA), the National Institutes of Health (NIH), and the US Department of Agriculture (USDA). According to the DoD (Department of Defense) report analysis, the US government has invested between 2008-2017 around USD 820 Million in synthetic biology research, with DARPA funding was around USD 110 million in 2014. As the US government has aim to "to create a revolutionary, biologically-based manufacturing platforms capabilities and manufacturing paradigms in new materials for the Nation. According to the NCBI, products from biological synthesis have contribution of approximately 2.5% of to the American GDP.
What will be the growth areas within the market space and where should the participant focus gain maximum Return on Investment (ROI)?
The global synthetic biology market is segmented on the basis product type, technology, application and geographical regions. By Product Analysis this market is segmented on the basis of Enabling Products, DNA Synthesis, Oligonucleotide Synthesis, Enabled Products, Pharmaceuticals, Chemicals, Bio fuels, Agriculture, Core Products, Synthetic DNA, Synthetic Genes, Synthetic Cells, XNA and Chassis Organisms and Software Tools.
By Technology Analysis this market is segmented on the basis of Enabling Technology, Genome Engineering, Micro fluidics technologies, DNA synthesis & sequencing technologies, Bioinformatics technologies, Biological components and integrated systems technologies, Enabled Technology, Pathway engineering, Synthetic microbial consortia and Bio fuels technologies.
By Application Analysis this market is segmented on the basis of Research & Development, Chemicals, Agriculture, Pharmaceuticals & Diagnostics, Bio fuels and Others (Environment, Biotechnology & Biomaterials, etc.). Based on application, the synthetic biology market is segmented into medical (pharmaceutical, drug discovery & therapeutics, and artificial tissue and tissue regeneration), industrial (biofuel & renewable energy, industrial enzymes, and biomaterials & green chemicals), environmental (bioremediation and biosensing), and food & agriculture applications. By Regional Analysis this market is segmented on the basis of North America, Europe, Asia-Pacific and Rest of the World.
Synthetic biology is the way of harnessing the power of nature to solve problems in medicine, manufacturing, and agriculture for researchers and companies around the world. Microorganisms harnessed for bioremediation to clean pollutants from our water, soil, and air. Increasing demand for biofuels owing to the depletion of fossil fuels and energy crisis will foster the market growth. Rising per capita consumption of energy resources coupled with increasing disposable income to reduce the carbon footprints, increase the use of renewable energy will propel the demand for synthetic biology market in the forecasted period. Rapid urbanization followed by industrialization which demands the majority of energy sources will boost the industry development over the projected timeframe.
The product segment of Synthetic Biology market is dominated by synthetic DNA with largest market share of 32.04% in 2019. The application segment of Synthetic Biology market report is dominated by medicine & pharmacy segment by capturing the largest market of 38.2% in year 2019.
Based on product type, the synthetic oligos segment is expected to deliver a CAGR of 18.9% through 2028. The method is most preferred in modern laboratory practice as it offers accelerated and reasonable access to custom-made oligonucleotides of the desired sequence. The synthetic DNA product segment is expected to observe a CAGR of 19.0% during the forecast period.
Based on technology, the genome engineering segment accounted for 22.6% of the global synthetic biology market share in 2020 and is expected to gain major traction through 2028. Advancements in DNA synthesis technologies, CRISPR-toolbox, the ongoing research activities, and growing need for cost-effective, rapid, multiplex alteration of genomes, are the key factors driving segmental growth.
Synthetic biology from agriculture is expected to observe CAGR over 24% up to 2025. Necessity to improve the crop yield with limited and contaminated arable land will propel the synthetic biology applications in the agriculture sector. Rising food demand owing to rapidly increasing population coupled with favorable government policies will propel the demand for genetically modified transgenic crops fostering the industry expansion.
Based on application, the healthcare segment is expected to observe notable growth during the forecast period. Some of the possible application of synthetic biology in health and food include regenerative medicine, reprogramming of stem cells, new therapeutic methods, and efficient production of nutraceuticals like food supplements, preservatives, and vitamins.
The pharmaceuticals and diagnostics segment is forecast to showcase at a CAGR of 18.9% during the forecast period.  This is attributed to the potential of synthetic biology techniques in the development and manufacturing of APIs and small molecules on a large scale. Pharmaceuticals and diagnostics is estimated to reach USD 6.82 billion by 2026 at a CAGR of 18.9% during the forecast period.
Factors such as growth in the number of pharmaceutical & biopharmaceutical companies, the increasing number of healthcare & life science facilities, and increasing requirements for regulatory compliance in pharmaceutical and biopharmaceutical companies, growing number of international alliances, heavy funding for synthetic biology research, and strong government support are expected to drive the growth of these markets.
Moreover increasing the technological advancement in the market for the production of advance medicine which can sense a disease state and produce an appropriate therapeutic response accurate for multiple disease-specific biomarkers by disease and prognostic monitoring techniques with the help of synthesis biology are offering lucrative opportunities to the market stakeholders. In addition to this rising focus on specialty medicines to create responsive and multifunctional materials with technological advancement using artificial intelligence, machine learning, big data for the clinical research on bio-systems modeling, chassis development, and genome mining as well as increasing the mergers, acquisitions and longer investment in better big data management and processing may create huge opportunity to fuel the global synthetic biology market during the forecast period.
Strong business outlook across various industries such as agriculture, healthcare, industrial chemicals, and energy will propel the synthetic biology market. Increasing R&D activities in collaboration with science, engineering, and technology to modify the living organisms through genetic and biological system manipulations will create new avenues for the industry participants. Further, increasing favorable government policies to boost biotechnology sector will create new avenues for industry participants.
There has also been an increasing application of genome editing in agriculture. The growing importance of synthetic biology can be attributed to the demand for GMO (genetically modified) crops. Demand for biofuels and progress in molecular biology have had a positive impact on the global industry. Other drivers are high incidence of diabetes, the problem of obesity, growing geriatric population, and improved healthcare infrastructure.On the other hand, possible environmental and security issues related to synthetic biology are likely to restrain the growth of this market to a certain extent.
In 2019, the oligonucleotides and synthetic DNA segment accounted for the largest share of the market, followed by enzymes. The large share of the segment can be attributed to the rising demand for synthetic DNA, synthetic RNA, and synthetic genes, which are used in a wide range of research applications. Gene synthesis accounted for the largest share of the synthetic biology market in 2019.
Cloning Technology Kits Segment to Reach $4.6 Billion by 2026
Cloning kits refers to collections of reagents commonly used to perform rapid DNA fragments cloning. Advanced cloning kits based on synthetic biology combine standard DNA components to provide custom vector constructs. In the global Cloning Technology Kits segment, USA, Canada, Japan, China and Europe will drive the 26.7% CAGR estimated for this segment. These regional markets accounting for a combined market size of US$939.9 Million in the year 2020 will reach a projected size of US$4.9 Billion by the close of the analysis period. China will remain among the fastest growing in this cluster of regional markets. Led by countries such as Australia, India, and South Korea, the market in Asia-Pacific is forecast to reach US$509.7 Million by the year 2026.
Top Countries Contributing to this market
Major countries involved are  U.S., Germany, France, UK, China, Japan, India, and Brazil.
The Synthetic Biology market in the U.S. is estimated at US$3.3 Billion in the year 2021. The country currently accounts for a 39.8% share in the global market. China, the world`s second largest economy, is forecast to reach an estimated market size of US$2.9 Billion in the year 2026 trailing a CAGR of 32.4% through the analysis period. Among the other noteworthy geographic markets are Japan and Canada, each forecast to grow at 26.3% and 27.1% respectively over the analysis period.
The large share of North America can be attributed to the increase in life sciences R&D; availability of funds for research from government organizations, namely, DARPA, SynBERC, DOD, DOE, NIH, and USDA; growing number of synthetic biology companies in the US; growing efforts to increase the output of the healthcare industry; rising demand for high-quality research tools for data reproducibility; and increasing focus on developing personalized therapeutics.
North America accounted for 32.3% of the market share in 2020 and is expected to gain major traction owing to presence of key industry players, growing chronic diseases, and favorable reimbursement policies by the regional government.
Over the past decade, California — together with Massachusetts — has received the lion's share of U.S. synthetic biology investments. Out of a total of more than $12 billion invested in the last 10 years, California has brought in $5.3B and Massachusetts $4.4B. Genentech was the first modern biotechnology company.  Based in South San Francisco, it produced what is arguably the first synthetic biology product: human insulin. Instead of diabetics needing to use insulin extracted from the pancreases of pigs, Genentech used synthetic DNA to make the gene for human insulin, and then spliced it into a bacterium. They then used fermentation and brewing to convert the sugar into insulin. Just like how beer is brewed. Human insulin was Genentech's first blockbuster drug and has helped to set the stage for the entire bio pharmaceutical sector. The company has since gone on to treat many diseases using drugs that are built with biology, including many of the new advanced cancer medications.
For instance, in December 2017, Ginkgo Bioworks: a biotechnology company working in synthetic biology having area of interest in cultured ingredients, strain improvement, and enzyme production; invested US$ 275 million in Series D finding to increase its production facility for organism engineering- Bioworks 3, which was its third foundry for prototyping and scaling engineered organisms.
However,  the US funding is not spread evenly. After California and Massachusetts, the next closest state is North Carolina with an investment 10 times less than the two leading states. There are 34 states that have almost no synthetic biology investment at all. Even within California, synthetic biology activity has not been widespread. Since 2009, the state's relatively small Bay Area has seen over 75 percent ($4 billion) of all synthetic biology investments in the state, with the San Diego region taking a distant second with $776M. Many parts of the state have not had any investment, and bioeconomy growth is benefitting only a small part of the state right now.
For instance, in June 2018, National Research Foundation (NRF) funded an amount of US$ 25 million for five-year national synthetic biology R&D program, under the leadership of Prof Chua Nam Hai: a renowned expert in plant biology and biotechnology; to bring advancement in synthetic biology research in Singapore. In September 2018, Thermo Fisher Scientific initiated to sell its portfolio of Invitrogen GeneArt products and services, including gene synthesis and genome editing products in China. 2019 is shaping up to be another record year for synthetic biology investment, and the pace of innovation is accelerating as today's technologies become the building blocks for tomorrow's breakthroughs.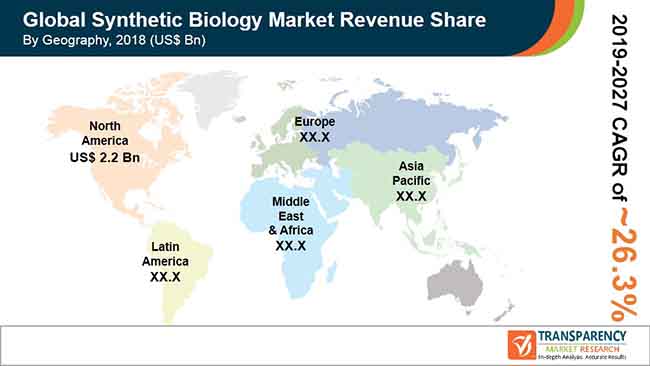 Rising R&D funding and awareness programs regarding synthetic biology are contributing to the growth of synthetic biology market in China.  Factors that may support growth in synthetic biology applications include a decline in the cost of deoxyribonucleic acid (DNA) sequencing and increases in genetically engineered crop development, expenditures in research and development by biotechnology and pharmaceutical companies, and demand for synthetic genes.
Europe is the second-largest region growing at significant pace.  Europe accounts for a share of 28.2% of the market in 2018 and is estimated to reach  exceed USD 18 billion by 2025. Rising demand for synthetic biology in agriculture due to a major change in climate and increasing pollution concern will boost regional growth. The growth in the region was mainly due to presence of advanced technology with government initiatives to tackle global challenges such as climate change, energy consumption, environmental protection, and health care.
Within Europe, Germany is forecast to grow at approximately 29.3% CAGR while Rest of European market (as defined in the study) will reach US$3.8 Billion by the end of the analysis period.
According to NCBI in 2012, in the Europe region, UK government has invested around Euro 200 million for research and the creation of several synthetic biology research groups across the country followed by the Asia Pacific region. Increase in R&D expenditure in clinical research and the presence of a large number of pharmaceutical industries in the region will augment the market share. Increasing awareness among people, rising occurrence of chronic diseases and growth in demand for bio-based products will further proliferate the market development in the region.
Among geographical region, Asia Pacific is expected to show conducive environment for growth of the synthetic biology market, owing to expanding healthcare infrastructure, rising concerns related to fuel consumption, growing government support, and engagement of key players in this region.
India is known to be one of the largest manufacturers of drugs and vaccines in the world and prepares the largest number of doses against diseases and viruses like polio, measles, BCG, among other diseases. For India, Covid is a crisis turned into an opportunity. "With concerted efforts, a huge community of entrepreneurs has come forward to create kits, face masks and diagnostics. Bio incubators have given roots to their ideas, while the government has given them the necessary support. India has taken a leading role in diagnostics, as over one million samples have been tested," said Nirmala Sitharaman, Union Minister of Finance and Corporate Affairs.
Being the largest global vaccine provider, India has taken the lead in the development and production of COVID-19 vaccines. Two indigenous vaccine candidates, COVAXIN from Bharat Biotech International and ICMR and a DNA vaccine (ZyCov-D) from Cadila Healthcare, along with other vaccines developed in partnership with foreign collaborators, including the Oxford–AstraZeneca ChAdOx1-S, manufactured by Serum Institute of India (SII) as Covishield; the RBD-S protein vaccine from Biological Evans; the mRNA vaccine of Gennova; and the Sputnik V vaccine, are in various stages of clinical trials.
"India's biotech industry was valued at $62bn in 2019. The industrial applications of life sciences extend to R&D in genome. Biotech will lead to bio production, bio engineering and bio medicines," added Dr VK Saraswat, member, NITI Aayog. Similarly, many Indian firms are developing vaccines against the virus that causes Covid-19. One of such firm is Serum Institute of India, the world's largest vaccine maker in terms of doses produced and sold globally. They have stitched up collaboration with Codagenix, an American biotech company, to develop a "live attenuated" vaccine. Mike Pompeo, the US Secretary of State said that "Both India and the US are working together to develop vaccines against coronavirus"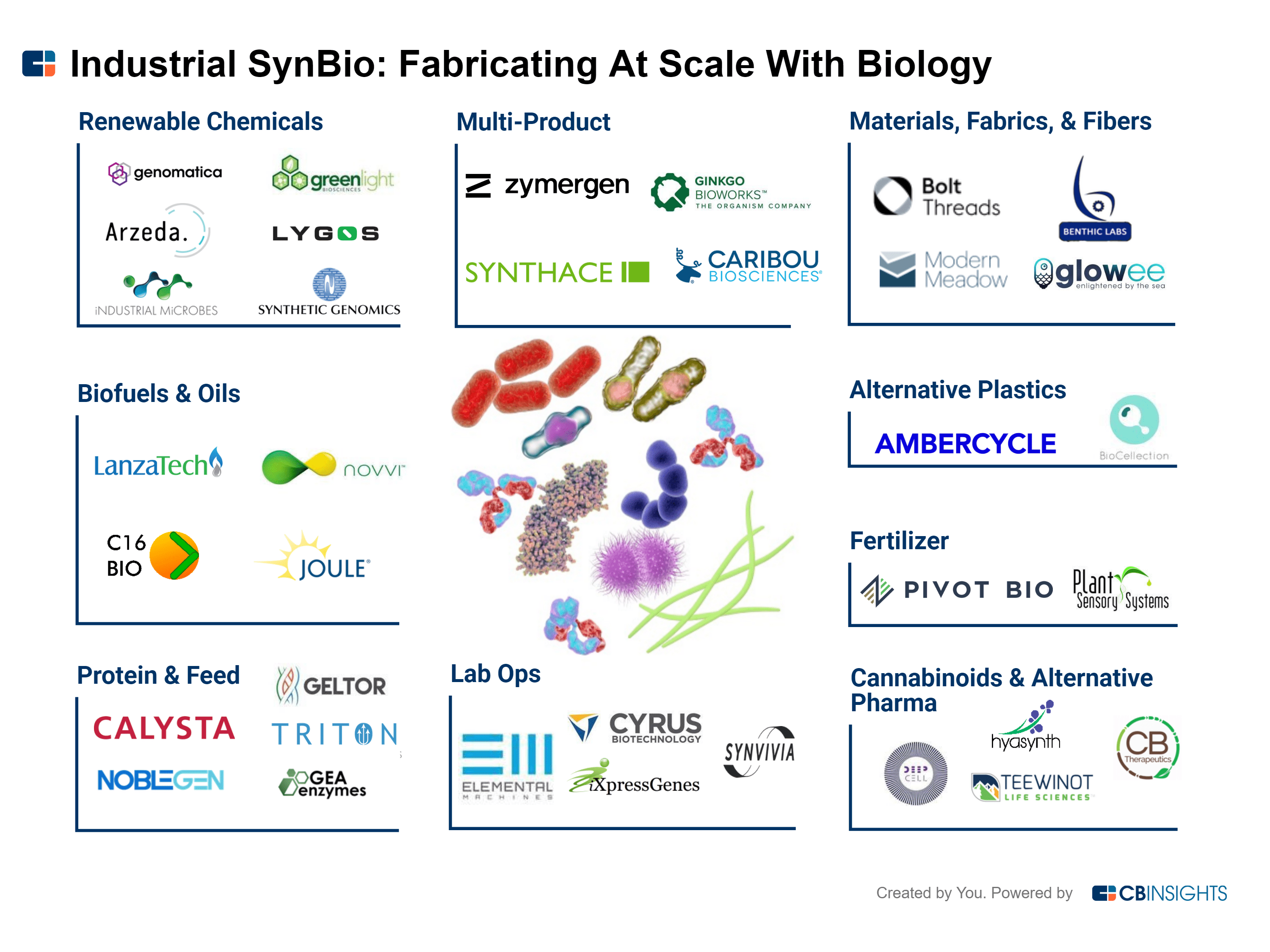 Who are the major industry players dominating the global market?
The prominent players in the synthetic biology market are, Agilent Technologies, Inc., Agrivida, Inc., Algenol Biofuels, Inc., Amyris, Inc. (US), ATG:biosynthetics GmbH, ATUM (US), Bayer AG, Bioneer Corporation, Biosearch Technologies, Inc., Blue Heron, Bristol-Myers Squibb, CBC Comprehensive Biomarker Center GmbH, Codexis, Inc. (US), Creative Enzymes (US), Cyrus Biotechnology Inc. (U.S.), Works Pty Ltd., Editas Medicine, Eurofins Scientific (Luxembourg), GenScript Biotech Corporation (China), Ginkgo Bioworks (US), Integrated DNA Technologies, Inc. (US), Intrexon Corporation (US), Merck KGaA (Germany), New England Biolabs (US), Inc., Novozymes A/S (Denmark), Pareto Biotechnologies, Inc. (US), Synthego Corporation (US), Synthetic Genomics, Inc. (US), Inc., TeselaGen (US), Thermo Fisher Scientific Inc. (US), and Twist Bioscience (US).
Growing investment/funding from companies in the branch of synthetic biology offers lucrative opportunity to develop products such as consumer goods, bioengineered medicines, and industrial chemicals. According to SynBioBeta data finding, January 2018, 50 companies including public and private companies raised over US$ 1.7 billion for the development of innovative synthetic biology technologies. Furthermore, according to the finding, the number of synthetic biology-based companies is growing significantly. According to same source, in 2013, total number of synthetic biology companies worldwide were 293, which increased to 346 (2014), 387 (2015), and 411 (2016).
What are major developments across the industry?
Players are also involved in several joint ventures and partnerships with other organizations to increase its market share. For instance, in March 2018, Bayer and Ginkgo Bioworks entered into a joint venture and established a new company— Joyn Bio— with an aim to focus on engineering plant-associated microbes for improved nitrogen fixation. Furthermore, in July 2018, Poseida Therapeutics Inc. received US$ 3.99 million CLIN 1 grant from California Institute for Regenerative Medicine (CIRM) to support the late stage preclinical development of Poseida's P-PSMA-101, a CAR-T immunotherapy product candidate.
In August 2019, Agilent Technologies, Inc. (US) acquired BioTek Instruments (US), a manufacturer of life science instrumentation, thereby expanding Agilent's growing presence and expertise in cell analysis and also strengthening the company's position in the large and growing immuno-oncology and immunotherapy areas. In December 2019, Cyrus Biotechnology Inc. (US) collaborated with the Broad Institute of MIT and Harvard to develop an optimized CRISPR gene-editing technology. This helped Cyrus to gain further commercial access for its Rosetta technology. In April 2019, Precigen, Inc., a wholly-owned subsidiary of Intrexon Corporation (US), opened a new manufacturing facility in Germantown, Maryland, for supporting the gene therapy manufacturing.
What kind of challenges hindering the development of the industry worldwide?
According to the International Federation of Pharmaceutical Manufacturers & Associations (IFPMA), the pharmaceutical research based industry has expenditure of over USD 149.8 billion on R&D per year including the synthetic biology products. In 2015, there were 56 new pharmaceuticals products launched, out of more than 7,000 compounds in development including the synthesis of new bio based products. However the lack of predictability in biology, and current technical constraints hampers the growth for the biology synthesis market.
In addition to this, the biological synthesis is difficult to engineer microbes to carry out processes which require iterative process of trial and error, sometimes the products may subject to existential risk and needs to be treated with extreme caution as it can be harmful to the humans or damage the environment.
Companies are facing major hurdles when it comes to scale up, standardisation, partnering and regulation of their new technologies. Cambridge Consultants released a white paper in 2019 collating the views of synthetic biology leaders across Europe and the USA. The participants agreed that standardisation, scale-up and distribution of products represent major barriers to getting synthetic biology products to market.
However, the concerns of Bio-safety, Bio-security and ethical issues are delaying the approvals from regulatory bodies. The positive factors like assistance from government and private organizations, rising number of entities conducting research and declining cost of DNA sequencing and synthesizing, are accelerating the commercialization of this technology.
The bio-safety risks involved in synthetic biology restrains the global synthetic biology market. Synthetic biology involves research on micro-organisms to perform the desired function or produce a biological desired substance. Such processes possess health risks such as illness, allergies in humans as well as environmental risks such as toxicity and risk of new micro-organisms affecting living creatures in the ecosystem. Such potential risks pose as a deterrent to possible innovative research that could be done in certain fields such as; combating epidemics like Ebola and life-threatening diseases such as cancer.
Targeted cancer treatments, toxicity sensors and living factories: synthetic biology has the potential to revolutionize science and medicine. But before the technology is ready for real-world applications, more attention needs to be paid to its safety and stability, say experts in a review article published in Current Opinion in Chemical Biology.
What are future Technology and market trends?
Based on technology, the synthetic biology market is segmented into gene synthesis, genome engineering, cloning and sequencing, next-generation sequencing, site-directed mutagenesis, measurement and modeling, microfluidics, and nanotechnology. The gene synthesis segment is expected to account for the largest share of the synthetic biology market. This is attributed to the factors such as growth in the energy and agriculture industry; applications in environmental testing; and research in DNA-based vaccines and bioengineered antibodies.
Genome engineering technology accounts for a market share of 22.6% in 2018. It has emerged as the most notable technology utilized in synthetic biotechnology. On the other hand, bio-safety and bio-security concerns about the potential that synthetic biology could be used for nefarious purposes may restrict the short-term growth of synthetic biology. Synthetic DNA of the product segment is estimated to reach USD 3.80 billion by 2026 at the highest CAGR of 19.0% during the forecast period.
On the basis of tools, the synthetic biology market is segmented into oligonucleotides, enzymes, cloning technology kits, chassis organisms, and xeno-nucleic acids. The chassis organisms segment is expected to witness the highest growth during the forecast period due to the increasing research on chassis organisms and the rising global demand of for alternatives to fossil fuel.
Computer-aided Technology:
Computer-aided systems are helping researchers to create genetic circuits to order. Genetic circuits, modelled on the electronic ones, are human-designed combinations of genetic components that interact to produce one or more proteins or RNA molecules. Design tools for genetic circuits should greatly expand the accessibility of the kinds of genetic manipulations typically considered to be 'synthetic biology.
Cell-Free Technology:
Cell-free systems have recently evolved into key platforms for synthetic biology applications. Many synthetic biology tools were traditionally dependent on cell-based systems, and while their adoption has shown great progress, the constraints inherent to the use of cellular hosts have limited their reach and scope. Cell-free systems have removed many of these complexities and brought about good opportunities for rational design and manipulation of biological systems.
Food Technology:
Synthetic biology is trending in the food technology as it is an emerging technology. Synthetic biology can provide new ways to target specific nutritional deficiencies with high precision and efficiency, but instead of nutrients being consumed, and modified bacteria can be employed to directly synthesize supplement molecules.
Biomonitoring: Biomonitoring is one of the major trends in the synthetic biology market. Biomonitoring and more recent advances propose simultaneous pollutant decontamination and synthesis of useful compounds from the waste products. The later creates opportunities for the development of economically viable solutions in environmental biotechnology.
Small Molecule: In recent years numbers of labs are increasingly design and construct relatively complex and gene networks able of generating a large range of designer molecules in a range of host cells. As yet, very few small molecules in medicine are manufactured using a synthetic biology process; it remains very difficult to engineer microbes to carry out processes that Nature did not intend.
Synthetic biology market is competitive in nature owing to the increasing R&D investment in the biotechnology sector by industry participants to gain market share.
Some of the new technologies that were presented during the first day of SynBioBeta 2019 were:
Troy Lionberger of Berkeley Lights showed how his company's Beacon optofluidic platform accelerates the process of screening living cells, shortening the cell-selection process from months to mere days. Beacon makes it fast and straightforward to analyze cells and clones, assay cell cultures, and capture data graphically. The Beacon platform can even track and assay the same individual cell across multiple time points to reveal richly detailed "fingerprints" of cells and clones.
Aromyx CEO Josh Silverman explained how his company is digitizing the world of smell. Humans can distinguish more than 1 trillion odors, but our ability to measure and record scents has always been limited because it relies on human testers and subjective observations. Aromyx has addressed this problem by cloning the 400 different types of human olfactory sense receptors. It then quantitatively measures their responses to sample odors and uses AI to map the resultant landscape. Early applications include food and beverage, pharmaceuticals and plastics. Aromyx is currently raising a Series A round to execute on this strong customer demand.
Paradromics founder and CEO, Matt Angle, described his company's mission to build a high-capacity brain computer interface that will turn some of today's most intractable physical and mental health challenges into data problems. The nickel-sized device, currently in preclinical development, can be implanted in the human brain, where it interfaces with specialized digital prosthetics to treat conditions ranging from blindness to schizophrenia.
Next, Reed Molbak of Benchling explained how his company's cloud platform accelerates life science R&D by bringing all experimental data and workflows together in a unified system. Historically life science data has been created and stored in a patchwork of locations, and PhD researchers spent valuable time gathering the information they needed. Since launching in 2012, Benchling has grown to become the most widely adopted life science R&D cloud software, used by over 170,000 scientists worldwide. These researchers depend on Benchling's suite of cloud applications to design DNA, collaborate on experiments, manage research workflows and make critical R&D decisions.
Maia Smith of AbCellera explained how the Vancouver-based startup combines microfluidics, next-generation DNA sequencing, and machine learning to accelerate antibody discovery. Antibodies are the fastest growing class of drugs to treat indications like cancer, arthritis, pain and infections. When an antibody binds to a pathogen, the immune system drives a rapid evolutionary process of mutation and selection that creates highly optimized antibodies. AbCellera's Celium platform allows for analysis of antibody responses more than 10x faster and 100x deeper than current methods, while providing detailed information on the sequence and properties of each antibody. The platform helps leading pharmaceutical companies generate large numbers of high-quality antibodies along with the data needed to predict which ones are suitable for development.
References and Resources also include
http://www.openpr.com/news/358271/Synthetic-Biology-Market-Increasing-Research-and-Development-Activities-Lead-to-Remarkable-Growth-in-Synthetic-Biology.html
https://markets.businessinsider.com/news/stocks/synthetic-biology-market-is-expected-to-reach-19-58-billion-by-2022-1028793483
https://biomarketinsights.com/expert-view-challenges-in-communicating-synthetic-biology/
https://www.cuereport.com/synthetic-biology-market-1838/
Cite This Article